Juventus for the Scudetto or Stumble on Finish Line?
March 10, 2012

Claudio Villa/Getty Images
At the start of the 2011/2012 campaign, Juventus announced the squad was only good enough for a top-six finish. 
Despite that early announcement, the Old Lady of Turin has been in the title race since Week 1. 
The Bianconeri supporters have been euphoric throughout the season at the prospect of lifting the Scudetto for the first time since the infamous Calciopoli-scandal. 
Having gone unbeaten throughout the season is an impressive feat. On top of that, the team boast the best defensive record in the league. Nevertheless, a quick glance at the statistics showcases the fact that Juventus have drawn as many times as they have won. 
As a result, AC Milan are currently topping the table—two points clear of their rivals from Turin. 
Despite the positive season, the Turin side has been blasted in the media for dropping unnecessary points. However, Bianconeri tactician Antonio Conte remains persistent that his side is working miracles despite the fact that the team realistically shouldn't even be in the title race. 
There are no shortcuts to the top and by trying to take one these past years, Juventus have been hit by several delays. Nonetheless, as always, patience remains the most vital ingredient to success. 
Rising to the top is going to take time and nobody knows that better than former team captain Conte. And for that, he's devised a long-term plan to construct a Bianconeri side built on a solid foundation and, more importantly, based on his vision. This is of the utmost importance, as Conte declined his current job directly after the Calciopoli-scandal as the club refused to take to his visions.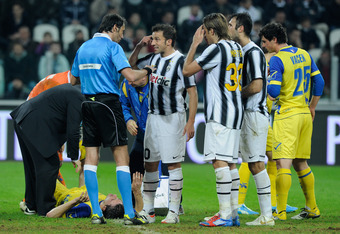 Claudio Villa/Getty Images
However, as it turned out (and as we probably all knew from the get-go), Conte is the man to lead the club. The former Juve team captain knows his players and has accomplished great things at club during his career as a player. 
With their brand new state-of-the-art arena, Juventus Stadium, the club has entered a new era in the club's history. For the time being, the Turin outfit remains the only side in Serie A to own their stadium. 
At this point in the season, it's crucial for the Old Lady not to be losing momentum. Not just on the field, but mentally as well.   
Things have been far from perfect this season. They may not be a Scudetto-winning team just yet, but there's no denying that Conte's side is one full of potential