Liverpool Leave a Bitter Taste as Passion and Desire Take a Back Seat
March 10, 2012

Matthew Lewis/Getty Images
Frustration seems to be the weekly word for Liverpool this season, often as a result of missed chances or a lack of ability to score. Occasionally it's a frustration born from watching players devoid of any passion or quality.  Unfortunately today, the latter made its way to the surface.   
Before a ball was kicked, questions were raised. A flat midfield lacking in attacking quality gave an outward appearance of a team looking to sit back and perhaps steal a goal.  After 10 minutes these initial concerns had turned into a shocking reality, Jay Spearing the only positive from a dire, stagnated first half.
Kenny Dalglish is a Liverpool legend, a Liverpool institution, but as the weeks roll into months serious questions have to be asked about team selection and purchase quality.  Has Dalglish been let down by Adam, Downing, Henderson and Carroll? Or has he let them down by either dropping them as they come into form or seemingly, sticking with them due to blind faith?
Liverpool's record signing of Andy Carroll has misfired on the whole, but recently his hold up play and interlinking with Suarez has resulted in many to suggest he has started on the road to fruition. 
So why was he relegated to the bench this afternoon? Stuart Downing, another who has failed to live up to his summer transfer fee, had started to show signs of improvement. Once again, an upward rise in form has been rewarded with a starting place on the bench.
Contrast this with the form of Charlie Adam and Jordan Henderson; it can be argued that Henderson, by being played on the right, is out of position.  However, positional floors cannot answer questions of tackling, passing or commitment. 
Charlie Adam looks a shadow of the player who captained Blackpool last season, a captaincy that led to relegation.  So was Adam the right purchase? The right go-to man to plug the gap left by an aging Gerrard? It seems after seven months that may not be the case.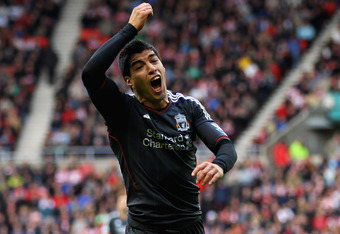 Matthew Lewis/Getty Images
Ask yourself this: Would the current Liverpool midfield find its way into the starting lineup of the teams above them?  Injuries to Gerrard and Lucas have hit Liverpool hard, but in order to compete at the highest level, the squad has to be flowing with strength in depth, something which is evidently lacking at Anfield.
Liverpool's forward line fed on scraps today, Suarez gesticulated at Adam on at least two occasions, seemingly asking him why on earth he decided to play the pass he chose. His reaction to Adam's poor free kick delivery in the second half spoke volumes. 
Suarez cuts a frustrated figure. Being consistently berated by opposition supporters and surrounded by a midfield lacking in quality must only make the Uruguayan question his future in England.
Liverpool's Champions League dream is over for this season, Europa League qualification has been achieved thanks to a Carling Cup triumph.  With the faltering form of its supposed big purchases, now is the time for Liverpool's youth to be given a chance.
Owen, Fowler and Gerrard were all handed shirts at an early age. Step up Morgan and Sterling. Anfield awaits.