Analyzing Arsenal's Summer Transfer Buys: Chu-Young Park
March 11, 2012

Michael Regan/Getty Images
Following on with my series of examining Arsenal's summer buys, I want to look briefly at Chu-Young Park.
There isn't a whole lot to say about the anonymous South Korean.  Signed in the dying days of August, apparently intercepted at a train station moments before a transfer to Lille, Park has thus far been a blip on Arsenal's season.  And, his absence remains a mystery to many fans. 
Early on, Wenger spoke eloquently about Park.  He cited his impressive training performances, though indicated he needed time to adapt to the English game.  He also suggested Park develop versatility that would prove valuable to Arsenal—being able to play through the middle or out wide and even operating as a support striker.  
There was no reason to think that Wenger wouldn't give Park a shot.  However, we still wait—without any signs his playing time will increase.  Park has only made a couple of Premier League appearances, as a last-minute substitute.  
In fact, the Carling Cup was Park's only real chance to play, when he was deployed upfront in a 4-4-2.  Against Bolton he scored an impressive goal, which proved to be the winner.  His game against Bolton was lauded as a breakout, seen as the first of many appearances for the South Korean. 
It was not to be, however, as Wenger's actions have spoken loud and clear.  The Frenchman remains unwilling to play Park.  When Arsenal lost Chamakh to the African Cup in January, many Gooners thought Park would finally get his shot.  Still, it was not to be. 
As we know, Henry was signed as a backup striker and immediately became Van Persie's replacement.  Park barely got a sniff, even at a time when Arsenal was struggling for goals.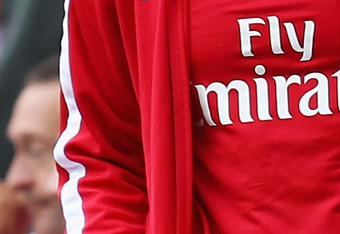 Clive Mason/Getty Images
Park's transfer continues to befuddle Gooners everywhere.  It has been rumored Park was signed only as a stop-gap because young striker Joel Campbell failed to obtain a work permit.  Others have speculated that Park's transfer was a cynical commercial move—that he was brought in to build Arsenal's profile in the populous nation.  
Whatever the reasons for the transfer, at this point it has been anything but a success.  The recent Milan game was a glaring example of this.  With Arsenal needing one more goal, Park was brought on for 10 minutes.  In this brief cameo he was fairly anonymous, failing to create even the slimmest chance.
Moreover, for many fans, it confirmed that Wenger lacks quality striking options on the bench, and Park's appearance failed to instill confidence in Gooners. 
Now, with Podolski reportedly heading to the Emirates this summer, plus other reinforcements likely to follow, Park's time at Arsenal could be very brief. 
Overall, what is most frustrating for fans is not that Park isn't up to the job.  Gooners really don't know.  Wenger hasn't let fans judge Park. 
He could leave this summer without even a footprint on the history of Arsenal.  He hasn't been poor this season; he has been irrelevant.
So, why was he bought?  We might never know.  And at this point it might not matter.  He hasn't played, and likely won't much this season.  Only Wenger knows why he bought Park. 
Maybe, at the end of the day, Park just isn't that good and now Wenger sees as much.