Fantasy Baseball 2012: Strategy Surgically Dissected, 8 Drafts in 1 Day, Part 1
March 12, 2012

Kevork Djansezian/Getty Images
Fantasy 201
Part 1 of 5
Getting ready to spend the day drafting
I drafted eight different Fantasy Baseball teams on March 10, using many different hosting websites, with several different formats, all within 24 hours.  I do this every year because a) I love baseball, b) I'm a competitive person, and most importantly, c) it sharpens my baseball IQ and it makes sure I am on the ball as far as knowing player updates in real-time.
That's a necessity to be competitive in 10 leagues at once AND be a B/R baseball writer! 
Along with entering eight leagues yesterday, I spent about 24 hours chatting with seasoned baseball aficionados in the draft's chat rooms, which quickly versed me on the current "man on the street" opinion for just about every player drafted. I also browsed every rumor, hope and concern associated with them.
Some names caused more chatter and, in some cases, more arguments. 
Each draft differed in so many more ways than in years past.  The arrival of international prospects has much to do with that, as opinions about the newcomers to the U.S. differed radically, evident by the drastically different draft positions in most leagues on players like Yu Darvish. 
This and other topics I will go into here will only prove that people's opinions are more divided than ever.  Young players are getting more attention than ever.  Most attribute this youth movement to the black-eyed MLB veterans caused both the game and themselves, which caused many veterans to accelerate their retirement as the game began to clean up its act.
(That's with the exception of the overly bizarre Ryan Braun-got-framed scandal.)
It has also changed draft strategies; one glaring example being that Matt Moore, on average, was taken in Round 6, an overreach in my opinion as Moore will start the year in Triple-A.
In this article, "Fantasy 201" continues its unique look at fantasy leagues from every angle.  It's a lost art (not that it was ever prevalent) that is trumped by endless "Prospect-by-Numbers" Top 100 lists which litter baseball prospecting sites more than ever. 
So while Kevin Goldstein (BP and ESPN) and others churn out "Top 10 prospects of Team X" 30 times over, I promise to find new, creative and insightful angles not found on expensive pay sites.
(Baseball Prospectus and Baseball America, to name two, cost over a C-note a year to look at.  And just like in the two auction-style drafts I completed yesterday, you don't always get what you pay for.  Heck, B/R is proof that "some good things in life ARE for free!)
Saturday, March 10, 2012
745 AM:  I sign on to ESPN to see when I can get into the first draft of the day.  Sans the necessary morning coffee, I quickly jump into a League that is drafting in just a few minutes.  No problem there, as I had 10 total drafts I wanted to finish by that time Sunday morning. 
What the tired eyes didn't notice, was that this was a 12-man league, and despite being a traditional "snake draft" with H2H scoring (I'll explain the lingo in a minute), JJK (me) had never been in any other sized league than the traditional 10 teams, or the occasional eight, which was okay because you drafted better players in that case.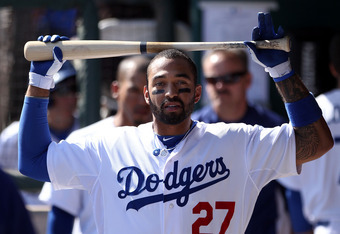 Christian Petersen/Getty Images
I drew the fifth overall pick, meaning on the way back in Round 2, I would have the eighth pick of that round (It's called a "snake" draft because the order you pick in oscillates in a winding manner every other round.  For instance, the player who picks first overall has to wait until the last pick of round 2 to make another selection.  And then in Round 3 they go back to having the first pick (creating back to back picks each time after the initial 1st overall selection), and so on and so on. 
I set the tone early for what I had planned on doing weeks before...focus mainly on picking players that score well in at least three categories.  Matt Kemp, the best multi-tool selection this year fell to me, and I was happy to take him.  I didn't realize at the time that getting him there was an anomaly.
Kemp went No. 1 overall in some subsequent drafts, and No. 2 and No. 3 overall in most of them.  A drastic change from when I took him 1 year ago in the 22nd round.  How much difference a year can make!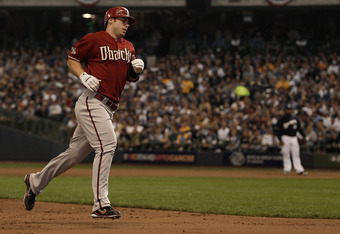 Jared Wickerham/Getty Images
The Double Dip (Power is worth double)
Pujols, who prior to this year had been a virtual lock to go No. 1 overall in any given draft for nearly a decade, as no matter who drew that first pick, Pujols' numbers were at the time so superior to anyone else's, it was a no-brainer that he'd go No. 1.  Not taking him was baseball blasphemy. 
ESPN's mock draft, which I printed out and used as reference guide during my 24-hour scramble, had Pujols behind both Miguel Cabrera at No. 1 (I disagree there) and Matt Kemp at No. 2.  I was also constantly referring to printouts from my favorite fantasy baseball article this year, Bleacher Report's Jay Clemons' strategy-based mock draft masterpiece from last week. 
It's a must read.
Jay emphasizes the fact that creating a fantasy baseball team is as much about, if not more about strategy than strictly looking at lists.  Anyone can stay close to the vest, and decide only to draft a player a spot or two away from where their ESPN or CBS averages lie. 
Anyone can do that, and anyone does, as I watched each and every draft intent on trying to discover what methods other players use to draft a winning team. 
The only tangible revelation was that most of my fellow 106 players played copycat.  Hence, they never strayed from the simpleton belief that the ESPN draft average list meant they needed to pick a player in a certain round that corresponded with where they had been drafted on average. 
Those paint-by-numbers pseudo fans need to read Jay's column, and then read it again. 
Later in this week we will spend an entire night identifying the underused, intangible methods that long time fans use to win leagues.
Jay had the the aforementioned superstars as the only stars worthy to possibly be the No. 1 overall pick this year in fantasy.  Ultimately, this early morning draft I have talked about was the only one of all eight non-auction drafts where Pujols did go No. 1, and, as you'll see later, those three weren't the only players I saw go No. 1 overall. 
The talk about Pujols and where he gets drafted (and how he could possibly now rank behind an old Miguel Cabrera and a one-year wonder like Matt Kemp, is important conversation.  If nothing else, it forces even the most casual fantasy player to realize that the has the fantasy landscape changed dramatically since just last year (as far as player's rank and selection times go).
Also, fantasy owners will see that the traditional thinking that the three triple crown stats (home runs, RBI and average) meant the most when evaluating the top fantasy scoring players.  
The "triple crown" evaluation was a fallacy of composition, as it became easier to notice that far fewer players could be able to score in unrelated categories (for example) high average, high steals, significant power (25-plus home runs), triple-digit RBI and an extremely high amount of runs scored. 
Fantasy 301 (Like Calculus, but no tests and sleep at will)
If you've read this far in the article without confusion, I would bet a nickel (just cents, not the bookie code word for $500) that you're well versed in statistics.  But if you aren't, I'd me amiss not to mention a fundamental concept when evaluating baseball statistics. 
It's important to be able to see ANY categories (such as number of home runs) that automatically will mean similar success in other categories (such as RBI, as with every home runs, you are automatically credited with one or more RBI). 
This is an important concept because you want to draft players that have several, unrelated tools.  For example, stolen bases and RBI have a zero similarity rating, as do saves and wins. 
On one hand, most H2H leagues give a point for both home runs and RBI weekly, so why not draft a Pujols, or a Paul Goldschmidt, or Mark Reynolds? 
On the other hand, by picking those sluggers, you are forfeiting stolen bases and average altogether, as they are one-trick ponies (Pujols not included) that have higher fantasy averages than they should.
Why?  Because in every league I've ever been a part in, RBI and home runs were both worth one point weekly. I ask the readers to back me up here, but I barely ever remember seeing a team win one of those two categories and not the other.  It wasn't guaranteed, but it was a common thing to see. 
If you were lucky enough to have had Pujols and one other solid home run hitter, very rarely were you not up two points in a race where six total points would win.  Similarly, deciding not to pick closers (which seems idiotic) has come back to haunt each and every person who decided to concede the saves category, thus starting the week down one point, which is tough to dig out of. 
Let me go on record as saying that I find fantasy scoring to be archaic in its methods, and needs an overhaul where people aren't rewarded twice for doing essentially just one great thing. 
Think of all the pitchers that have been able to keep their ERA down, despite not having great velocity (aka junkballers).  Whoever owned the Greg Madduxes and the Jamie Moyers didn't get the bonus points automatically like home run hitters do. 
Similarly, WHIP is unrelated enough to ERA that if you will be in a league where that counts weekly, you aren't guaranteed to win both even if you are far ahead in one category or the other.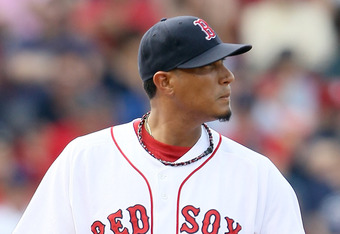 Elsa/Getty Images
Shock the World
Within minutes the first shocking move of the day happens.  It turns out this seemingly non-baseball fan would make an even more laughable pick later on.  Here are the first 10 picks of what we'll call "Draft A."
ROUND 1
1
Albert Pujols, LAA 1B
Southshore Suckas
2
Miguel Cabrera, Det 1B
Happily Lacking Lackey
3
Ryan Braun, Mil OF
Texas Rebels (Bo Belcher)" target="_top">Texas Rebels
4
Jose Bautista, Tor 3B
Colorado Crush
5
Matt Kemp, LAD OF  
Team Bring It
6
Troy Tulowitzki, Col SS
Going, Going A-Gon!!!
7
Prince Fielder, Det 1B
Westside Boys Knockout
8
Mike Napoli, Tex C
Athletics (Nick Dean)" target="_top">Minsk Athletics
9
Robinson Cano, NYY 2B
Team Tiger Spatz
10
Justin Verlander, Det SP
VT Steroid Stud$
11
Jacoby Ellsbury, Bos OF
Team depallo
12
Clayton Kershaw, LAD SP
JER Z METS
Mike Napoli, unranked at MLB.com in the Top 100, and 28th at ESPN.com, has no business being drafted in Round 1 of ANY fantasy draft, let alone a 12-team league where you're in big trouble if your first few picks aren't strong.
Team Owner Minsk essentially forfeited the chance of getting one of the two Cy Young winners last year, as Verlander and Kershaw were picked AFTER he picked Napoli.  This underscores the importance of not overvaluing certain players that will tempt you to take them too early, which as you will see , set this Minsk owner on a horrid streak.
My second draft started just minutes after the first ended.  I am also a big Napoli fan, but I understand that no false moves can be made on Draft Day.  Here is Round 5 of the second draft I entered, we'll call it "Draft B."
ROUND 5
41
Jon Lester, Bos SP
Philadelphia Phillies 
42
David Price, TB SP
Team BEAST
43
Zack Greinke, Mil SP
Riverside Mormons
44
Jimmy Rollins, Phi SS
Team Doc
45
Josh Hamilton, Tex OF
Frankfort RiverRats
46
Mike Napoli, Tex C  
The Gorilla Monsoon
47
Michael Bourn, Atl OF
Team Beachedagain
48
Starlin Castro, ChC SS
Team Atl
49
Michael Young, Tex 1B
SAMOAN SWAT TEAM
50
Craig Kimbrel, Atl RP
Team Daniel
I waited it out and landed Napoli 38 spots after Minsk did in Draft A.
Part two of this series of fantasy articles will show the first 10 rounds of both Draft A+B, and polls will be set up where the readers can decide who had the right idea overall.
See you soon.