Denver Nuggets Rumors Tracker: Wilson Chandler Would Be Ideal Signing
March 11, 2012

Stephen Dunn/Getty Images
While it seems like the Northwest Division in the NBA is for the Oklahoma City Thunder to lose, the Denver Nuggets sit in a decent position in second place at 23-18. It hasn't exactly been the season that Nuggets fans would expect, but there is still a ways to go in a battle for playoff positioning. 
Help could be on the way in the likes of Wilson Chandler. Chandler's agent, Chris Luchey, tweeted, "Finally made it to Denver...4 Seasons in our future."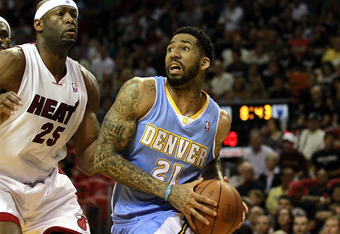 Marc Serota/Getty Images
Of course, this is just speculation because a tweet is a tweet, but bringing Chandler into the fold at this point in the season would be an ideal move for the Nuggets if they decide to go down that route. 
They are sixth in the Western Conference with the current roster, so a move to bring in a talented player who can play multiple positions—one who's played in Denver—seems like a good move.
Chandler averages 13.9 points and 5.3 rebounds in his career. He will hit the occasional outside shot, knock down 79 percent of his free throws and give a new life to the Nuggets during this treacherous campaign.  
It's clear that the Nuggets aren't going to win the NBA championship, but adding a talented player at this point could only help them going forward. 
This is already an extremely deep team, with eight players scoring nine points or more and six guys in double figures. 
Adding Chandler to the mix would bring in another semi-veteran presence who is only 24 years of age. We still haven't seen him hit his prime yet. 
For now, and going forward, Chandler could help this team in multiple ways. Somebody on the roster is going to have to give up their minutes, but this was already a team that was hanging on to playoff contention by a thread. 
Why not make the move? What really do you have to lose at this point?
Chandler could be a major reason Denver is securely fit in playoff contention by season's end if they decide to sign him.