2012 Fantasy Hockey Playoffs: Our Hot Picks Minus Sidney Crosby
March 11, 2012
Nick Laham/Getty Images
March is literally steaming along and now this coming week means one thing for most fantasy GMs, and that is the fantasy playoffs. Also, this week means Daylight Savings Time. So if you are setting your Sunday roster, just keep in mind that games start at 12:30 p.m. EDT (Eastern Daylight Time). Hopefully your clocks are set.
When you think of Our Hot Picks, you can expect to get the quality and fantasy substance you deserve. Remember to please comment and, if you have questions, by all means ask away. We are always willing to answer any and all questions, no matter how big or small.
These picks are always players that are owned in less than 30 percent of your leagues.
Now it is time to expect the unexpected with our offerings. Here are some of the best players who could be available on your fantasy hockey waiver wire in the four-week gauntlet that ends the fantasy hockey season.
We do apologize because Sidney Crosby is not a waiver-wire pick because very few, if anyone, dropped him.
FORWARDS
Tuomo Ruutu, F, Carolina Hurricanes: Ruutu played Saturday night for Carolina against the Tampa Bay Lightning. Though you may want to give him a couple games to get back in the swing of things, insert him into your lineup anyway because 17 goals in 57 games translates to a respectable 25 over a 82-game schedule. Ruutu is owned in 25-30 percent of fantasy hockey leagues.
His SOG, hits and point potential are at least good reasons to consider an add. Playoff runs are won on depth guys at this point and the multiple-position eligibility is a huge boost for GMs.
Matt Cullen, C, Minnesota Wild: Cullen is your first-line center of the Minnesota Wild. Though the team has had their problems scoring, Cullen has 34 points in 67 games, which is decent for someone not owned in that many leagues. Five points (3G 2 A) does not sound great, but the ATOI—over 20:00 a night—in that span is a decent boost.
While Mikko Koivu continues to be out, Cullen has to be at least looked at with that miniscule 10-15 percent ownership rate. Maybe he gets you a few extra shots in your leagues as well. Hey, why not?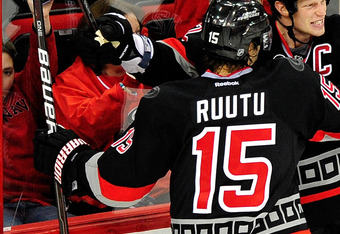 Grant Halverson/Getty Images
Nick Foligno, LW, Ottawa Senators: How is a 40-point player this far down in your waiver wire? Honestly, part of the reason is the ATOI of around 15:00. The lack of power-play points is another, but very quietly, Foligno is starting to see a little more time on the man advantage.
When a player is only owned in five or six percent of fantasy leagues, you look for bonuses and Foligno is on pace to easily top 200 hits on the year with 120-plus PIMS. Hey, that is not too shabby and when digging for categories, a few new wrinkles are needed this time of year.
DEFENSEMEN
Travis Hamonic, D, New York Islanders: The cold reality is that with single-digit ownership rates in most leagues up to 15 percent in ESPN leagues, Hamonic is a decent add because of his hits, ATOI and SOG. Honestly, this is more of a keeper pick for next season, but Hamonic may be able to chip in a few assists and power-play points over the next several weeks.
His game is coming together nicely and the reality is this is about finding players who help your team—whether it is now or down the road.
Brooks Orpik, Pittsburgh Penguins: Sometimes, it is good to have that bottom-of-the-barrel option—especially in leagues with specialty categories like hits and blocks. When you find a guy who has 200-plus hits and 100-plus blocks, that is someone who must be considered for your team.
The two goals and 13 assists really are just a bonus, so what can you do? When you're not looking for points from that fourth, fifth or even sixth defenseman option, look at ATOI, hits, blocks and even SOG.
In that case, Orpik has to be considered because, after all, this is the same guy who once had three hits in one shift against Detroit. This is another single-digit pickup special.
GOALIES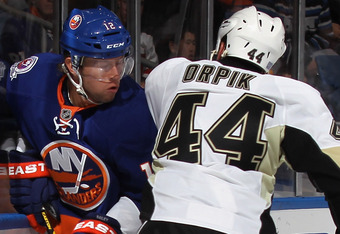 Bruce Bennett/Getty Images
Matt Hackett, Minnesota Wild: We have often said that when you go way out, you have to go all the way out. This is one of those types of pickups where there is nothing else left out there. It is clear that Wild starter Niklas Backstrom will be out for the next several weeks and maybe longer with a groin strain. While Josh Harding may get the majority of starts, he is not exactly the healthiest goalie, either.
When Hackett did get his chance earlier in the season, he was a stone wall with two wins in two starts. His buzz numbers are high and his ownership rates are up to around four-to-five percent this week. Do not be surprised if people are picking him up. If the options are few, then at least take a shot.
This is a second-week-in-a-row pickup, as people apparently did not get the memo last week.
It is now playoff time in earnest and keep in mind again that these picks are owned in less than 30 percent of your fantasy leagues so now may be the time to act before it is too late. If you have any other suggestions, please put them in the comments section. Thanks for reading.