NBA Trade Rumors: Breaking Down Potential Dwight Howard Trade to Chicago Bulls
March 12, 2012

Jonathan Daniel/Getty Images
It is the one rumor that just won't go away, and there is a very good reason for that.
Because it makes so much sense.
As we all know by now, Dwight Howard has requested a trade from the Orlando Magic and the Chicago Bulls were not on his list of preferred teams.
Well, Ken Berger of CBS Sports is reporting that the Bulls and Magic have talked, and the Magic are reportedly considering a potential blockbuster deal.
The deal would have Chicago sending Luol Deng, Carlos Boozer, Omer Asik and probably Chicago's first-round pick from Charlotte for Howard and Hedo Turkoglu.
The biggest issue with the deal being made is that Howard would have to agree to sign an extension with the Bulls. No way the Bulls take the risk that Howard could bolt at the end of the season. They might be willing to accept a short extension similar to what Chris Paul signed with the Clippers, but, again, it would all depend on Howard.
If the trade went through it would give the Bulls a starting five of Derrick Rose, Joakim Noah, Turkoglu, Howard and hopefully a healthy Richard Hamilton. If Hamilton remains banged up, then Ronnie Brewer would just slide into the starting unit like he has most of the season.
The move would also leave the Bulls with a pretty good bench with C.J. Watson, Kyle Korver and Taj Gibson. 
The biggest problems with the move are that it would leave them with only three quality big men and would leave Brewer as the team's best perimeter defender.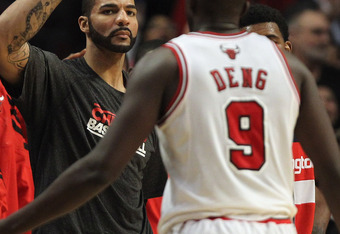 Jonathan Daniel/Getty Images
Also, with the amount of money Turkoglu gets paid for what he produces, he may actually have Bulls fans wishing that they still had Boozer to pick on.
With all that being said, if Howard consented to an extension, there is no way the Bulls would say no to this trade.
But what about the Magic?
The Magic would be replacing Howard with Asik, who has great defensive potential but a lacking offensive game. In Deng they would be accepting an injured small forward who is most likely going to be having surgery in the offseason. And with Boozer what you see is what you get.
The trade would keep Orlando competitive, but it isn't getting them any closer to winning a championship, and they would most likely be banking on that the Bobcats remain bad and that the draft pick ends up a good one.
Orlando also wouldn't be receiving any cap relief; they would actually be taking on money. The contracts of Turkoglu and Deng are fairly similar, but they would be taking on the remainder of Boozer's contract as well.
So would Orlando make the trade?
I wouldn't think so, but if this report is to be believed, I guess they would.
With the trade deadline on Thursday, we will just have to sit back and wait to see how this whole situation pans out.
Make sure to follow me on Twitter @dachicagofan, and check out my weekly Bullspodcast every Wednesday on my site, The MG Experience.