Robin Van Persie Agrees to £210k-a-Week Deal with Manchester City?
March 12, 2012

Laurence Griffiths/Getty Images
Robin van Persie has agreed to a transfer deal with Manchester City, a deal worth £210,000 a week, according to reports.
Sunday Times apparently broke the news first, which has since been carried by other news outlets such as Euro Sport and Daily Mail.
Daily Mail continues the story:
The deal, worth £10.9 million a year, has been agreed by the Holland international, according to sources as reported in The Sunday Times.


An official agreement has not been struck by the clubs with the Gunners desperate to keep hold of their influential captain who has scored 32 goals in 37 games so far this season.
At issue here is City's irresistible financial clout.
The news last week was that Arsenal will not sell Robin van Persie under any circumstance, with Wenger prepared to fight Manchester City to keep the striker, even if it means losing him on free transfer the following season.
Daily Mail offers a commentary:
The lucrative contract reportedly offered to the striker by oil-rich City would shatter Arsenal's pay structure, which is understood to be £100,000-per-week maximum. 

But Wenger warned City ahead of Arsenal's Monday night clash against Newcastle:

'We will not lose anyone to City or any other club because we want to keep our best players.

'It is very clear that we want to keep Robin and we will do everything possible to extend his contract.'Robin is the leader of our club and I would just like to specify that he is not at the end of his deal.'He is under contract until 2013 and even if he doesn't extend with us I would keep him.'
Part of the reports last week was that Arsenal and Wenger were prepared to offer Robin van Persie a record-breaking £150,000 a week. 
If, by offering this unprecedented amount to Van Persie, the club had hoped to impress the Dutchman, they must now be embarrassed by how puny the amount looks and sounds in the face of what Manchester City are prepared to offer the striker.
Simply put, Arsenal can't match City. And, unless they insist that the striker honors the rest of his contract, it is a battle Arsenal will lose, especially if the report is true that Van Persie is favoring a move to Manchester City.
Just last week I wrote that Van Persie would not move to Manchester City despite the riches he can have with a move there. My rationale was that he will not move to a rival Premier League club, not when he has become Arsenal's most important player and also the team's captain.
If this current report is correct, then I was clearly wrong to invoke principles that must now sound naive.
Again, if the report is true, my opinion is that Arsenal should refuse to let Van Persie go even at the risk of making RVP unhappy or losing him to a free transfer.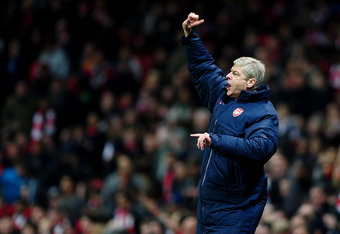 Laurence Griffiths/Getty Images
This is a matter of principle. City must be shown that they can't just wave money around and unsettle other teams' players.
The movement of Arsenal players to Manchester City is fast becoming a byword. Mirror Football ruminates on the situation:
The exodus has spawned the joke within football that Arsenal have become City's feeder club, and that it is only a matter of time before Van Persie follows suit.

But last summer has only strengthened Wenger's resolve not to allow another star player to join one of his biggest rivals. City manager Roberto Mancini's public admission that he is interested in Van Persie is hardly likely to have built any bridges.

Bankrolled by wealthy owners who see Financial Fair Play as a game in which they try to spend more than anyone else on transfer fees and contracts, Manchester City represent everything Wenger stands against.
The line, "Manchester City represent everything Wenger stands against" is an understatement. City and Mancini have become the face of what is wrong with football.
Already, Edin Dzeko, the player brought from Wolfsburg just two seasons ago, is unhappy because he is unable to get regular games. This follows in the wake of similar situations involving players such Emmanuel Adebayor and Carlos Tevez.
But this should hold no surprise. When you refuse to build a team of your own and only amass stars, how can you hope to keep everyone happy?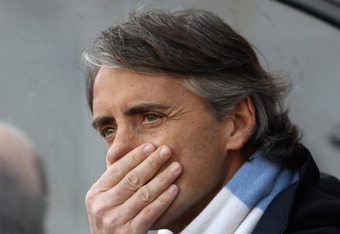 Scott Heavey/Getty Images
But City's less-than-happy dressing room is not our concern here.
It is that if this news is true, it is astounding in many dimensions, the least of which is not the fact that Robin van Persie has refused to talk with Arsenal on extending his contract, but is apparently willing to talk with Manchester City.
Betrayal.
The word must come into the picture sooner or later, but its implication does not bear upon the player alone, they are words that indict many of the subterranean issues at work here. 
Here are two of those: oligarchy and financial fair play.
Unless the world changes, teams like Arsenal are in trouble.
I am hoping this story is not true.
++++
Addendum
A couple of the comments already are jumping all over me. 
Those who follow my writing know I'm not a transfer rumor monger. So don't blame the wrong dog. 
And by the way, transfer news are by nature speculative; it is the nature of the beast. Take the Podolski rumor, for example. About every news outlet reported it. Now, nobody knows what the real situation is.
So take this news however you will. I, of course, hope the news is bogus. But it isn't true that I haven't provided sources for the story.
Here is the story from Euro Sport.
Arsenal striker Robin van Persie has accepted £210,000-a-week terms to join Manchester City, according to Sunday's papers. 

The Times makes the claim, although a transfer fee has yet to be agreed between the two clubs and Arsene Wenger is adamant that his star man is going nowhere.
City's mega-rich owners are willing to make him the club's highest-paid player once Carlos Tevez is off the wage bill this summer.