NCAA Basketball: The Third Annual Selection Sunday Awards
March 12, 2012

Jim McIsaac/Getty Images
Sixty-eight teams have been selected, and sportswriters will now begin wondering what is wrong with the Selection Committee members' minds.
Minutes after all the teams were picked, one of the least productive times of the year began: the month that is known as March Madness.
But before we start partying in New Orleans, let's take a look at the best and worst decisions of Jeff Hathaway and his Selection Committee for this year. It's time for the third annual Selection Sunday Awards!
The Miracle on Hardwood Award: This award goes to the 16th seed who has the best chance of, for the first time in 108 tries, defeating a top seed in the tournament. Just like the 1980 USA hockey team, this team has the potential to be the first Miracle on Hardwood.
This award goes to: Long Island (vs. Michigan State).
I like Long Island because while they might lose to the big-name schools and the really good small tournament teams (they lost to Penn State and fellow tournament-goers Norfolk State and Iona...more on the Gaels later), but they proved they can hang with them too, beating tournament competitors Vermont and slashing through their conference tournament. The other 16 seeds will be either incredibly tired (in the case of the play-in teams) or not talented enough to hang with their No. 1 (in the case of UNC Asheville against Syracuse).
Michigan State looked kind of iffy all day in their Big Ten championship game against Ohio State, but finally pulled it out in the end. They started out the season with two tough losses (one on an airplane carrier) and suffered some tough losses near the end, but they are starting to look strong when they most needed to be. This may be one of the closest 16-1 games ever, especially if Draymond Green can't come up with the big buckets like he did in Indianapolis.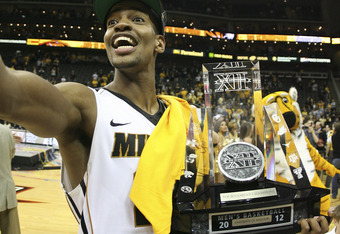 Ed Zurga/Getty Images
The Dentist's Chair Award: This award goes to the top seed who has the toughest road to New Orleans, assuming all games are played "chalk," meaning all the higher seeds win their games. Getting to the Final Four for this team will be like a trip to the dentist: long and painful.
This award goes to: Michigan State.
If everything plays as planned, the Spartans will start out with a Memphis team that is getting hot at just the right time winning their last seven, including three in the Conference-USA tournament. They'll then face a surprising Louisville team that had a shocking run through the Big East tournament, and cap that off with second-seeded Missouri, who has proven they can run with the big boys, in the Elite 8.
While this does look like a hard row for the Spartans to hoe, it's certainly not impossible. However, with a road full of trap games, the Spartans better not get complacent at the wrong time or they'll be making the long trip back to East Lansing, trophy-less.
The Concorde Award: This award goes to the top-seeded team who has the easiest road to the Final Four. Like the supersonic jet of the same name, the road to the Big Easy will be smooth sailing for this team. They won't face many challenges on their road to the national championship, and possibly could not be challenged until they get to the Final Four.
This award goes to: Kentucky.
No question, the Wildcats have the easiest road to the Superdome. They start with an already-tired play-in team in Mississippi Valley State or an incredibly weak Western Kentucky team that backed into the tournament.
Then, if everything goes chalk, they'll play Iowa State (who should have been slightly lower—maybe a 10th or 11th seed), Indiana, who is playing without one of their big stars in Verdell Jones III (torn ACL), and then a Duke team that really isn't playing up to their No. 2 seed. With the talent on that team, led by Anthony Davis, Doron Lamb and Michael Kidd-Gilchrist, there is no reason why Kentucky shouldn't breeze through the South bracket.
Messin' With Sasquatch Award (formerly House of Cards Award): This award goes to the high-seeded team that's setting themselves up for a big fall. Just like the humans in the Jack Link's beef jerky commercials, they may feel comfortable with their high seeding, but one false move and they could wind up getting punted like a football.
This award goes to: No. 2 Missouri.
Don't get me wrong, I like the Tigers as a No. 2 seed, but they had the unfortunate luck to be placed in the West bracket. They could be facing a Murray State team that will be incredibly dangerous, a Louisville team that's shocking a lot of people right now, and a few other teams that have the capacity to be this tournament's Cinderella.
Top that all off with a possible meeting with a Michigan State team that's heating up as they enter the tournament, and that's a tough road for the Tigers. I don't see them losing right away, but it could be coming earlier than anyone suspected.
One Shining Moment Award: This award, named after the song that officially ends the tournament, goes to the first-round game that embodies the true meaning of that song. This is the one shining moment of the tournament, where there could be an exciting finish, there could be a few nailbiting moments…but all in all, one of the greatest, if not the greatest, matchup of the first round.
This award goes to: No. 8 Creighton vs. No. 9 Alabama.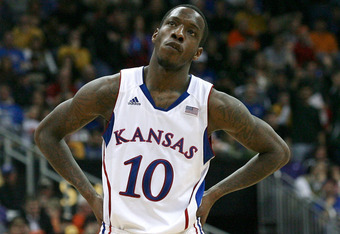 Ed Zurga/Getty Images
The Crimson Tide kind of flew under the radar this year, racking up a mediocre 21-11 record and not really shocking any committee members. But numbers can be deceiving. They were playing in an incredibly strong SEC that included two big games against top-ranked Kentucky.
To top it all off, all but three of their losses were to teams that made it into the tournament themselves. Don't underestimate the Tide, because they might prove to be a formidable Cinderella team down the road, and there is the potential for any game against Alabama to be a trap game. If JaMychal Green gets hot at the right time, watch out.
On the other hand, Creighton has proven before that given the right conditions, they can be just as dangerous as the Crimson Tide. They have had two big wins this year over teams seeded higher than them (sixth seed San Diego State and splitting a series with fifth seed Wichita State), and can only be designated as one of the most dangerous teams in this tournament.
When these two very dangerous teams get together in just a few days, there will be a dogfight, with this game coming right down to the final seconds; certainly, this will be one of the shining moments of the tournament.
Glass Slipper Award: This award goes to a team that might fly under the radar of most bracketologists, and like VCU and Butler last year, make a surprising run to the Final Four. This team has the potential to pull off some really huge upsets in the tournament.
This award goes to: No. 12 Harvard.
To put it simply, the Crimson are awesome this year! Their 26-4 record, despite the fact that it was in the relatively weak Ivy League, deserves higher than a No. 12 seed, but that's a point that's up for argument.
They do have a very good win against ACC champion Florida State. I'm certainly looking forward to what I'm calling their "Battle of the Brains" in the first round against Vanderbilt. Their only losses have been against (at the time) highly-ranked UConn and a couple of top teams in their league and the pretty-good Patriot League (Fordham).
If they get on a good run, especially starting against the SEC tournament champions, Harvard could be, surprisingly, a pretty tough out this year.
Snake in the Grass Award: Most of my readers might remember this from when I predicted every single game in the tournament in the blog's infancy. This award goes to the team that, for all intents and purposes, should not be in the tournament, but has wormed its way into the tournament somehow (by sheer luck, most likely).
This award goes to: No. 14 Iona.
It was a big shock to everyone when the Gaels were called to the tournament as a play-in team for the No. 14 seed in the West regional. I am equally shocked.
While they did win the MAAC regular-season title, they had some embarrassing losses along the way, including a humiliating loss to Fairfield in their conference tournament. They certainly aren't a team that looks like championship material, and it'll be a miracle if they even get out of Dayton. At any rate, good luck, Iona...you're going to need it.
Biggest Snub: This award goes to the team that should have made the tournament, but were passed over for some reason or another (not enough quality wins, bad RPI, the Committee had a brain fart—take your pick). This team certainly was good enough to make the postseason, but fell just short, but could certainly be a contender in any bracket.
This award goes to: the Drexel Dragons.
Not only did they win the CAA regular season championship, they were a Kentucky-esque 13-0 at home, and also had won 19 games in a row at one point. They also have a pretty high-quality win against VCU, a team that was chosen over the Dragons, and had a down-to-the-wire loss to those same Rams in the CAA tournament. Putting a mediocre Iona team in over them is an absolute travesty. This was a major mistake by the selection committee, and it's one that will haunt Drexel through the long, long postseason.
Worst Seeding: This award goes to the seeding decision that will draw the most ire of all of them. This is the seeding that will have bracketologists scratching their heads and analysts screaming for the committee's ouster.
This award goes to: No. 7 Florida.
When the Gators were called into the tournament, I thought to myself: "What is the committee smoking, putting them that high?" Looking at their schedule, I can't see why they are seeded this high. They lost five of their last eight games to end the season (including a humiliating 14-point loss to bottom-of-the-barrel Georgia), and on top of that, lost twice to Kentucky by a combined 18 points in their last three games before the tournament.
Florida shouldn't even be in the tournament, much less be such a high seed. Luckily, with a matchup against Virginia, their weaknesses will be exposed, and they'll be bounced rather quickly.
Best Seeding: This goes to the best seeding decision by the committee—one they should be sincerely proud of. This is a seed that is well-deserved and one that the analysts should be able to accept without much of a problem.
This award goes to: No. 2 Kansas.
This was without a doubt the best place to put the Jayhawks. I felt they weren't strong enough to be a No. 1 seed, but they were strong enough to keep a No. 2 seed without any problems.
With a surprisingly strong Big 12 and non-conference schedule (the crown jewel of that being a close 10-point loss against Kentucky early in the season), I feel No. 2 is perfect. The No. 1's are too strong and the No. 3's not exactly up to par with the Jayhawks. I think they will make a statement up to the Elite 8, then unfortunately get bounced by a simply stronger North Carolina team.
And now, for my national championship pick:
Syracuse over Kentucky, 75-73 in overtime.
This is the logical and ideal choice for the national championship game. These two teams are undoubtedly the two best teams in the nation, and it will certainly show in New Orleans.
In the end, while the Orange did have some stumbling blocks to fix, they'll rise above it and prove why the Big East is one of the best conferences in the nation, ironically enough, in their final season there (they'll move to the ACC next year).
So, now that all the awards have been handed out, all that's left to do is go to Dayton and wait for the First Four games. Then, March Madness will truly begin. Enjoy the tournament!