SEC Basketball: How Texas A&M Aggies Get Back in National Spotlight Next Season
March 12, 2012

Jamie Squire/Getty Images
After the most disappointing season since the Billy Gillespie Era started, the Aggies of Texas A&M will be searching for answers going into their first year with the SEC. 
In terms of top-to-bottom competition within the conference, Aggie basketball should have a much easier time finishing near the top of the SEC in basketball than they will in football. 
Also, besides #1 overall seed Kentucky, the competition will be less than what the Aggies have had to deal with in the Big 12.  For example, this season's "March Madness" NCAA Tournament has six of the ten Big 12 teams receiving invitations, while only four of the twelve SEC schools will be dancing. 
So, what needs to be done with the program in the next year in order to ensure success as the school changes conferences? 
First, coach Billy Kennedy will need to be there for the entire off-season to set up the program under his supervision. 
Kennedy, very unfortunately, found out about his Parkinson's Disease right before the season began, which was not good for the program.  It is hard to gauge his coaching abilities from this year as it is a difficult task to lead a new team towards success, especially when you are not there for the beginning of the schedule. 
After a year in College Station and a full off-season, Billy Kennedy should be able to implement the system that lead his Murray St. team to the NCAA tournament.
Second, the Aggies must stay healthy in order to put together a tournament worthy record.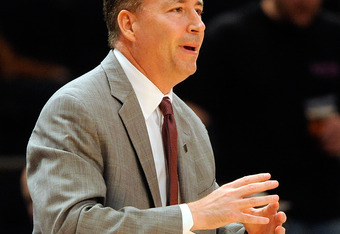 Patrick McDermott/Getty Images
The absence of Kris Middleton, Kourtney Roberson and Dash Harris for big chunks of the season was a difficult thing for the team to overcome, especially in conference play. 
This upcoming season the Aggies will lose Harris and David Loubeau to graduation, so other players will have to step up and a lack of major injuries will be a must. 
Third, the underclassman will have to play major roles that will help returning starters Middleton, Elston Turner and Ray Turner. 
Players like this year's freshmen Jordan Green and Daniel Alexander will need to produce better than the combined 5.8 points and 3.9 rebounds that gave the team this year. 
Incoming hometown recruits J-Mychal Reese (Bryan HS) and Alex Caruso (A&M Consolidated HS) will have to shore up the guard duties left by Dash Harris, and will need to play older than the freshmen they actually will be.
Guard play is one of the most important factors in having success in Division 1 basketball, and a lack of it makes life difficult, as Aggie fans witnessed all season.
Overall, optimism needs to be the word of the off-season, as the Aggies will be back over .500 next year and Billy Kennedy will make a strong run at getting them back into post-season play. 
Aggie basketball fans have been spoiled for the last six years, compared to the programs history overall. This season ,however, is just a small set back, and fans should be expecting a much improved team, coaching staff, and overall record come this time next year.