San Francisco Giants: Handicapping the First-Base Position Battle
March 13, 2012

Jamie Squire/Getty Images
The San Francisco Giants find themselves in a fortunate situation.
Did you read that correctly? After the 2011 season, wherein pretty much everything that could have gone wrong did go wrong, the team is off to a thunderous start to spring training 2012.
One of the key question marks coming in to spring training was: "Who will win the starting first base job?" For the Giants, this question seemed to be analogous to "Which first baseman will ground out softly to second base the least amount of times?"
Let's look at the three key contenders from which Bruce Bochy and the coaching staff could have chosen coming into spring training and their 2011 statistics:
Aubrey Huff: .246/.306/.370, 12 HR, 59 RBI, 45 Runs, 27 2B, 579 PA

Brandon Belt: .225/.306/.412, 9 HR, 18 RBI, 21 Runs, 6 2B, 209 PA

Brett Pill: .300/.321/.560, 2 HR, 9 RBI, 7 Runs, 3 2B, 53 PA
Brett Pill showed a great deal of promise in his 53 plate appearances, but the sample size was far too small to project what he could do over an entire season. Brandon Belt's limited time resulted in substandard numbers and Aubrey Huff's season was a catastrophe.
To put these numbers into perspective, let's look at former Milwaukee Brewers first baseman Prince Fielders 2011 statistics:
Prince Fielder: .299/.415/.566, 38 HR, 120 RBI, 95 Runs, 36 2B, 692 PA
The Giants prospects for finding a player who could even approach Prince Fielder's production output seemed grim.
But now…
The same three Giants in spring training:
Aubrey Huff: .316/.381/.632, 2 HR, 2 RBI, 4 Runs, 0 2B, 19 AB

Brandon Belt: .333/.385/.667, 2 HR, 2 RBI, 4 Runs, 2 2B, 24 AB

Brett Pill: .321/.333/.607, 1 HR, 5 RBI, 4 Runs, 3 2B, 28 AB
For the record, thus far in spring training, Detroit Tigers first baseman Prince Fielder:
Prince Fielder:  .211/.318/.368, 1 HR, 1 RBI, 2 Runs, 0 2B, 19 AB
Talk about a reversal of fortune. 
It seems a bit too early to call this race either way. As you can clearly see, there is no clear front-runner for the starting first-base job. Even so, my percentage wise prediction (which I absolutely reserve the right to alter as I see fit) goes like this:
Brett Pill:           36%
Brandon Belt:    34%
Aubrey Huff:      30%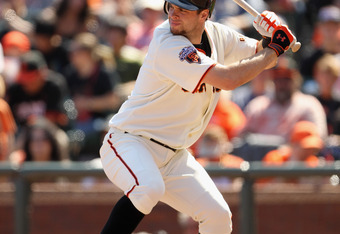 Ezra Shaw/Getty Images
One final note: Never believe what coaches, ownership or reporters tell you. Teams can stand behind players one day and trade them away the next. If ownership and management did not play their cards close to the vest, they would lose all leverage. 
But ask yourself this, Giants fans:
If Huff and Belt can both play in the outfield, and they both maintain this output, how could you not shift them into one of the corner positions? Gregor Blanco is playing well, Melky Cabrera is radioactive, Angel Pagan is struggling and Nate Schierholtz is…well…Nate Schierholtz. 
And if you are unwilling to move one of these players, what then? Do you let talent of this caliber ride the bench?
If these three first base candidates maintain their performance, I would be shocked if all of them finish the season in a San Francisco Giants jersey.