March Madness 2012 Bracket: Wichita State Shockers Scouting Report
March 14, 2012

Jamie Squire/Getty Images
Gregg Marshall has turned the Wichita State Shockers from a Missouri Valley bottom dweller his first couple seasons into a team with a 26-5 overall record and an at-large berth in the 2012 NCAA Tournament as a five seed.
The Shockers now have to deal with the defensive-minded VCU Rams in the first game. This Wichita State squad is prepared to play in a defensive battle though and may have the pieces for a solid tournament run.
Wichita State Shockers Scouting Report
Strengths
Efficient offense
Very good post size
Solid perimeter length
Good shooting the three
Excellent free throw shooting
Physical defense
Great awareness
Great rebounding
Great ball movement
Great spacing
Great experience
What stands out the most to me when I watched Wichita State is how efficient their offense is. Their offense isn't too fancy, but it gets the job done with good with smart motion and by setting on-ball and off-ball screens.
Garrett Stutz is what makes this team for the most part. While I also love the high-flying ability of Toure' Murray and Joe Ragland's smooth shot and efficient passing, Stutz is the big man in the middle who can do it all. Stutz, who goes seven feet tall, has hit 10 three-pointers this season in 30 attempts. He gets up and down the court well and is great at setting screens.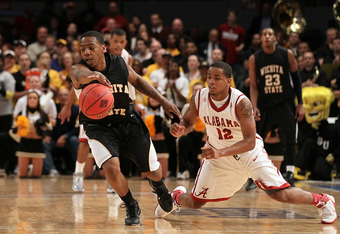 Jim McIsaac/Getty Images
Ben Smith and David Kyles are key complements to those three on this team, as both are dangerous shooters and lead the team in three-point attempts.
The Shockers are 14th in the nation in scoring and 11th in field goal percentage for a reason and that's because they run their offense as efficiently as any team in the nation with smart shots and great ball movement.
On defense, this team plays very physical. They can do that when they basically always have a seven footer on the court—Stutz's backup, Ehimen Orukpe, is also seven-feet tall—and aren't afraid of teams driving on them. They have solid length on the perimeter and always contest shots. It's the reason why they gave Creighton fits all game during the second meeting.
Weaknesses
Tournament inexperience
Solid athletic ability, not great
Too physical?
Honestly, this Wichita State team has displayed very few flaws on tape. One can't help but think though whether or not they are more of a byproduct of playing in a non-power six conference. I don't think that is the case, but their athletic ability still isn't on par with the best teams in the nation, such as a Kentucky, who is a potential and likely Sweet 16 opponent.
While this team has gone to back-to-back NIT's, they don't have the experience of playing in the actual NCAA's which could hurt them.
Another question is whether or not this team is too physical at times. Generally, referees in the tournament allow teams to play, but you never know when they could get stuck with a group of refs who think it's just too much.
As I stated before, the Shockers are so efficient overall, it's really nitpicking their game to find weaknesses.
Chances of Winning First Game: 80 percent

The VCU Rams are yet again a very good team, but Wichita State has the edge in the matchup.
It should be a great game, as VCU's 'havoc defense' is one that can even disrupt the smoothest offenses in the nation, something the Shockers classify as.
In the end though, I think Wichita State is more physical on defense than any team VCU has seen yet and will have a very hard time stopping Garrett Stutz in the paint.
Chances of Reaching Final Four: 6.5 percent

Wichita State deserves a slightly better chance than what I gave UConn, but I just think they will struggle to match up with the athletic ability of whomever they will face in the Sweet 16 between Kentucky and Connecticut, and then in the Elite Eight with either Baylor or Duke.
Chances of Winning It All: 3.5 Percent
Even if they magically get out of the South Region, the Final Four will draw some tough matchups as well.
Cinderella has been doing well lately and it gives Wichita State a chance, but I'm afraid the Shockers just don't have the athleticism to hang with the big boys for multiple games like they will have to do win the national title.