NCAA Bracket 2012 Predictions: The West Region, Pick-by-Pick Analysis
March 13, 2012

Andy Lyons/Getty Images
The West, as it looks in a flipping notebook of scouting reports—"plays fast," "best transition team in the nation," "not happy unless running," "four lightning quick guards and a power forward playing center." You like to play small, fast, athletic, furious and feverish, do you? Well, this is the region for you, with exception given to the No. 1 seed Michigan State Spartans, who live and breathe to squeeze the air out of your lungs with paint fumes from their sneakers. 
Therein lies the fun chess match of the West region: turmoil, trepidation and transition all under Sparty's (I am referring to the mascot, not the team) stomping foot. Rooks, bishops and knights look pretty with lateral, diagonal and cornering movements, but eventually, it takes a power play to capture the king.  
Round of 64
No. 1 Michigan State over No. 16 LIU Brooklyn 
I spend a great deal of time in Brooklyn. You will find the cockiest guys before you finishing walking up the subway stairs. They're the coolest and they know more than you. Even THAT GUY with the LIU Brooklyn diploma on the wall, doesn't believe Tom Izzo is going to be the first coach to lose a 1-16 matchup. 
No. 8 Memphis over No. 9 St. Louis         
Talk about a style clash. Ninth-seeded St. Louis breaks the regional streak, counting down from Michigan State, of teams that don't play in overdrive (New Mexico is just confused). In fact, they are the exact opposite. Billikens coach Rick Majerus (Marquette, Ball St., Utah) would just as soon take the tip-off and dribble the ball for 19-and-a-half minutes, call timeout, and diagram a play to go into half-time 2-0. If it weren't for that pesky shot clock. They can flip you around on the defensive end as well, notching a top 10 season in defensive scoring, including making the three-point line almost non-existent. 
Memphis on the other hand, enters the tournament blazing hot, with a chip on their shoulder from a well-documented perception they are under-seeded after winning 11 of their last 12 games. Memphis has the kind of jump-out-of-the-gym athleticism that turns turnovers into explosive runs and YouTube clips. Luckily for St. Louis, they are one of the best teams in the nation at protecting the ball and controlling the tempo, as noted previously. 
The matchup really favors St. Louis, but something tells me the quickness and length of the Tigers, paired with the name Memphis on the jersey, will prove too much for a Billiken team with no NCAA tournament experience.    
No. 12 Long Beach State over No. 5 New Mexico 
I admittedly haven't seen a New Mexico game all year. Everyone seems pretty confused as to exactly what this team does. The recaps sound like a zookeeper's journal from the lion cage—"Well, the lion was in a bad mood today, and didn't feel like eating TCU." The only thing pundits can agree on is that the Lobos can rebound and pass. Still, the obsession with the word "flow" and branding the team as not talented, but hard working, sounds a bit passé. 
Long Beach State's chances hinge on the injury status of point guard and defensive specialist Larry Anderson, a 6'5" senior who is second on the team in scoring. If Anderson can play on his sprained right knee, coupled with the tenacious Chris Paul-style defense of freshman Casper Ware, Long Beach State will be the No. 12—No. 5 upset this year. 
Without Anderson, I'll have to hope the lion ate something spicy last night. 
No. 4 Louisville over No. 13 Davidson 
Louisville just won the Big East tournament and is due for a let down. Just like U-Conn last year, right? 
Davidson will shoot threes by the bushel load, having taken them at a clip of 23 per game throughout the year. Statistically, their results look like last year's VCU, everyone CAN shoot them, but nobody is really what I'd brand a sniper. Everyone is in the mid to high 30th percentile, which is good, but not deadly. 
VCU was able to ratchet their efficiency skyward for their Final Four run, but it just doesn't look good here. Louisville is playing really well. They've been as inconsistent as they come this year, but they should find enough focus to simmer a Stephen Curry-less Davidson. 
No. 6 Murray State over No. 11 Colorado St. 
This Colorado State teams reminds me Notre Dame's offense without the threes. They take them very efficiently, but they won't bury you out there. Luckily, Murray State remains the quintessential three-point line denier. CSU says, "Fine, we didn't want them anyway." 
Either way, the tallest player on Colorado St. will ball at 6'6". Did you see what I did there? (His name is Will Ball.)
As good as Murray State is, they don't seem to just knock anyone out. I see this game dragging on to scare Racer Nation, without ever really being in jeopardy.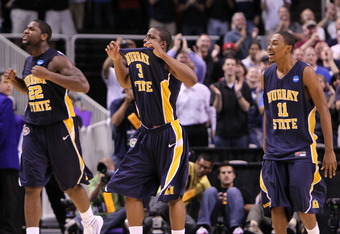 Jed Jacobsohn/Getty Images
No. 3 Marquette over No. 14 BYU/Iona 
For BYU/Iona, this is like winning at that old Mountain Dew cap game. You won! What now? You get to challenge Usain Bolt in a foot race? 
What? Why? Marquette plays fast. If they don't start slow, like they did throughout the year, either team will have trouble keeping up. Even with a slow start, Marquette had six double-digit comebacks. 
That seems about right—if Usain Bolt spotted me 50 yards in a 100 yard dash, I'd still lose by 20 yards. 
(Tangent: I once created Usain Bolt as a recruit in NCAA Football '07 as a running back. If it weren't for the injuries, he might hold the NCAA record for rushing. It's hard to figure out how to translate the durability of a Jamaican sprinter into football. It didn't stop me from trying. I also once created Dhalsim as a cornerback. He could intercept fade routes with one hand.)
No. 7 Florida over No. 10 Virginia 
I'm incredibly surprised to see Florida as a seventh seed. I know they lost 10 games, but this team was in the Top 15 a couple weeks ago and three of their last four losses were to Kentucky, Vanderbilt...and Kentucky. Also, this team returns the firepower from last year's Elite Eight team, with the addition of freshman wing sensation Bradley Beal, arguably their best player. 
Chris Jackson/Getty Images
Virginia, losers of six of their last 10 games, play an interesting take on a pressure zone called the "Pack Line" in which one man pressures the ball and the others stay in the "pack" treating the three-point line as if it were invisible fencing. This kind of defense plays right into the hands of a team that has four guys on the floor that can knock down shots from anywhere on the court. It's a fun idea though. 
As the biggest Office fan on the planet, it pains me to pick against a team whose best player is Mike Scott, in favor of a program that brought us Joakim Noah. I'm pretty confident this is a no-brainer. 
Ok, ok…I have to do this. So, if it WERE to happen that Mike Scott hit a buzzer beater, wouldn't be awesome if the post-game interviewer were to pose a question like, "Mike Scott, it looked like you were rushing to get it off, but you did hardcore and the rest is history, how does it feel to come up so BIG for Virginia?" 
No. 2 Missouri over No. 15 Norfolk St. 
Note to self: Research if other "Spartans" teams are called Sparty. First point of contact, Norfolk State. 
Anyway, Missouri will win, although Spartan center Kyle O'Quinn will be a problem.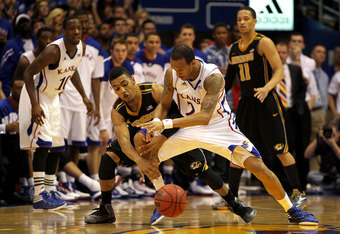 Jamie Squire/Getty Images
Round of 32 
No. 1 Michigan State over No. 8 Memphis 
When Michigan State's most athletic player, Branden Dawson, lost his season to an ACL tear, it exposed the Spartans' biggest weakness—guarding athletic wingmen. Guys that play the 2 and 3 positions with height 6'4"-6'7" and are too quick can get Spartan ambassador Draymond Green in foul trouble.
The same brand of top-notch athlete will now be manned by the likes of Austin Thornton and Brandon Wood, who aren't bad players, but are not in that upper echelon of talent. Dawson, in my humble opinion, was the only Spartan in that category. Even more than Keith Appling or Green.   
While watching the selection show, I found myself wanting to stay as far away from these super athletic teams as much as possible. Even if they weren't, per se, BETTER teams, but teams stacked with athletic wings, I figured to be the worst possible scenario for Michigan State.   
The teams that immediately came to mind were Syracuse, Baylor, Missouri, and Georgetown. 
With one caveat—I forgot about Memphis.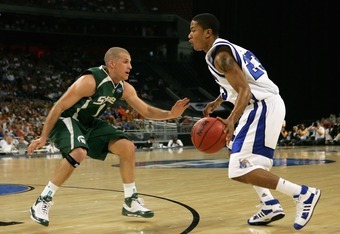 Ronald Martinez/Getty Images
When you get a No. 1 seed, you count on a "gimme" first game and a relatively weakened eighth or ninth seed. Somehow, I never considered Memphis as someone I'd worry about too much. I, subconsciously, calculated them as a 4-6 seed that would be eliminated by another powerhouse and not an issue that'd we'd have to deal with. They're not that good, but our glaring weakness is in their wheelhouse. 
It reminds me of that scene in Gladiator, when Joaquin Pheonix disables the use of Russell Crowe's right shoulder, before going out to fight in the coliseum. This example is quite fitting, because I believe Crowe was about to fight tigers—just like the Spartans? Yes? 
Memphis has wings in spades, running up and down the floor on Thornton, Kearney and Wood, jabbing sharpened sticks at the Spartans' salty wound. They have five players that fit the description of this nightmare, to give the Spartans fits: Will Barton, Antonio Barton (he's only 6'2, but everything else is deadly), Chris Crawford, Adonis Thomas and Wesley Witherspoon. 
On the flip side, Memphis struggles against physical teams and in no way, shape or form can handle Green, Nix and/or Payne on the inside. There's no reason for Izzo not to pound the ball due to their lack of size. Every. Single. Possession. 
I truly believe this to be a flip-of-the-coin game. The tiebreaker to me is that St. Louis has a good chance to beat Memphis. So, that 50/50 shot (not to even play Memphis) and the Spartans' 50/50 shot, give Michigan State favorable odds as a bracket selection.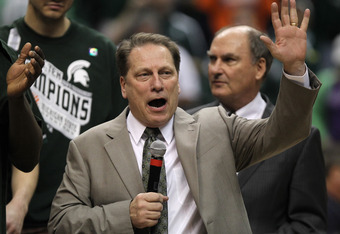 Jonathan Daniel/Getty Images
I picked Memphis to get here, but Spartan Nation should be rooting hardcore for St. Louis Friday night.  
No. 12 Long Beach State over No. 4 Louisville 
Seems troubling to have my bracket hinge on the health of Larry Anderson, but, if he can play effectively, I don't see how Louisville's Peyton Silva can establish a rhythm. And if Peyton Siva cannot establish a rhythm, Louisville dies. DIES! 
I'm betting on the music of the moment to add the extra spark Long Beach needs to stay healthy. This is a fantastic opportunity to take the spotlight for 2012 Cinderellas. 
Note: I am not ignoring that Long Beach lost to Louisville earlier in the year WITH Larry Anderson. I think they were a small team that fell behind and weren't able to crawl out of the deficit on the road. 
No. 6 Murray State over No. 3 Marquette 
This is a highlighter game. Take note of game time, date and get your popcorn ready. Both teams like to play up-tempo, create havoc in the backcourt and off to the races they go. One team here, is even named, fittingly, the Racers. 
Marquette is branded "the best transition team in the nation" and Murray State has an issue with turnovers, which seems a little like biting the hand that feeds, but hey—they won 30 games. It works. 
Murray State won't be intimidated by Marquette. The difference between these two eerily similar teams is depth. The Racers play nine players over 10 minutes a game. Being that it's the second game of the weekend, it could mean more mistakes than usual for Marquette. 
Hypothetically, the Golden Eagles will force Racer star guards Isaiah Canaan (great name for a three-point bomber!) and Donte Poole into quicker shots and hope to outscore them. Being that Canaan almost made 100 threes this year, he'll be up to the task. Defensively, Murray State isn't bothered by Marquette's speed—they welcome it. 
No. 2 Missouri over No. 7 Florida 
This is a big-time basketball game! Certainly not a second round game, it should have the feel of an Elite Eight battle. Certainly watching the backcourts of these teams will be scintillating. Florida has Erving Walker, Kenny Boynton and Bradley Beal, yet Missouri counters with the Pressey brothers, Phil "Flip" and Matt, with all-world mismatch Kim English playing inside out. 
Guarding English should be perimeter-forward Erik Murphy, who will have a height advantage, but that's about it. This is the key match of this game. Murphy should be able to get open looks with height and even be able to muster some ugly post moves as Missouri struggles with any kind of size. Even weak size like Murphy. He's the guy Gator Nation will turn to. Hey, he had 24 against Kentucky in a loss.   
The backcourts will duel all night long, and it'll be spectacular, but Florida's lack of ability to play offense physically on the inside will be their downfall. 
Sweet 16 
No. 1 Michigan State over No. 12 Long Beach State 
Long Beach State will certainly watch the video of Michigan's win over Michigan State, in which a team totally outmanned on the inside was able to execute a sticky zone, take away passing lanes, and force the Spartans into 14 turnovers. And a one point loss. 
Dan Monson and Izzo know each other quite well from Monson's days at Minnesota. There will be no surprises here. There is just not enough in the 49ers' arsenal to compete with the weight of Derrick Nix, the length of Adreian Payne and the all-around smile of Draymond Green. 
No. 2 Missouri over No. 6 Murray State 
The differences between Marquette and Missouri are focus and chemistry. Missouri has a center in Ricardo Ratliff that is almost better from the field (.693) than the free-throw line (.698). When Missouri refuses to turn the ball over (seventh fewest in the nation), there isn't going to be as much space to run. To play that fast and intensely deliberate, is simply irritating. 
That's when the frustration of Missouri settles in. 
 Elite Eight
 
No. 1 Michigan State over No. 2 Missouri 
Missouri apparently has the best chemistry in the country!? That'll certainly be put to the test in the paint by the Spartan big men, whom nobody on Missouri can really defend (except perhaps Ricardo Ratliff). 
The real problem this Michigan State team presents revolves around having multiple big men that are dynamic. Draymond Green gets on the deep inside and is so good at finding guys slashing and/or moving within the blocks. He almost led the Spartans in assists for that reason. This is Missouri's worst nightmare. 
Green also can match up with Kim English like few can. Granted, English will make him work for it, and I see a potential problem with Green being out on the perimeter for rebounds, again, with the Spartans second leading rebounder, Dawson out. But, Nix or Payne should be able to pick up some slack, and if not Austin Thornton can be pretty scrappy on the glass. 
Izzo's squad cleaned up the turnover problem this year, which bodes well in a game like this, where Missouri is looking to force turnovers and get out and run. They beat a lot of teams with the turnover margin, because they also don't turn the ball over, which isn't a problem for the Spartans, who look to frustrate you into missed shots man-to-man. 
The game of mismatches tilts in the Spartans favor if point guard's Keith Appling and Travis Trice protect the basketball. I believe the depth of Trice to be an X-factor here. 
Tom Izzo will bring the Spartans to their seventh Final Four. 
Coverage of the East, South and Midwest regions are linked up on my blog: http://ryanczerfas.blogspot.com/2012/03/2012-ncaa-bracket-predictions-pick-by.html