Jimmie Johnson Penalty: Is Rick Hendrick's Second Appeal Stupid or Brilliant?
March 14, 2012

Tyler Barrick/Getty Images
The appeal over the penalties assessed to Jimmie Johnson, Chad Knaus and the No. 48 NASCAR Sprint Cup Series team was heard on Tuesday.
The result was not what Johnson's car owner Rick Hendrick had hoped for.
Johnson's 25-point penalty and the suspensions of Knaus and car chief Ron Malec were upheld following the appeal on Tuesday.
In case you are just joining us, the penalties were levied after Johnson's No. 48 car failed initial inspection for the season-opening Daytona 500 when it was found that the C-posts, which extend from the roof to the rear decklid, were found to be out of tolerance.
Hendrick was unhappy with the ruling made by the appeals board, and has elected to appeal to an even higher power in chief appellate officer John Middlebrook.
"We feel strongly about this issue and will continue to pursue it to the next level," Hendrick said following the ruling.
Hendrick's decision to appeal the ruling is a maneuver that is uncommon in NASCAR, but is it a move that is brash or brilliant?
In the 134 previous appeals from 1999 up until Johnson's penalty, 90 have been upheld, 32 have been reduced, 10 have been overturned and two have been increased.
How many times has a second appeal been overturned? Few if any.
The odds of Hendrick winning his case are not in his favor. Furthermore, the very fact that Hendrick is not willing to accept his penalty only adds to his reputation of being a car owner who doesn't exactly like to play by the rules.
However, perhaps winning the case isn't precisely what Hendrick is after.
Should the penalties be enforced now, Knaus would be forced to miss Sunday's race at Bristol, a track which places strong emphasis on having a good setup.
Johnson has earned four Top Fives in his last five Bristol starts, including a win in 2010, all with Knaus atop the pit box.
Keep in mind that, even with 23 races remaining before the Chase for the Sprint Cup starts, Johnson sits 23rd in the standings and still could use all the points he can muster in order to be sure of making the Chase.
Johnson has a better chance of earning more points with Knaus atop the pit box than he does with any other crew chief because, let's face it, they've been together a really long time and have a chemistry like no other driver-crew chief duo in the garage area.
Since Knaus will be working Sunday's race at Bristol, which additional race will his suspension cover assuming the penalty is once again upheld?
That would be the Aaron's 499 at Talladega, a track at which setups are not a factor as the race is determined entirely by raw speed and the draft.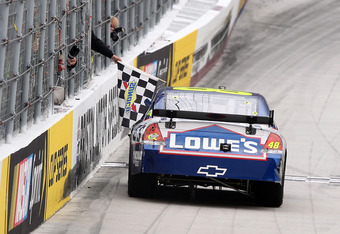 Doug Pensinger/Getty Images
Hendrick's decision to appeal the penalties once again simply assures that Knaus will be atop the pit box for the more crucial setup track this week and can sit on his couch in a few weeks when the circuit heads to a track at which setups are irrelevant.
It's a smart, tactical move by Hendrick.
Even though Johnson should make the Chase with relative ease, things tend to happen during the course of a season that can put a dent in a driver's point total.
For instance, a Lap Two crash or a 25-point penalty.
Why take a risk when you can play it safe?
On the surface, Hendrick may look like a fool for thinking he can get his penalty overturned after losing his appeal the first time.
But in a sport where every point is crucial, Hendrick's move is a subtle one of brilliance.