Warriors Trade Ellis, Udoh for Bucks' Bogut and Jackson: Golden State Analysis
March 14, 2012

Ezra Shaw/Getty Images
According to ESPN, the Golden State Warriors have traded Monta Ellis, Ekpe Udoh and Kwame Brown to the Milwaukee Bucks in exchange for Stephen Jackson and Andrew Bogut. 
Warriors owner Joe Lacob had seemed determined to only flip Ellis for a star, but with it clear Dwight Howard was not coming, he must have believed Bogut was the best available answer.
Since the Warriors drafted Steph Curry, there has been speculation that the high-scoring, but inconsistent Ellis would be moved in exchange for a piece that could help shore up the Warriors' defensive troubles. 
Disgruntled Employees and Contracts
Ellis has one more year left on his contract at $11 million with a player option for the same amount the following year. Ellis stressed to Warriors beat writer Marcus Thompson that the second year was a player option, reflecting his unhappiness with the organization. 
The reasons for Ellis to be unhappy are plentiful. How the organization handled his moped injury. How they drafted Curry in 2009 after telling him they wouldn't. How they've continued to lose and make poor decisions. His reported sexual harassment of a team employee likely also affects his thinking.
The Warriors essentially traded one-and-a-half seasons of Monta Ellis and at least two-and-a-half years of Udoh on his great rookie contract for two-and-a-half years of Bogut making between $12.1 million and $14.5 million a year and Jackson for a year-and-a-half making around $10 million a year.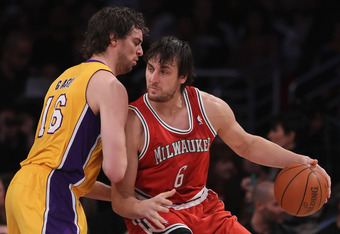 Jeff Gross/Getty Images
Kwame Brown is of no on-the-court importance to the deal as he was signed by the Warriors to a one-year deal and is injured for the rest of the season.
Missing Udoh
The Warriors did not want to give up on Ekpe Udoh but when he became necessary to get Bogut, they gave in. The slender shot-blocker is a difficult player to evaluate.
He's in his second year, will turn 25 soon and is averaging only 9.1 points and 6.4 rebounds per 36 minutes this year. However, the Warriors have been an absurd 20.4 points per 48 minutes better with him on the floor than off. 
What you think of Udoh largely comes down to what you think of plus/minus as an indicator of productivity. The former Baylor big man is known as a solid defender, and with him on the court, the Warriors have allowed 102.0 points per 48 while off they allow 113.2.
The fact that Golden State also allowed 7.5 fewer points per 48 with him on the floor last year lends credence to his defensive abilities. Still, the normal caveats with plus/minus remain.
Is he replacing a bad defender when he comes into the game? Is it entirely Udoh causing the difference or does he play with better defenders than the Warriors other bigs or does he do so against worse offensive players?
Udoh has split time between power forward and center but has mostly played center alongside David Lee this year. At a quarter inch under 6'9" without shoes, Udoh is undersized for the position, but one can argue that outside of Howard and Demarcus Cousins, few NBA centers hurt you offensively using their size and strength.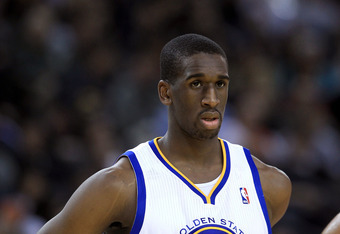 Ezra Shaw/Getty Images
Betting on Health
The Warriors' core can now be expected to include Curry, Lee, Bogut and rookie sharpshooter Klay Thompson.
Bogut has become known as one of the league's best defending big men but has done so playing for one the league's best defensive coaches in Scott Skiles. The Australian, though, is also a skilled offensive player who scored 15.9 points a game in 2009-10.
The problem is that since the 2007-08 season ended, Bogut has played only 6,014 minutes. Dwight Howard has played 10,210.
Like the Warriors' Curry, Bogut has been plagued by injuries and has not suited up since January 15th. At 27, he can have a lot of good years ahead of him, but only if he can regain his former form.
It's tough to compete if your two best players are not dressed for games. 
The Return of Captain Jack?
One would think Jackson might receive a buyout given his past difficulties with the Warriors organization, his age and his lackluster recent play, but Marcus Thompson reports he won't.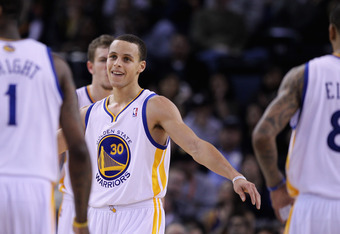 Ezra Shaw/Getty Images
In Dorell Wright and Brandon Rush, the Warriors have better perimeter defenders and three point shooters to man the wings with Thompson. 
Jackson, is however, more of a creator and passer than any of the Warriors' guards save Curry. He might be able to fill some of Ellis' production and run some of his pick-and-rolls albeit in a less efficient and slower way. 
Jack, maligned center Andris Biedrins, and Wright are all rumored to be involved in trade discussions now. None of the three have a ton of long-term value to the team, and getting any assets or cap relief in return would be a plus. 
Wanting to Lose? 
John Hollinger puts the Warriors' odds of making the playoffs at only 16 percent, but some thought that the Jazz, Blazers, Timberwolves and Mavs tumbling could give them a little better chance.
For a fanbase whose best moment since the first Bush presidency was getting out of the first round in 2007, any trip to the playoffs would be meaningful. But championships aren't won by barely getting eighth seeds, and Lacob has longer range plans. 
Because of the Marcus Williams trade, the Warriors only get a lottery pick in this year's extremely deep draft if they get a top-seven pick. More losses this spring mean more ping pong balls, which means a greater chance of getting an Andre Drummond or Michael Kidd-Gilchrist.
The Warriors don't have a great history of attracting free agents, and getting lucky in the draft is the only real way to win if that's the case.
The Warriors had to move Ellis, and it's good they did so before he became too much of a distraction. This deal isn't great but is a whole lot better than the rumored deal that would have brought back Hedo Turkoglu and Ryan Andersen from the Magic.  
After many, many years of losing and managerial incompetence, any deal that gives the Warriors a chance of change and winning with youth is worth a little excitement.