Why Trading Monta Ellis Could Be a Good Move for the Golden State Warriors
March 14, 2012

Ezra Shaw/Getty Images
The Golden State Warriors traded Monta Ellis, Ekpe Udoh and Kwame Brown to the Milwaukee Bucks for Andrew Bogut and Stephen Jackson.
First off, I want everyone to know I am Warriors fan, I have been my whole life and it has not been pretty.
I have been excited about this team for one year, in 2007, when they upset the No. 1- seeded Dallas Mavericks in six games. In that series, they were dominant. If it weren't for Mikael Pietrus missing late free throws in Game 1 in Dallas, the series would have been over in no more than five games.
The Warriors had a very good team that year, making a trade to acquire Stephen Jackson and Al Harrington late in the season, which led to a great run to sneak into the eighth seed.
With Baron Davis arguably having his best year of his career, the Warriors were set up to have a playoff team for the next several years.
Unfortunately, management thought otherwise, trading Jason Richardson for Brandon Wright and letting Davis walk as a free agent to clear room for Monta Ellis.
Why they changed that team is still a question I wonder almost five years later but we're past that. Now you can ask why did they trade Monta Ellis for a guy who demanded a trade from the Warriors and a guy who is probably out for the rest of the season?
Even though the Warriors have continued to lose for years, they have a great fan base that supports their team. They sell out a ton of games, know their basketball and are true fans of the sport.
Teams such as the Warriors (the first team that comes to my mind is Minnesota because they have been bad for a while but now look like they have a bright future) get lucky if they sell out any games, even if they are against teams like the Heat or Lakers.
This brings me to the question of why are the fans in the Bay Area so faithful to such a bad team? I don't have the answer because I fall into that category, but I do know that this year has really frustrated me.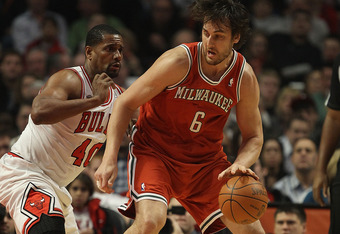 Jonathan Daniel/Getty Images
The Warriors have been in most of the games they have played this year, but more often than not they are unable to come through with the win. Maybe I am just used to "Nellyball," where we would either blow teams out or get blown out and the game would be over at the half.
I am not used to a team that can actually play defense. It seems like the Warriors are going in the right direction but with the roster they had before the trade, they were not a playoff caliber team.
If they are not a playoff team with this roster, the only thing to do was to make a move and try to acquire a player, or players, who can change that. The only way to do that is to make a bold move, so that means trading a valuable asset like Monta Ellis.
Some people might ask why trade Ellis and not Curry. There are a few reasons for this: Curry is younger, makes less money and he can be the face of a franchise.
When I first heard about this trade, I was thinking "Why would they ever make a move like this?" Then I gave it some time to sink in and thought about the future of the team.
The only reason I think this was a risky move is because the injury concerns surrounding Andrew Bogut. When he is healthy, he is an All-Star center, which is not easy to find via free agency or in trades.
The Warriors were desperate to find a center in the offseason and had to settle for Kwame Brown after the Clippers matched the Warriors' offer for DeAndre Jordan, and Tyson Chandler decided to sign with the Knicks.
Bogut seems to get hurt every year, and with the injuries to Stephen Curry's ankle, the Warriors have to hope that the two of them can somehow stay healthy.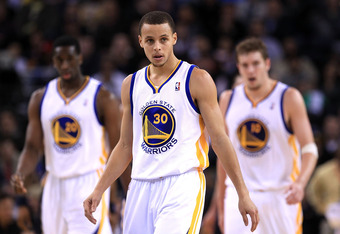 Ezra Shaw/Getty Images
This was also a concern when the Warriors traded for Baron Davis, and look how that turned out. He managed to stay healthy and the reward was a trip to the second round of the playoffs.
Let's just say that this ends up being a bad trade for the Warriors, what is the worst that can happen?
Answer: They won't make the playoffs….so what?
They wouldn't have made the playoffs this year anyway, so why not take a chance and change the team? Realistically, they cannot get much worse than they already are (and remember I am a Warriors fan).
They have been bad for so long they had to make a move like this.
One reason why I see this trade being good for the Warriors is that it is so much easier to acquire a guard or forward who can score than a dominant center who can change a game. There is a surplus of guards in this league and only a handful of really good centers.  
Another reason is that no free agents want to come to Oakland. Example: Tyson Chandler.
A third reason is that to be a great team in the NBA you need to have a superstar or a dominant center.  Monta Ellis is a great player but not a superstar; he was not even an All-Star and Andrew Bogut is a dominant center who is an All-Star.
Let's think about the future of the team and look at the starting lineup for the Warriors next year: Stephen Curry, Klay Thompson, Dorell Wright, David Lee and Andrew Bogut. Lee and Bogut will be a handful for any team, and with a young point guard they can build around that core of players.
Losing Ekpe Udoh could be the key piece to this deal. He has shown that he is a good defender and has recently begun to show that he can score, becoming the ideal backup center or power forward. 
The Warriors can also do something with Stephen Jackson; I can see them dealing him for another player, since his last stint with this team did not end so well.
Will this trade end up being a good one for the Warriors?
Only time will tell, but the bottom line is that something had to be done and this was it.