NCAA Bracket 2012 Predictions: The East Region, Pick-by-Pick Analysis
March 14, 2012

Rick Stewart/Getty Images
The breaking news of Fab Melo's ineligibility certainly adds glimmering intrigue to a region that is now anyone's for the taking. I, in fact, thought this was the least likely bracket to chalk prior to the Melo announcement.
If anything, it allows Syracuse to flex their muscles on the "all name team," with extended minutes for Rakeem Christmas, Baye Keita, C.J. Fair and Scoop Jardine.  
Florida State is the most experienced team in the tournament, Ohio State has somehow become underrated, and meanwhile, Wisconsin and Vanderbilt try to fight off sexy sleeper-pick demons in Harvard and Montana. 
Who will be the BEAST of the East? 
Round of 64 
No. 1 Syracuse over No. 16 UNC Asheville 
Just once, I'd love to see a 16-seed guarantee victory. With this whole Fab Melo thing, this seems like the right time. Until UNC Asheville abides, I'll pick 'Cuse. 
No. 8 Kansas State over No. 9 Southern Miss 
Historically, you have to like K-State in the tournament. They always turn their game up a notch in March, all the while playing good defense and rebounding. I like the experience of K-State to carry them through.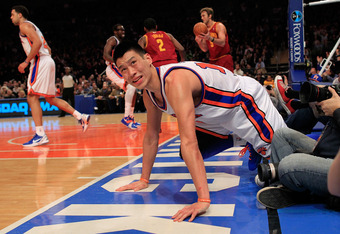 Chris Trotman/Getty Images
No. 5 Vanderbilt over No. 12 Harvard 
Vanderbilt is looking to shake the demons of NCAA tournaments past—Siena, Murray State and Richmond, all double-digit seeds. They must be sick of hearing about it. 
That should lead them to play a very focused game. One would hope they don't tighten up too much, because Harvard can play.
The big difference is Harvard likes to use their one-two punch on the inside, while Vanderbilt looks to spread you out and bury you with wheelbarrows full of threes. They will hit them in heavy loads. 
It's good to have Harvard in the tournament, especially within the year of Linsanity, but this Vanderbilt team is too good and too focused to let it happen a fourth time in a row. 
No. 13 Montana over No. 4 Wisconsin 
Wisconsin had somewhat of a rebuilding year, losing most of their team from last year, yet somehow managed to come within a game of the Big 10 title with the likes of Michigan State, Michigan and Ohio State.
Credit Bo Ryan for that, because I don't see where the wins come from. They do have one of the best defenses in the country, ranked first nationally in points per game allowed (52 points) and lowest three-point percentage (.276). That's a good place to start.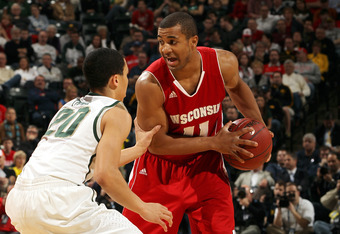 Jonathan Daniel/Getty Images
This is a battle of premier guards. Will Cherry is the dynamic leader of Montana pairing up with Kareem Jamar who offers a good complement of size and shot-making ability to accent Cherry's dribble-drive capability. 
Montana thrives on creating turnovers in the backcourt and turning them into transition baskets. This may be hard to come by as Wisconsin's Jordan Taylor is a vault with the basketball. If Montana can make other people beat them, they might have a look at it by the end of the game. 
That's all you need. 
No. 6 Cincinnati over No. 11 Texas 
Texas has a future. Six of the players in the 2012 rotation are freshmen. Coach Rick Barnes is lucky to be in the tournament at all for a 14th straight year, which is only bested by Kansas, Michigan State and Duke. 
This team, however, is kind of like modeling clay right now. You're really not sure what you're looking at until the sculpture is done. They could surprise Cincinnati, because of the Bearcats' reliance on the three and possible overconfidence riding the coattails of an exceptional Big East Tournament.     
Statistically, Texas ranks 170th or worse in turnover rate, three-point defense and rebounding percentage. Not a good place to be against the Bearcats, who specialize in knocking down treys.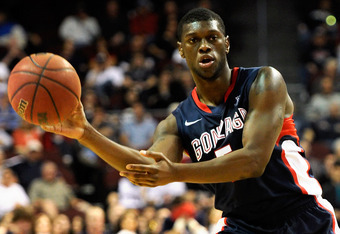 Ethan Miller/Getty Images
No. 3 Florida State over No. 14 St. Bonaventure 
Florida State did lose to two Ivy League teams in Harvard and Princeton. They also beat North Carolina and Duke twice each. Hard to figure out how a team can pull something like that off. 
With that said, with five seniors in the lineup, I can't fathom them letting this one slip away. They've become somewhat of a "cult sleeper" this tournament, getting Final Four nods from Dick Vitale and Digger Phelps. 
No. 7 Gonzaga over No. 10 West Virginia 
I'll tell you one thing for certain—it'll be a good game. EVERY Gonzaga game is a good game. They've been blown out a couple of times when over matched athletically, but when you have a game such as this, count on needing a resuscitator. 
West Virginia is a one-dimensional team, revolving around the beast of a scorer Kevin Jones. Gonzaga has a youthful backcourt, which could be a liability, but they have the size and strength to not get pushed around here.
I also like their depth. They have a little bit of everything, and I always think with good coaching (Mark Few is one of the best) that's favorable to being a one-horse town.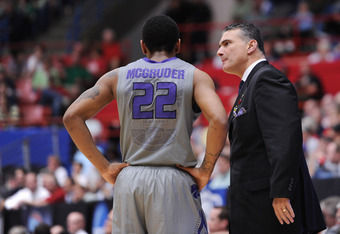 Harry How/Getty Images
No. 2 Ohio State over No. 15 Loyola MD 
Should be an easy game for Sullinger and Co. 
Round of 32 
No. 1 Syracuse over No. 8 Kansas State
Even without Melo, Kansas State doesn't have enough outside shooting to break the Syracuse zone. 
No. 5 Vanderbilt over No. 13 Montana 
The athletes of Vanderbilt can expose Montana in ways that Wisconsin cannot, simply because of size and strength. Since Wisconsin has very little athleticism, they cannot exploit this.
Vandy should have no problem handing the ball to seven-foot Festus Ezeli and reaping the rewards of a five-inch height advantage. Like playing my nephew on a kiddie hoop. 
No. 3 Florida State over No. 6 Cincinnati 
This was a big flip-flopper for me. Cincinnati is just dangerous with their ability to shoot, but are so treacherous because they're inconsistent. Some of that inconsistency comes from playing a rigorous schedule in the Big East and relying on the three-ball. Everyone looks inconsistent.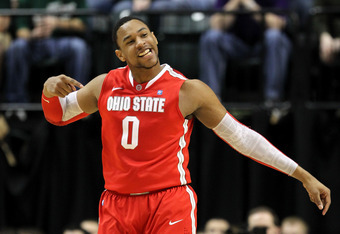 Andy Lyons/Getty Images
FSU is playing extremely well right now. They have a great deal of size, the ability to check the perimeter and will scoop up most of the rebounds. Sprinkle in a little bit of depth and the Seminoles have to be the favorite here. The margin could be thin, though. 
 No. 2 Ohio State over No. 7 Gonzaga 
Two freshman guards against one of the best on-ball defenders and turnover generators in the league, in Aaron Craft, spells trouble for Gonzaga. It still should be an entertaining game, as every matchup is relatively even, including Sullinger (OSU star center) if Robert Sacre (large-bodied 'Zags center) can stay on the floor. 
Sweet 16 
No. 5 Vanderbilt over No. 1 Syracuse 
For the record, I had this pick even when Syracuse was going to be playing their stud shot blocker, clogging up the middle for Vandy's Festus Ezeli. 
Basically, Syracuse plays an insanely tough-to-break 2-3 zone, which makes it impossible to go inside without drawing bloodhounds with freakish length, like Syracuse always seems to have. You can beat them if you make threes. That's it. Make threes.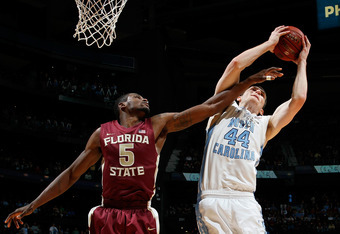 Kevin C. Cox/Getty Images
The news for Vanderbilt is they are an exceptional three-point shooting team. Many of their shooters have good size too, so they won't be affected as much by defenders running at their face with length.
Vandy guard John Jenkins is the best three-point shooter in basketball connecting on 129-of-288 threes. That means he took 8.7 a game. His teammates Brad Tinsley and Jeffrey Taylor are also 40 percent bombers. 
Carpe Diem, Vandy! 
No. 2 Ohio State over No. 3 Florida State 
Thad Matta will once again be on the phone with Tom Izzo as Michigan State beat their last opponent Gonzaga, as well as Florida State, during the non-conference season. If I believed Matta to be a good game coach, this could be a factor.
This is a winnable game, but in the end, Ohio State has unmatchable star power with Craft, Sullinger and Buford. Big players make plays, and it's time for Ohio State to do so. 
Florida State's trio of Snear, Miller, and James are very similar—just not as good. 
Advantage Buckeyes. 
Elite Eight 
No. 5 Vanderbilt over No. 2 Ohio State 
I've watched Sullinger a great deal this season, and there's something about his game that leaves a bitter taste in my mouth. Perhaps, the expectations are too high, every time I see him make a move, he looks like he's open and then he clanks the shot.
In my mind, I guess expecting him to shoot 85 percent from the field is preposterous, but that doesn't stop me from looking at the shots he's missing, scratching my head with a, "what was that…" 
The battle between Festus and Sullinger should be epic. It probably will turn into an officials' game. Neither team uses a ton of depth. I'm pretty sure Thad Matta uses his bench like he has a rugby background. 
Ohio State's defense should bother Vanderbilt, but I still believe the Commodores will get some looks. Should be a game of big-time players, providing an opportunity for a couple no names to step up into the fold. 
On paper, Ohio State looks far superior, but watching Ohio State throughout the season, you could always say that. They always seem much better than they are. I don't believe them to be very well coached. Joe Lunardi says it best in his preview, "they can be great, but we rarely see it." 
I'll take the over-achievers. 
Believe it or not, I have coverage beyond the East region. The same caliber analysis of every pick can be found for the South, West and Midwest regions on my blog, named after me: http://ryanczerfas.blogspot.com/2012/03/2012-ncaa-bracket-predictions-pick-by.html