March Madness 2012 Upsets: Most Intriguing Matchups in Round of 64
March 14, 2012

Jamie Squire/Getty Images
The 2012 NCAA tournament has already seen some madness ensue in its first round of play (which is really still the play-in games), and we can only hope that trend continues.
Come Thursday, the second round gets underway (which is really the first round for all but four teams, more commonly referred to as the Round of 64), and there is no telling what will happen.
The most important thing for everyone filling out a bracket is to land the upsets early. They always come, but hitting on them is much easier said than done.
Here are four very intriguing matchups to get excited about in the Round of 64.
Wichita State (5) vs. VCU (12)—South Region
Had the committee opted not to pair these two up in the second round, we would have likely seen both them as potential Sweet 16 teams. Alas, one of them has to lose immediately.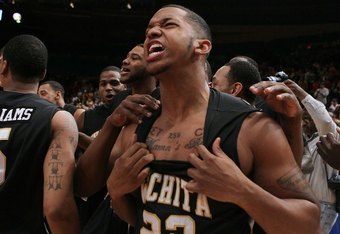 Jim McIsaac/Getty Images
VCU is coming off yet another impressive run, and people cannot help but think of their Final Four from a year ago.
The Shockers, meanwhile, put together quite an impressive season and are deserving of their No. 5 seed.
But if there is one team that can spring an upset on them out of the 12 seeds, it certainly is the Rams of VCU.
Choose this game wisely.
Vanderbilt (5) vs. Harvard (12)—East Region
The Commodores are a trendy pick to shoot their way into the Sweet 16 after their surprising SEC tournament title run.
That is if they can survive the Crimson first.
Harvard needed a little help to make it into the tournament, but they got it and are playing for the first time in more than 60 years.
For the same reason Vandy can make a run in the tourney is the same reason they lose: shooting.
If the Crimson can play sound offensively and force problems for the Vandy shooters, this could be one of the fan-favorite 12-over-5 upsets.
Louisville (4) vs. Davidson (13)—West Region
The Big East tournament winners aren't a likely pick to fall down in the Round of 64, but against the Wildcats of Davidson, anything is possible.
They shoot 45 percent from the field and can almost all hit the three-ball.
They're in the top 40 in three-balls made per game and are one of the highest-scoring offenses in the country.
If they got hot, even against a battle-tested conference power like Louisville, they'll be hard to stop. 
Notre Dame (7) vs. Xavier (10)—South Region
This game holds so much intrigue because people just do not know what to make of the Fighting Irish.
They don't score the ball consistently and they cannot rebound, yet somehow they lost only five conference games this season.
Xavier is a complete mystery in itself as well. They have talent—they beat Vandy, Purdue and Cincy this year—but lost too many inexcusable games as well.
We don't always look upon the 7-10 matchup as much of an upset, but this game has a ton of intrigue.