NCAA Bracket 2012 Predictions: Dark Horses That Will Make It to the Sweet 16
March 14, 2012

Ethan Miller/Getty Images
The NCAA tournament is all about bracket busters, and this year is full of potential dark horses who could wind up in the Sweet Sixteen.
Here are a few teams who stand a good shot of making it past this weekend.
San Diego State Aztecs (26-7, No. 6 in Midwest Region)
San Diego State has had a strong season, and they look to continue it as the No. 6 seed in the Midwest Region.
The Aztecs, ranked No. 22 by the Associated Press, lost to New Mexico 68-59 in the Mountain West Conference Tournament title game, adversely affecting their NCAA tourney seeding.
San Diego State has Jamaal Franklin, who was named MWC Player of the Year. The 6'5" sophomore guard averaged 17.2 points, 7.9 rebounds and 1.5 assists a game. Junior guard Chase Tapley (15.7 points, 4.2 rebounds, 2.2 assists) and sophomore guard Xavier Thames (10.3 points, 3.2 rebounds, 4.2 assists) also help shoulder the offensive load.
The Aztecs are a good shooting team that knock down 45.6 percent of their shots (85th in the nation). If they get hot, they are tough to beat.
Their first opponent will be North Carolina State (22-12). The Wolfpack got bounced early in the Atlantic Coast Conference Tournament quarterfinals by juggernaut North Carolina (29-5). They are 0-8 against AP Top 25 teams this year.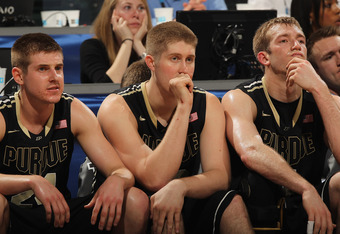 Jonathan Daniel/Getty Images
In the next round, the Aztecs will most likely face No. 3 Georgetown (23-8). The Hoyas are 5-3 against AP Top 25 teams and lost in the Big East Tournament quarterfinals to Cincinnati in double overtime.
Georgetown has also lost in the first round for the last three years.
Purdue Boilermakers (21-12, No. 10 in Midwest Region)
The Purdue Boilermakers are always a dangerous basketball program, even though they have underperformed the last couple of years.
Purdue is led by senior forward Robbie Hummel, who gives them 16.3 points and 7.1 rebounds a game. The fifth-year senior provides tons of experience and will definitely lay it on the line in his final NCAA tourney.
The team's offense goes through senior point guard Lewis Jackson, who has 10.3 points and 4.3 assists a game. Jackson has steered Purdue into committing the fewest turnovers in the country.
Friday will pit Purdue against St. Mary's (27-5). Ranked No. 24 by the AP, the Gaels are led by a strong defense, but Hummel and Jackson can break through with their offensive prowess.
If Purdue pulls off the upset, the Boilermakers will most likely face No. 2 Kansas (27-6). The Jayhawks have been known to lose early in the tournament from time to time, with Northern Iowa knocking them out in the second round in 2010.
It also doesn't bode well that Baylor (27-7) upset them 81-72 in the Big 12 Tournament semifinals.
Murray State Racers (30-1, No. 6 of the West Region) 
Even though Murray State has been to the NCAA tournament many times and was ranked No. 12 in the last AP poll, the Racers somehow got a No. 6 seed in the West Region.
The Racers do play in the extremely weak Ohio Valley Conference, but they are one of two teams with just a single loss and were the last undefeated team in Division I (23-0) until Tennessee State beat them on February 9th.
Murray State has strong players like senior guards Isaiah Canaan (who is a finalist for the Cousy Award and Wooden Award) and Donte Poole (who was named the OVC's Tournament MVP).
The Racers will first face No. 11 Colorado State (20-11) in Louisville, Kentucky. The Golden Rams lost to San Diego State in the Mountain West Tournament Semifinals and will need solid perimeter shooting to beat Murray State.
If the Racers defeat Colorado State, they will most like go up against No. 3 Marquette (25-7). While Marquette is a dangerous team, the Golden Eagles fell to Louisville early in the Big East Tournament with a sloppy 26 turnovers.
Back in 2010, Murray State upset No. 4 Vanderbilt in the initial round and took Butler to the limit in a 54-52 loss.