Matthew Dellavedova: Fascinating Facts About St. Mary's Star
March 14, 2012

Ethan Miller/Getty Images
Don't sleep on Saint Mary's, folks. The seventh-seeded Gaels have what it takes to make a Cinderella run in the 2012 NCAA tournament, thanks in no small part to the particular talents of Matthew Dellavedova.
And if you have no idea who Matthew Dellavedova, allow me to introduce you.
The 6'4", 190-pound guard is just the latest Australian star to suit up for Randy Bennett's squad. Dellavedova is following closely in the footsteps of fellow Aussies Patrick Mills, who twice guided the Gaels to the Big Dance, and Daniel Kickert, the school's all-time leading scorer.
(Note: Mills went on to join the Portland Trail Blazers as a second-round pick out of the 2009 NBA Draft, with whom he was partially responsible for the invention of the now-infamous "three goggles" gesture.)
Like Mills, Dellavedova arrived in Moraga by way of the Australian Institute of Sport, which has groomed hoops stars like former No. 1 overall pick Andrew Bogut (now of the Golden State Warriors) and four-time WNBA MVP Lauren Jackson. Dellavedova also figures to feature with the Australian national team at the 2012 Summer Olympics in London.
As for his body of work at Saint Mary's, Dellavedova, the West Coast Conference Player of the Year, has been a star ever since he set foot on campus, though that hasn't held him back from improving his game whatsoever. In fact, Dellavedova's marks in scoring, assists and field goal percentage have all risen steadily from year to year, to where he now leads the Gaels in points (15.6) and assists (6.4).
He has done some of his best work against the toughest competition, too, with a scoring average of 18.8 points per game in nine career contests against West Coast Conference rival Gonzaga. That includes a 22-point outburst in the Gaels' victory over the Bulldogs in the league championship game this season.
Of course, it hasn't all been sunshine and gumdrops for Dellavedova at SMC. His three-point percentage and free-throw accuracy have both decreased over the years while turnovers have grown to be an even more prevalent part of his game.
Then again, that's to be expected of a player who's so charged with dominating the ball as Dellavedova is.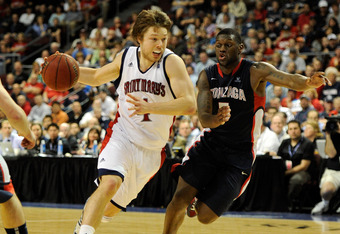 Ethan Miller/Getty Images
The Gaels will need just as much out of Dellavedova in the Big Dance, where they'll face 10th-seed Purdue in the opening round before a potential tilt with second-seed Kansas in Omaha on Sunday.
Only time will tell if the glass slipper fits Saint Mary's foot this year, though with a star like Matthew Dellavedova on their side, the Gaels have the goods to shock the college basketball world by surviving and advancing to the second weekend of March Madness, if not beyond.