2012 NFL Free Agency: Ranking the Most Overpaid Free Agents So Far
March 15, 2012

Andy Lyons/Getty Images
Building through the draft is often considered a more prudent way of building championship teams in the NFL. While that may or may not be true, some teams' activity in free agency really supports that theory.
The first few days of free agency are always frantic, and oftentimes teams are overeager to sign players, so they overstep themselves and overpay for players. This year has been no exception as some teams have made some terrible mistakes already.
With some teams having more cap room than ever before, and others simply being as reckless as they always are, there are quite a number of deals to choose from when ranking the most overpaid players so far.
Washington Redskins: Pierre Garcon, five years, $42.5 million
The Redskins quickly signed Garcon to this huge deal guaranteeing him $20.5 million and giving him $11 million up front. Obviously they needed better receivers to put in place around Robert Griffin III for when he arrives, but Garcon is an average receiver, albeit with some potential, who is being paid like a star.
Garcon was a second-choice receiver in Indianapolis who struggled with consistency and notched up most of his yards at the end of games when the Colts were already in garbage time last year. He is a decent receiver, but not a receiver on the level his pay grade now demands.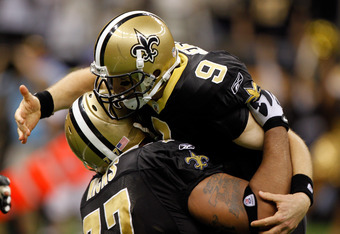 Chris Graythen/Getty Images
Tampa Bay Buccaneers: Carl Nicks, five years, $47.5 million
Carl Nicks in my opinion is the best guard in professional football. However, I do not believe he is worth this contract. Nicks is being paid like an elite offensive tackle, but guards are nowhere near as valuable as tackles unless you are going to use your offense in a very specific way.
The Saints got the most out of Nicks' talents because they ran an unbelievably balanced offense. While the Buccaneers do run a balanced offense, his value in the running and passing game won't be properly proportional to the percentage of the salary cap he consumes.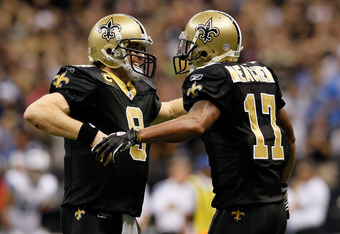 Kevin C. Cox/Getty Images
San Diego Chargers: Robert Meachem, four years, $25.9 million
Despite Meachem being the third- or fourth-best receiver in New Orleans, the Chargers have paid him starter money. Meachem is an OK player, but he is not worth over $5 million per year and won't have the impact the Chargers are hoping for in San Diego.
Meachem, when you take into account Jimmy Graham and Darren Sproles, was at best the fifth option on the Saints offense. In San Diego he will be the second across from Malcom Floyd. He won't be able to handle that kind of attention.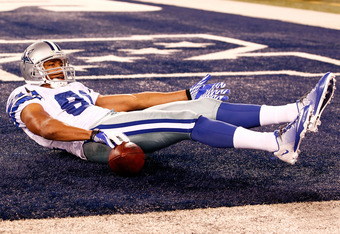 Jeff Zelevansky/Getty Images
Jacksonville Jaguars: Laurent Robinson, five years, $32.5 million
Prior to last season, if I told you Laurent Robinson was a quality NFL receiver, you would have said, "Who?" This season, everybody loves Robinson because he had one good year as the third receiving option in Dallas, although he did start on occasion for injured teammates.
Prior to this year, Robinson was a St. Louis Ram and Atlanta Falcon for four years. During that span he did very little to even be considered a quality receiver. Neither the Falcons nor Rams were bothered to see him leave because he had been ineffective on the field. The Jaguars are overpaying for a one-year wonder.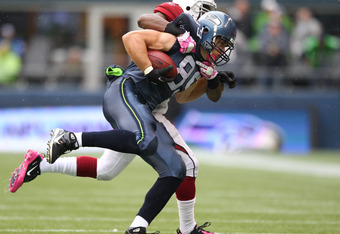 Otto Greule Jr/Getty Images
Minnesota Vikings: John Carlson, five years, $25 million
Firstly, just because your receiving corps is average, signing a second receiving tight end won't be enough for Christian Ponder to develop. Secondly, your second tight end is now earning $5 million per season despite the fact you already have a stud in place ahead of him.
Kyle Rudolph is young and incredibly talented. I understand the need for a backup for him, but Carlson is being overpaid and has underperformed in the past despite his statistics.