2012 NHL Playoff Push: Fantasy Hockey Meets Eliminating of NHL Teams Part 2
March 15, 2012

Marianne Helm/Getty Images
Sometimes it is just a lot of fun when you break the numbers down easily. It is time for part two as we look at the magic golfing numbers with a fantasy twist. Now please keep in mind that these numbers are as of the games before March 15th (The Ides Of March). Let's look at the Eastern conference first.
========================================
Eastern

Rank
Team
GP
W
L
OT
PTS
GF
GA
L10
Streak
1
NY Rangers
69
44
18
7
95
192
150
6-3-1
Won 2
2
Boston
69
40
26
3
83
223
170
4-6-0
Lost 3
3
Florida
69
33
23
13
79
171
193
6-3-1
Won 2
4
Pittsburgh
68
42
21
5
89
219
173
9-1-0
Won 9
5
Philadelphia
69
40
22
7
87
223
197
7-3-0
Won 1
6
New Jersey
70
40
25
5
85
195
182
5-4-1
Lost 1
7
Ottawa
71
36
25
10
82
218
209
5-3-2
OT 2
8
Washington
70
36
28
6
78
189
197
7-2-1
Won 4


9
Buffalo
71
33
29
9
75
178
201
6-2-2
OT 1
10
Winnipeg
70

33
29
8
74
186
197
5-4-1
Won 1

11
Tampa Bay
69
32
30
7
71
197
234
5-4-1
Won 1
12
Toronto
70
30
32
8
68
202
217
1-8-1
Lost 2
13
Carolina
70
26
29
15
67
183
211
3-3-4
Lost 2
14
NY Islanders
70
28
31
11
67
164
211
3-4-3
OT 2
15
Montreal
71
28
32
11
67
188
198
4-5-1
Won 1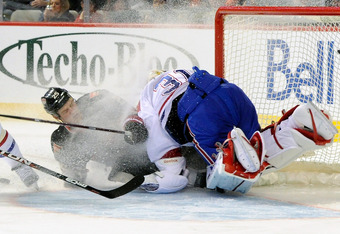 Richard Wolowicz/Getty Images
It still is weird to see the mere fact that the Montreal Canadiens are dead last in the East. We throw out the goal differentials and home/away record for this reason. Just the graphic itself with the stats above is enough. At this moment ladies and gentlemen, the current projection to make the playoffs or nab the eighth seed in the East should be 90.
That is what it should take anyway. So what is the magic golfing number for some teams?  Well let's get down to those ugly numbers. Again, these do take into account tonight's results. This is simply a snapshot for hockey and fantasy hockey purposes.
And yes, we add in projected records to make the playoffs as well. The elimination number reflects the total amount of regulation losses while the record is what it would take to get to 90 points.  ROWs and such are not taken into account for the sake of brevity.
Eastern Conference
9. Buffalo—7-3-1:  4
10. Winnipeg—7-3-2: 5
11. Tampa Bay—9-3-1: 4
12. Toronto—10-0-2:  2
13. NY Islanders—11-0-1: 1
14. Carolina—11-0-1: 1
15. Montreal—eliminated
These are the cold hard facts. The key numbers are when you look at some of the awful goal differentials as you get further and further down the standings. Montreal is a minus-10 amazingly because they lose more one-goal games than anyone in the East.
However, Florida leads the Southeast and yet has a minus-22 differential. The Southeast as a whole has not played all that well.  Washington is a minus-eight while Tampa is a minus-37 and Carolina at a minus-28. Winnipeg is a minus-11 by the way. Now the Islanders are a whopping minus-47 yet right near .500 because when they lose they get blown out and usually when they win, it is razor close.
Then there are the Buffalo Sabres, who have a minus-23 goal differential and two of those last night could have been prevented in a 5-4 SO loss to the Colorado Avalanche. Jamie McGinn's second goal of the night with about a second left tied the game and then Peter Mueller scored the only tally in the shootout to seal the second point for the Avalanche.
How could Buffalo just allow a guy to sit that wide open in front of the net to get three or four whacks at a puck? It has happened in Buffalo before.  Buffalo dropping points like this is no way to go. Sure 8-1-2 is nice, but those two charity points could have been four. The real problem is when you delve into the fantasy problems Buffalo has caused.
Not one Sabre player is even close to a point-per-game pace. Jason Pominville has 63 points in 71 games, which is right about .88 points per game. Then the next Sabre has 50 points in 67 games (Thomas Vanek). After that it just gets worse and worse.
They are also the only two players who tallied 20 or more goals.  Derek Roy and Drew Stafford were counted on to carry more of the offensive load, but they have woefully disappointed with 14 goals and 24 assists each. Roy has had 63 or more points in four-straight seasons while Stafford in the last four years has been a good contributor every other year. 
Unfortunately for fantasy owners, this is a down year. Two years ago Stafford only had 34 points in 71 games. Six power-play points for a guy who had 11 power-play goals in 2010-11 just has to hurt as much as Roy who had 35 points in 35 games before injury derailed him.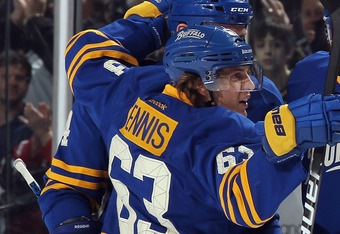 Bruce Bennett/Getty Images
The reality is one has to wonder what could have been had Tyler Ennis stayed healthy. His 21 points in 37 games does not seem much, but add another 30 games to the mix and maybe another 18 points and Ennis is on his way to a pretty decent 45 point season at least. Projecting good health and luck is damn near impossible, but Buffalo may have had a few more points in the standings not to mention some subpar play has some fantasy GMs going ape.
Then we get to the best part. What if Ryan Miller had not been run over by Milan Lucic?  How is that for a fantasy mind blower? Some have projected at least an extra 5-7 wins for the Sabres which means they would be almost clinching a playoff spot (virtually) instead of battling just for a playoff spot.
It is why we are into the bottom lines of teams that could have made the playoffs. Sure Buffalo could still do so and their schedule is fairly helpful, but see Buffalo has been given many chances and squandered them. Roy and Stafford are the two biggest scapegoats not including Ville Leino, who may be the easier target because of his 21 points in 60 games.
Leino has an awful 61 shots in 59 games and has more shots wide and blocked by a good margin than shots which hit the net. The one breakout 50-plus point year was a product of line and chemistry. He has had neither of those in Buffalo. Leino cannot create his own offense at all so his bust was not a surprise, but the other three listed above have been to some extent.
Injuries play a role but Buffalo only has themselves to blame for the groceries being a little past the expiration date it seems.
Again, there are teams that have to play pedal to the metal, including any team with an elimination number of five or better. Everyone below the eighth seed is at the five or less mark because, honestly, with 12 or less games left, that is just how it is. The teams with less than five are pretty well finished barring a miracle.
So the Islanders, Hurricanes and Maple Leafs are now destined for the golf course while the Canadiens are already there ladies and gentlemen.
It is time to look at the Western Conference records, shall we?
===========================================
Western

Rank
Team
GP
W
L
OT
PTS
GF
GA
L10
Streak
1
St. Louis
71
45
18
8
98
186
139
8-1-1
OT 1
2
Vancouver
69
42
19
8
92
215
172
4-4-2
Lost 1
3
Dallas
70
39
26
5
83
186
183
9-0-1
Won 6
4
Detroit
71
44
24
3
91
219
171
3-6-1
Lost 3

5
Nashville
69
41
21
7
89
200
179
7-2-1
Won 3
6
Chicago
71
38
25
8
84
213
209
5-4-1
Won 1
7
Phoenix
71

35

25

11

81

187

182

4-4-2

Won 1

8
Colorado
72

38

30

4

80

191

193

7-3-0

Won 3



9
San Jose
69
34
25
10
78
189
178
2-5-3
OT 1
10
Calgary
70
33
25
12
78
176
193
5-2-3
Won 4
11
Los Angeles
70
33
25
12
78
159
154
6-4-0
Won 2
12
Anaheim
71
30

30
11
71

177
196
4-5-1
Won 1
13
Minnesota
70
29
31
10
68
150
194
2-7-1
Lost 2
14
Edmonton
70

27
36
7
61

185
209
4-5-1
Lost 1
15
Columbus
70

22
41
7
51
161
226
4-6-0
Lost 3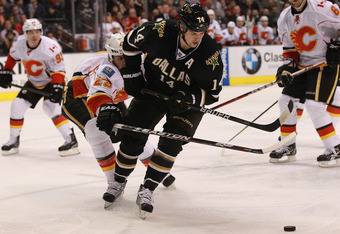 Ronald Martinez/Getty Images
The numbers are fun to look at here even more. We left the goal differentials for the West because of the shocking ones in here including a minus-65 by Columbus!  Minnesota has the next worst at minus-44 while Edmonton has a minus-24. The two previous teams had very good Octobers if I remember, then went South.  Injuries have derailed the current 13th and 14th seeds quite a bit, yet some teams like Dallas have risen above adversity to gain the Pacific lead for now.
We have decided to project out the eighth seed cutoff for the Western conference and this may be a bit more controversial than the East to a point, but this will be interesting. Here is the number: 93.
Now let the fun begin! Some will ask why we adjusted the numbers a bit. The answer was simple. It is clear that at some point San Jose is going to turn this around just enough. They almost have to. Do you think it's time to play the elimination number?
Well we do, and sure enough here are the ugly facts from the West.
Western Conference
9. San Jose—7-5-1: 6
10. Calgary—7-4-1:  5
11. Los Angeles—7-4-1: 5
12. Anaheim—11-0-0: 0 (Practice Green)
13. Minnesota—Eliminated
14. Edmonton—Eliminated15. Columbus—Eliminated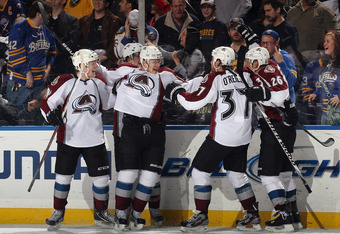 Bruce Bennett/Getty Images
Columbus, Edmonton and now Minnesota have been eliminated from the postseason according to our projections, and Anaheim is on the practice green just waiting for the other shoe to drop. Every other team is at five or six to elimination because they did not play tonight and all are just two points behind an eighth seed in Colorado that only has 10 games left. Never has winning one's games in hand become more important than in this crucial stretch.
So far San Jose's experiment to bench Colin White (yes we went there) has somewhat worked to the tune of a 1-0-1 record. Considering how far the Sharks were plummeting, something had to be done and White was viewed as a defensive dinosaur. It is sad to see in the sense that he really should have retired after the New Jersey Devils bought him out. However, the Sharks have bigger problems and ironically trading Jamie Mcginn (at only 23) away may be a reason they do not make the playoffs.
Mcginn was one of those players who fed off ice time and Colorado is giving him the time and he is giving the Avs the production. With about 3-4 minutes of ice time a night extra, McGinn has seven goals and nine points in his last six games. Do not tell me the Sharks could use that kind of production given what their team has become.
Remember when players like Joe Thornton and Patrick Marleau were over a point a game? That is not the case this season. Marleau is playing like a 35 year old and so is Thornton and company at times. While there are times the production is there, too many times they are a half step slow which is the difference between a point and no point.
These are guys who have logged a lot of time while failing to succeed on the biggest stage, the Stanley Cup Playoffs. It has to take a toll and gradually both of these guys have slowly fallen off and taken Joe Pavelski with him.  Last year's 66-point year was supposed to be equaled or surpassed, but Pavelski may not even get to the 60-point plateau at all. The 28 power-play points will drop likely to 19 or 20 and the SOG will drop by about 20-30. There was a fear that San Jose was not the same team, but now the biggest problem is all of their tinkering left them exposed at the worst possible time.
Sure fantasy owners of Mcginn are ecstatic but just imagine if San Jose had given him this chance, where could they have been? Think about it. The Sharks are likely to still make the playoffs, but for a team that was supposed to win the Pacific with around 100 points, they did not expect this scenario.
That is it for now.  Next week hopefully the picture is a bit more clear. Coming soon will be a special edition of the "magic clinching numbers." Stay tuned and comment away.