NCAA Tournament 2012 Predictions: Surprise Teams Who'll Crack Sweet 16
March 15, 2012

Mike Ehrmann/Getty Images
Sportswriters like me usually start salivating this time of year, hoping an underdog emerges as a Cinderella to juice our cliche-filled stories. I'd like to point out two teams with the potential of cracking the Sweet 16 to have on your radar.
A birth into the Sweet 16 means winning two games in the NCAA Tournament, no easy task. A team needs to be able to perform on its biggest stage of the season. I'd like to argue that these teams have what it takes to win in the NCAA Tournament at least twice.
(8) Memphis Tigers

The Memphis Tigers are on an extraordinary roll, having won seven in a row, including three games in the C-USA Tournament, where the Tigers' margin of victory averaged 25 points.
Sophomore forward Will Barton's play has been exceptional down the stretch, as he was motivated to improve after being cut from the Naismith Award watch. Barton leads the Tigers, averaging 18.1 points and eight rebounds per game.
The Tigers will see St. Louis in the first round, who are making their first tournament appearance since 2000. The Tigers have been in this tournament five out of the past six seasons, and are poised to make another deep run.
Along with Barton are Memphis natives Joe Jackson and Tarik Black, whose steady improvement through a season which saw some rocky times has helped jolt the Tigers into their current winning streak. After coming off the bench during a stretch in the season, Jackson is back in the starting lineup and leads the team in assists and is second in scoring (11.1 points, 3.8 assists per game).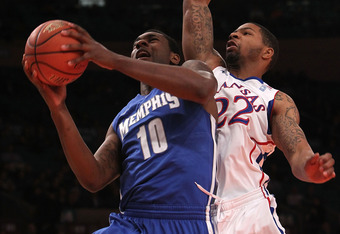 Nick Laham/Getty Images
To get to the Sweet 16, the Tigers will need to defeat the No. 1 seed Michigan State Spartans. The Spartans are led by big man Draymond Green, who is averaging 16 points and 10 rebounds per game.
The Tigers' Tarik Black is listed at 6'8" and 243 pounds, and he sizes up well against Green, who stands at 6'7" and weighs 230 pounds.
Don't be too shocked if the Tigers become a surprise team to sneak into the Sweet 16.
(14) Belmont Bruins
The Bruins enter the Tournament with an 0-4 record, having lost in the first round from 2006 to 2008, and again last season. Belmont has a deep team with experienced players who are ready to help their school get over the hump and win in the NCAA Tournament.
Belmont is on a tear. They have won 14 games in a row and they won their six road games by a margin of 18.5 points per game. In other words, they are ready to face some adversity.
The Bruins have four players averaging double-digit points and a fifth averaging 9.8 points per game. The team's leading assist man and scorer is junior Kerron Johnson, who averages 14.1 points and 5.2 assists per game. Johnson can pressure the underachieving Georgetown guards to create a miss-match.
After starting 13-1, the Georgetown Hoyas have struggled down the stretch and are only 10-7 in their last 17 games. They are susceptible to an upset. If Belmont is able to take down the No. 3 seed Georgetown, their road to the Sweet 16 may not be so tough.
The next round would be determined by the winner of (6) San Diego State vs. (11) NC State. With Belmont streaking, it would be hard to expect either of those teams to stop them.