Fantasy Baseball: MLB Pitchers Who Could Be Closers by September
March 15, 2012

Jeff Curry/Getty Images
Every season starts with the freshness of spring in the air and 31 closers on fantasy rosters. By the end of the year, many of the 31 closers are no longer closing. New and sometimes fresh faces have stepped into the closer roll because of a variety of reasons, and it frustrates the heck out of fantasy managers. 
The list I compiled below are the leading candidates that likely won't open the season as the closer for his perspective team, but could end the season the closer. These pitchers will get the job either from the current closer getting injured or the manager just losing faith in his closer and wanting a change.  Either way, drafting these pitchers should not only shore up your bullpen, but give you some jackpot closers at some point in the season.
Sean Marshall, CIN
When Sean Marshall was traded to the Reds, I thought for sure the hard-throwing lefty would be the new Reds closer. Then, the Reds signed Ryan Madson to a one-year deal, making Marshall wait a little longer.
That being the case, Marshall will be ready to step in if Ryan Madson fails to close or gets injured. If that happens, the Reds may never switch back. Add to that, Marshall just signed a three-year extension with the Reds, so he's there for the long haul; Madson isn't.
Marshall is a lefty, and that is a rare commodity in baseball for a closer. He's also a strikeout machine, but doesn't do it the conventional way. He sports a 93 MPH fastball, but compliments it with a slider, cut fastball and a nasty curve. He throws the curveball the most, and for any pitcher, that can be dangerous.
But in the end, the numbers don't lie. Marshall's K/9 increase over the past two seasons can be attributed to an increase in his velocity and better control. Draft Marshall in your fantasy leagues and hold onto him.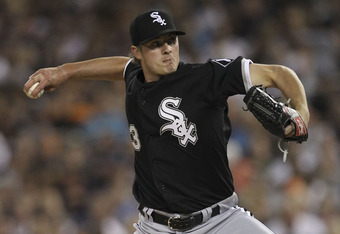 Leon Halip/Getty Images
Mike Adams, TEX
Adams is one of the best relievers in baseball. While pitching in San Diego, he was amazing. In 2011, he was traded to the hitter friendly park in Arlington, Tex., and he fared just fine as a reliever for the Rangers.
Going into 2012, Adams will be the setup man for 37-year-old closer Joe Nathan. Nathan is still working through his Tommy John surgery in 2010 and is always ripe for a stint on the DL. If anything happens, the Rangers will not hesitate to put Adams in the closer role. Adams uses a myriad of pitches that includes a cutter, curveball, change-up and a 94 MPH fastball. He mixes his pitches very well and keeps hitters off-balance.
If you draft Joe Nathan, draft Mike Adams as a handcuff. He could finish with more saves than old Joe. 
Fautino De Los Santos, OAK
De Los Santos is a 26-year-old closer in waiting. He saw his first action in MLB in 2011, where he posted 43 strikeouts in 33.1 innings and an ERA of 4.32. De Los Santos has electric stuff. He throws a 97 MPH fastball and has a great slider that has a speed different of 12-13 MPH. 
He will also mix in an occasional change-up, which, if perfected, will be deadly to ninth-inning hitters.  While he has the stuff to be a closer, he has very little time in service. Right now, he is No. 4 on the bullpen depth charts for the Oakland A's, but that can change quickly. Fuentes could be traded or, if he pitches poorly, cut altogether.
Joey Devine is anything but divine when it comes to his Achilles heal, his health. That leaves only Grant Balfour in De Los Santos' way of getting the closer role. If Balfour looks great all year, Billy Bean could use him as trade bait at the trade deadline.
Mark Melancon, BOS
Everyone knows the history of Andrew Bailey and injury. The Red Sox acted on that problem by trading for Mark Melancon as a security blanket. There is no doubt that Melancon will see plenty of save chances this season because the Red Sox will be careful with Bailey. 
Even with that said, Bailey could get shelved at some point, and by September, the job could belong to Melancon. The former Yankee draft pick is a closer in waiting with a track record.  Last year, he saved 20 games for the Astros in limited closer action and posted a 2.78 ERA. He brings to the table a great cutter and change-up that will keep hitters guessing. 
When Melancon is on, he is unhittable. Draft him, and don't wait too long to get him.
Matt Lindstrom, BAL
Did we all forget Lindstrom's closing days in Florida? Since joining the Rockies, Lindstrom has changed as a pitcher (both mechanics and mentally), and now for the Orioles, he has his eye on the closer job. Lindstrom will be competing with Jim Johnson and Kevin Gregg for the job. I don't think that Lindstrom will win the job out of spring training, but by later in the year, he could become the closer for the Orioles and for a few years to come.
Glen Perkins, MIN
When Matt Capps is your closer, anyone behind him is an instant closer candidate. In 2011, Perkins put up fantastic numbers for the Twins in a setup role with a K/9 above 9.00 and an ERA at 2.48. With a 95 MPH fastball, slider and change-up as an out pitch, Perkins is a perfect candidate to take the Twins closer job should Matt Capps fail. More like, when Matt Capps fails. 
I would draft Perkins above Capps and leave Capps to the sharks.
Joel Peralta, TAM
Kyle Farnsworth is the closer for the Rays, but there are a lot of people in the baseball world who feel the better closer is Joel Peralta. 
Peralta had a fantastic, but quiet 2011 season pitching in the setup role for the Rays. He even closed out some games, notching six saves. In 67.2 innings of work for the Rays, Peralta struck out 61 batters and put up a 2.93 ERA. He brings a weird pitch selection to the table for a closer with a 92 MPH fastball, curveball, slider and splitter. 
He's the type of pitcher that will keep hitters honest and off-balance. If Farnsworth has any health issues or falls back into the inconsistency of his past, expect Peralta to step into the closer job and never look back.
Kenley Jansen, LAD
Jansen is your classic meat-eating flame throwing closer. He would be THAT closer for the Dodgers right now if it wasn't for his fluttering heartbeat that has the team and doctors worried. When healthy, he is as dominating as a closer can be with minor bouts of inconsistency. He utilizes a 95 MPH fastball, a nasty slider and a great out pitch with his change-up. 
Jansen could win the job outright in spring training, but if he doesn't, I expect him to have the job at some point in the season. Draft hype has Jansen going before Javy Guerra. I cannot disagree with that. 
Andrew Cashner, SD
Cashner is setting up to be the setup man for veteran closer Huston Street in San Diego, but his role could be bigger than that. Acquired in the trade with the Cubs, Cashner is a future closer with a killer fastball that runs in on hitters upwards of 97 MPH and a disappearing slider. He was derailed last season with an arm injury after only 10.2 innings of work. 
While he hasn't impressed us much with his work in the majors yet, Cashner is the real deal. Expect him to apply some pressure on Street for that closer role and to thrive at PETCOPark. With the history of arm problems that Street has, I'd handcuff Street and Cashner.
Wilton Lopez, HOU
Lopez has been on the radar of many in the industry as a future closer. Last season, Lopez put up strong numbers for the Astros: 2.79 ERA, 56K and a BB/9 of only 2.28. With Brett Myers getting the chance at closing to open the season, Lopez has been placed on alert. At any point in the season, Myers can fail or get hurt. That will open the door for Lopez. 
I wouldn't get too excited about him. First off, he is on the Astros. He has a 93 MPH fastball, a great slider and a nasty change-up. When he is on, he's lights out. Let's just hope he is always on!
Vinny Pestano, CLE
Pestano is the future closer for the Indians. The Indians only have a one-year contract with Chris Perez, and it is likely that he will become a free agent by next season. That being said, look for Pestano to get plenty of chances to close this year, and if the Indians are not competing and Perez isn't pitching well, look for them to make the change. It's possible Perez could be moved by the trade deadline. 
Pestano posted a 2.32 ERA last season and struck out 84 in 62 innings. He has great command of all his pitches, which includes a 94 MPH fastball, a sneaky cutter and a lights-out slider. Pestano is the real deal.
Addison Reed, CWS
Reed has a lot of hype surrounding him being the possible closer for the White Sox. While it's possible, it's also a bit crazy. He spent 2011 rising through the farm system of the White Sox, and now, he is poised to win a spot in the bullpen.
The former third pick brings an arsenal of pitches to the table, which includes a fastball that tops out at 96 MPH, a slider and an 84 MPH change-up.
My concern with Reed, and likely Robin Ventura's concern, is his lack of experience. The former San Diego State standout has only 21 innings worked in AAA and no innings in the majors.
That being said, If Matt Thornton can't get the ball rolling in the bullpen, at some point the White Sox could turn to Reed. Though, Crain would be the next logical guy.