How Wilson Chandler's Addition Will Improve Nuggets' Playoff Chances
March 16, 2012

Doug Pensinger/Getty Images
It appears that Wilson Chandler may be finally be returning to the Denver Nuggets.
The versatile swingman was one of several valuable pieces the Nuggets acquired from the New York Knicks in exchange for Chauncey Billups and Carmelo Anthony in a February of 2011 blockbuster deal. 
Chandler became a restricted free agent this past summer but when labor turmoil and the ensuing lockout put the entire season at risk, Chandler signed a deal to play hoops in China.
By the time that season had ended the NBA had started back up again and Chandler was able to reclaim his restricted free agent status, but with the season already underway very few teams had the salary cap flexibility combined with the desire to sign him to an offer sheet. Chandler was forced to wait the process out.  
Yesterday after the Nuggets were able to unload the cumbersome contract they had signed Nene to before the season began, Denver found itself with enough cap space to sign Chandler to an extension. Today it looks like that may actually come to fruition.
Chandler's arrival in Denver will have an impact. It will take minutes away from Corey Brewer and Arron Afflalo, both of whom have had upticks in playing time over the past month.
Chandler's return actually coincides with the return of Danilo Gallinari who was one his teammates on the Knicks sent to Denver in February of 2011. Gallinari has been back for several games and just seems to be hitting his stride.
Now Chandler returns and all of a sudden the Nuggets have a new look at the shooting guard and small forward positions.
Chandler brings an element of defense not always seen in players from those positions. He blocks a fair amount of shots. Last season Chandler averaged 1.3 blocks per game which amazingly enough is a higher number than what recently departed center Nene contributed on average.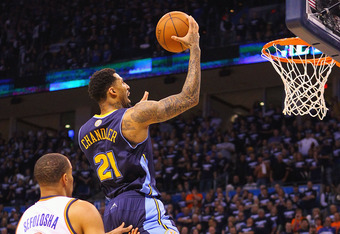 Dilip Vishwanat/Getty Images
The Nuggets lead the league in points per game but they are also 28th in the league in points allowed per game. Adding Chandler won't trigger a complete reversal of the team's defensive posture but it will improve the team's defensive trajectory as they prepare for postseason play.
Adding Wilson Chandler improves the Nuggets. Does it improve them enough to win the Western Conference? No, probably not.
It could be enough to make the Nuggets a candidate to pull off a first round upset though.