Washington Redskins Free Agency: Thoughts and Observations from the Sidelines
March 16, 2012

Scott Cunningham/Getty Images
As a Washington Redskins fan, I sit and watch for every scrap of Free Agency information to cross my twitter feed, in-box, and constantly refreshed computer screen.
Like all of you, I am reliant on Bleacher Report Team Stream, NFL.com, tweets from Rich Campbell and Grant Paulson (@Rich_Campbell, and @grantpaulson, respectively), and the occasional scoop from a Washington paper for my news.
None of that stops me, however, from obsessively evaluating every tidbit of information that comes my way.  Having lived an electronic existence for the last three days has opened my eyes to several trends and potential scenarios.  Here are just a few things I can't get out of my head until I set them to print.
How much more outside corroboration does the Front Office need to see before they sign London Fletcher to a deal that guarantees he retires as a Redskin?  They're not fooling anybody with the waiting game, though it is understandable that both sides want the market set before agreeing to anything.  But the only thing I can even imagine holding up the two sides now is the length of the contract, not the size.  Give Fletcher his years and let the man retire as a Skin.  The entire Redskins world is tweeting #reSign59.  Get it done today before he winds up in Eagles Green (heaven forbid!).
Releasing Otagwe and letting Landry walk did not thin our secondary, it exposed how thin it already was. Going over the stats from last season showed just how little those guys even took the field, let alone contributed.  One has to assume that after signing Meriweather and Cedric Griffin while still going after cornerback Aaron Ross, that the coaches are planning on shuffling a CB or two to safety position.  I semi-joked about three days ago that DeAngelo Hall might make a great Free Safety.  Could that actually be in the plans?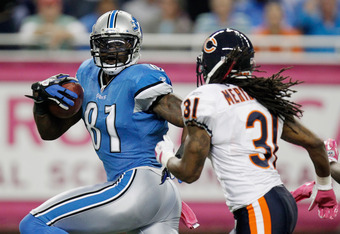 Gregory Shamus/Getty Images
Reality has no place in Op-Ed pieces concerning the Washington Redskins. I have read articles condemning the Redskins for "the same old same old" of free agency overspending, and I have read articles condemning the Redskins for not spending the coin to get top tier Free Agents.  I have read an article begging RG3 to run away from the Redskins organization because they haven't been able to build in the past, while simultaneously discussing how they are building an offense around him.  Even Bleacher Report has an article right now wherein the author rips Washington for both continuing the negligent big name spending of the past and also not getting the big names needed.  Simple truth; the Redskins are guilty until proven innocent due to past transgressions.  As a fan, you are far better served sticking to factual reports about free agency and avoiding any opinion pieces disguised as analysis.
Eddie Royal did us a favor.  We didn't need him.  If Coach Shanahan has a fault it's in his "Harem" approach to the receiver corps.  How Eddie Royal could be considered better than Moss, Gaffney, Armstrong, or Hankerson is beyond me.  Younger than a few?  Yes.  More experienced than a few?  Yes.  But not better.
Lineman anyone?  Maybe a Right Tackle?  A Guard? Bueller...Bueller...Bueller?
You can follow me @danielnick01 for tweets, retweets and more tweets about the Redskins