Fantasy Football 2012: 4 Winners from the Brandon Marshall Trade
March 16, 2012

Mike Ehrmann/Getty Images
The biggest fantasy football news that came out of the first day of the NFL free agency period had nothing to do with a free agent.
The Chicago Bears acquired Pro Bowl wide receiver Brandon Marshall from the Miami Dolphins for a pair of third-round draft choices. This trade has major fantasy ramifications for not only Marshall but several of his new teammates. Fantasy owners can start nudging a couple Bears up a few spots on their off-season cheat sheets.   
So here are the four winners from the Brandon Marshall trade: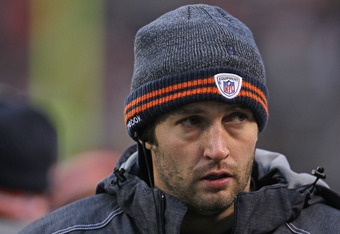 Jonathan Daniel/Getty Images

Brandon Marshall
Marshall's numbers definitely came down a couple notches during his two short seasons in Miami, especially in the reception and touchdown departments, but it is amazing that they did not totally disappear like Rush Limbaugh's advertisers. 
Marshall had to catch windy wobblers, dying quails and knuckleballs from non-Pro Bowl quarterbacks like Chad Henne, Matt Moore, Tyler Thigpen and J.P. Losman during his time in LeBronville.
The man should be given a medal for still posting back-to-back 1,000 yard years, although he never broke the 100-reception plateau like he did with the Denver Broncos, and his nine touchdowns in 30 games did not do fantasy owners any favors. 
Marshall had 206 receptions for 2,590 yards and 13 touchdowns in the two seasons he tag-teamed with Cutler in Denver—much better than what he did in Miami with the CFL-caliber quarterbacking crew over the same period of time.
Cutler and Marshall always seemed to be on the same page, which is odd because most people are never on the same page with Marshall.    
Marshall's latest brush with the law—he reportedly was involved in a scuffle at a New York City nightclub —was what fantasy owners wanted about as much as a Hulk Hogan sex tape.
Hopefully he does not get suspended and miss any games in the future, because if he plays 16 games with Cutler, Marshall is poised for 90-100 receptions and 1,300 yards. 
The Chicago Bears have almost gone longer without a 1,000-yard receiver than "Right Said Fred" has gone without a hit song.
Cutler has been a star without a supporting cast.
His receiving corps has been one of the worst for three years running, his offensive line has allowed him to be pounded harder than most quarterbacks and his coaching staff has hung him out to dry on countless occasions.
Marshall will not fix all of Chicago and Cutler's problems, but he will fix the most important one. Now Cutler has a go-to guy to throw to on third down, in the red zone, any time.
Devin Hester and Johnny Knox may be greyhounds, but they are not wide receivers. And Roy Williams was far, far, FAR from the solution to the WR problem last season.    
Cutler had arguably his best fantasy season in 2008 with Marshall as his top target in Denver. He threw for 4,526 yards, scrambled for 200 more and had 29 total touchdowns via air and ground. Marshall is his best bet to get his numbers back up to those lofty levels. 
While Forte cannot be happy that Chicago franchise tagged him instead of securing a long-term deal with him, the Marshall signing should cheer him up. Now opposing defenses can no longer stack the box with eight or nine defenders and single cover Chicago's once-weak receivers.
With Marshall around to keep secondaries away from the line of scrimmage, Forte should have some more room to run.
Forte was in the middle of a dream season last year when he tore up his knee and ruined the playoff hopes of many fantasy owners. With Marshall keeping safeties honest, there is no reason to think Forte cannot have another dream season and run for 1,200 yards and couple in another 600 receiving yards.
Let's just hope Forte does not hang out with Marshall off the field and get tangled up in any of Marshall's many messes.    
Gould has been gold for fantasy owners the past six seasons, scoring well over 100 points each year while making all of his extra points and 87 percent of his field goal attempts.
And he did it with Chicago not exactly having an offense that brought back memories of Warren Moon's Edmonton Eskimos teams. 
With Marshall in the fold and the Bears' offense becoming more explosive, Gould should be the benefactor of more extra point and field goal opportunities.
Gould is perennially a top-10 fantasy kicker anyway. 
Now he should be thought of as possibly a top-five kicker if Marshall helps add 10 additional extra points and five more field goals to Gould's totals.