Brian Vickers: The NASCAR Sheriff Is Back in Town at the Food City 500
March 17, 2012

Jared C. Tilton/Getty Images
While it is not news that Brian Vickers will participate in the NASCAR Sprint Cup, albeit on a truncated schedule, in 2012, it is interesting to see him back in the saddle.
Vickers, initially through no fault of his own, lost his job in the Sprint Cup last year upon the announcement that Red Bull Racing would no longer exist as a Sprint Cup team in 2012. Kasey Kahne, his teammate at the time, was fortunate that he had already inked a deal to move to Hendrick Motorsports for this current season.
One would have thought that Vickers would have done his utmost to race his best and cleanest to try to secure a full-time job with another team for the 2012 season. The opposite proved to be true.
Despite seven top-10 finishes and an overall standing of 25th, Vickers became incorrigible toward season's end. Perhaps it was stress-related, though that was no excuse for his late-season demise in 2011.
Everything was fairly kosher up until the end of October during the Chase. Vickers seemed to treat the short track of Martinsville, Virginia at the Tums Fast Relief 500 like his own personal demolition derby.
He wrecked Jamie McMurray so badly that McMurray's battery fell out. Worse, with nothing much to gain, he essentially ended Matt Kenseth's hopes at a second championship. This is somewhat of a faux pas in NASCAR: Drivers out of championship contention do not interfere with drivers still in the thick of the fight.
This protocol was lost on Vickers at Martinsville, and was fairly obviously repeated two weeks later at Phoenix. Again he wrecked Kenseth, crashing him mathematically out of any hope to compete for the title in the finale at Homestead-Miami.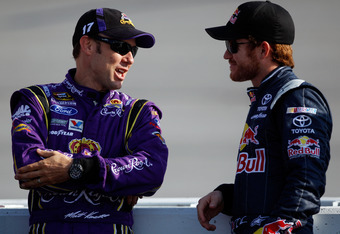 Chris Graythen/Getty Images
Vickers had been a polarizing figure in NASCAR prior to this—his actions at the Kobalt Tools 500 garnered him "despicable" status.
It cannot be said that these actions were a direct reason for his failure to secure a new job in 2012, but, in all fairness, it is presumable that they did not help.
What owner wants to invest large amounts of money in a driver who appears, with nothing to truly gain, ultimately vindictive? Team owners spoke by not offering a new opportunity for him in 2012.
That is, of course, until Michael Waltrip Racing extended its hand of blessing to "The Sheriff" for six races this season to fill the void of Mark Martin's shortened 25-race contract. Vickers should be thankful to sit in the No. 55 Aaron's Dream Machine—team owner Michael Waltrip could have entered the other 11 races for a much cheaper price.
Vickers' first effort on the NASCAR circuit in 2012 earned him a fairly respectable 25th place in qualification for the Food City 500 at Bristol Motor Speedway, all things considered. It could have been much worse, given the five months he spent not racing competitively.
It is good to see a talented driver like Vickers back at the top level of stock car racing, where he belongs. Hopefully his opportunity yields success, if but in a little more cautious and humble manner.