Chicago Bulls: Should They Bring Back Andres Nocioni?
March 17, 2012

Jonathan Daniel/Getty Images
I can still here the chants from the 2005 and 2006 playoffs.
Noc-i-oni! Noc-i-oni!
It was the Bulls' first playoff game since Michael Jordan retired and Andres Nocioni had the United Center rocking.
He played nearly every second of that game and led the Bulls with 25 points and 18 rebounds as the Bulls beat the Washington Wizards 104-95. Unfortunately, the Bulls ended up losing that series 4-2.
If you think Tom Thibodeau rides Luol Deng hard, then you don't remember how Scott Skiles used Nocioni.
The next season he did it again, this time against the Miami Heat. He averaged 22 points and nearly nine rebounds during the series, which once again saw the Bulls losing the series 4-2.
Back then Nocioni was on top of the mountain and since then it has been a slow ride down.
Next season Deng stayed healthy and reclaimed the starting small forward spot and had a breakout series against Miami in the playoff.
Then in 2007 the team underachieved and eventually Nocioni was traded during the 2008-2009 season for John Salmons. Since leaving the Bulls he has spent time with the Kings and 76ers, where he was until he agreed to a buyout on Friday.
So should the Bulls look into bringing back a member of the old core?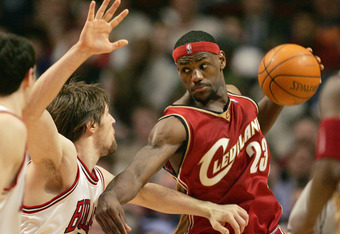 Jonathan Daniel/Getty Images
At 32, Nocioni's best days are probably behind him but he still provides a certain skill set that could be valuable to the Bulls. Did anyone else just flash to Liam Neeson from the movie Taken?
For his career he is a 37 percent three-point shooter and is tough enough to play both the small and power forward positions. Another bonus is he used to annoy LeBron James a lot when he would guard him and you can never have enough guys like that.
Nocioni would also fill the tough guy role off the bench that has been vacant since Kurt Thomas left to sign with the Trailblazers.
In my opinion, with nagging injuries that probably aren't going away with Deng and Richard Hamilton, the Bulls could use all the wing help they can get. What do they have to lose?
It might mean even less playing time for the "human victory cigar" Brian Scalabrine, but wouldn't you rather see Nocioni entering a close game than Scalabrine?
I know I'd rather be chanting Nocioni after he makes a big shot than chanting Scalabrine when the Bulls are up big.
So what do you think folks? Sound off below.
Make sure to follow me on Twitter @dachicagofan, and check out my weekly Bulls podcast every Wednesday on my site, The MG Experience.