Philadelphia Phillies Postseason Success: 2008's Key, and What It Means for 2012
March 18, 2012

Al Messerschmidt/Getty Images
As the 2012 season approaches, one question is on everyone's mind: Is this the year the Philadelphia Phillies, the postseason favorites for the past three years, will win another World Series?
To find the answer, you would have to first decide this: Why have the Phillies not won the World Series for the past three years?
In 2008, the Phillies beat Tampa Bay to win their first World Series in 28 years. For the next three years, their regular season record got better (from 92 to 93, 97, and then set the franchise record 102).
But the Phillies lost earlier and earlier in the postseason, never able to repeat the 2008 feat.
Why?
The answer is one factor, one name: Carlos Ruiz.
In the postseason, hitting in the clutch is key. Every at-bat is vital, every opportunity needs to be capitalized on. The outcome of the playoffs depends on which players can get the right hits at the right times.
Clutch hitters are the most important players a team can have in the playoffs.
Carlos Ruiz has a reputation for clutch hitting. Put two and two together; for the Phillies, the outcome of the playoffs depends on Carlos Ruiz.
History proves this correct.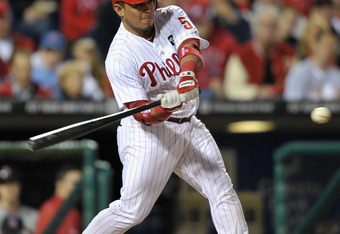 Drew Hallowell/Getty Images
Look at Carlos Ruiz's stats in the 2008 World Series. He hit .375/.500/.688, getting hits at key times.
In the 2009 World Series, the Phillies lost to New York. Carlos Ruiz hit .333/478./722 against the Yankees. His BA and OBP were significantly lower than 2008.
In 2010 the Phillies lost in the NLCS. Ruiz had a much higher batting average for the regular season, at .302 as opposed to 2009's .255 and 2008's .219.
Ruiz's postseason stats, however, were lower.
Ruiz had batting average of .192, an OBP of .342, and a SLG of .346. He hit .167 in the NLCS, when the Phillies lost to the Giants.
Not so impressive after all.
In 2011, his BA was .270 for the regular season, in between 2009 and 2010.
His postseason stats were the lowest yet, with a batting average of .059, an OBP of .111, and a slugging percentage of .059. And the Phils lost in the Division Series.
Carlos Ruiz is the key to the Phillies postseason success. As his postseason performance goes down, the whole team is dragged down with him.
I can't tell you how the Phillies will do in the 2012 postseason. I can, however, tell you why they will do as they do.
One name: Carlos Ruiz.
The Phillies postseason success depends on it.