Printable NIT Bracket 2012: Oregon in Quarterfinals After Record Scoring Game
March 18, 2012

Stephen Dunn/Getty Images
In a year in which the strength of the Pac-12 conference has been described by numerous media outlets as being at a historic low, the top teams in the conference continue to roll through opponents in the 2012 NIT.
No. 3 seed Oregon defeated No. 7 seed Iowa, in Sunday's second-round game in Eugene. The Ducks had previously beat LSU, 96-76, in the NIT first round. Oregon will now face the Washington Huskies in Tuesday's NIT quarterfinals matchup (6 p.m. Pacific), the winner of which will go on to the semifinals at Madison Square Garden on March 27.
Click here for an official printable 2012 NIT bracket. For an online 2012 NIT bracket with up-to-date scores click here.
Iowa (18-17), meanwhile, finished the regular season tied for seventh in the Big Ten along with Northwestern. Washington defeated Northwestern, 76-55, in the second round of the 2012 NIT.
The Hawkeyes played eight AP top 25 teams this year, with a win-loss record in those games of 4-4. Iowa beat Wisconsin when the Badgers were ranked both No. 11 and No. 16. Iowa also beat then-No. 13 Michigan, and then-No. 18 Indiana.
Oregon trailed Iowa in the first half of the NIT second-round game by as much as 15 points. The Ducks were able to reduce Iowa's lead down to four points at the half. In the second half the Ducks shot 72 percent, including making seven of 11 three-point attempts. Oregon took and held on to the lead with 11:44 to play, beating Iowa 108-97.
This was the sixth encounter between Oregon and Iowa, and Oregon's second-round NIT win marked the Ducks' first win against Iowa in six meetings. The game was the Ducks' highest scoring game, and first over 100 points this season.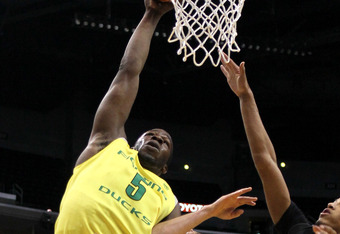 Stephen Dunn/Getty Images
With a total score of 205, it was also the highest scoring regulation game in Division I this season. The last time the Ducks scored as much was in a 108-67 win over UC Riverside in 2002. 
Oregon's E.J. Singler scored 25 points, Olu Aschaolu and Carlos Emory scored 22 and 19 points, respectively. Devoe Joseph and Garrett Sim both scored 15 points.
The Oregon-Washington 2012 NIT quarterfinals game will take place in Seattle. Oregon lost in Seattle 76-60 earlier this season, while the Ducks beat the Huskies at home 82-57 this season.
Oregon (24-9,13-5), along with Cal, finished the regular season one game behind the Huskies (23-10, 14-4), who were the Pac-12 regular-season champions. 
The Oregon-Washington game promises to be a good match between two Pac-12 rivals. The stakes of are high, with a trip to New York City and the NIT semifinals on the line.