Nick Young Trade Sets Clock Ticking for Clippers Forward Bobby Simmons
March 19, 2012

Lisa Blumenfeld/Getty Images
When the Los Angeles Clippers signed forward Bobby Simmons to his second 10-day contract of the 2012 season on Mar. 9, the team bought itself some time to make a trade prior to last Thursday's deadline.
Fortunately, the Clips were able to take advantage, acquiring former Washington Wizards guard Nick Young in a three-team deal that sent forward Brian Cook to the east coast.
Ever since shooting guard Chauncey Billups suffered his season-ending left Achilles' tear, it seems the Clippers have been on a slide.
Prior to the news of Billups' benching, the Clippers held a 15-7 record with high hopes of making the NBA postseason for the first time since 2006, and second since 1996. At the time, the club was first in the Pacific Division and third in the Western Conference, behind only the San Antonio Spurs and Oklahoma City Thunder. 
The Clippers are presently 26-18, having won exactly half of their 22 games played since the Billups injury, yet they are still fourth in the Western Conference and just two games behind the first-place Lakers in the Pacific Division.
Since signing Simmons for the second time this year, the Clips have won three and lost three. During Simmons' first tenure with the 2012 club that began on Feb. 27, the Clippers went 2-4 over that 10-day stint.
Though it is not yet known precisely what effect Young will have on the squad, his debut with the Clippers wasn't particularly spectacular: 1-of-6 shooting with 7-of-8 from the free-throw line.
Then again, Young didn't especially have time to practice with his new club, either: "I thought I was at least going to get a practice in," Young said after the game. "They said welcome to the team, you're going to play."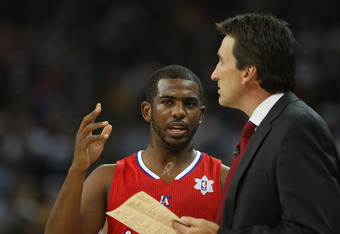 Jed Jacobsohn/Getty Images
Nonetheless, Young's acquisition addresses the void left in the wake of Billups' injury (though Chauncey is certainly one of a kind).
For Simmons, however, in this business world of professional basketball, time may be running out.
According to a team source, Simmons may be tenured a remainder-of-the-season length contract as early as Friday, depending on Young's performance this week and whether Simmons decides to turn elsewhere.
Coach Vinny Del Negro, meanwhile, expressed his support for a more permanent roster spot for Simmons: "Bobby's done a really good job on team defense and gets his hand on a lot of balls. He's a really good guy. He's a pro. I've really liked him. I know [GM] Neil [Olshey] has liked him."
If Simmons does eventually sign with the Clippers through the remainder of 2012, he will join Young as two Clips with one-year deals. Whether the Clippers sign or cut either loose will be primarily dependent on Young's contributions over the course of the season; and for Simmons, whether team executives believe a Young-Simmons combination could be worthwhile.
However, the Clippers will not forget about Mo Williams, whose 16.0 points-per-game average in March compares quite nicely to Billups' 15.0 average during his abbreviated 2011-12 season. Since the injury, Williams has had his chances to perform, including a season-high 33-point, .632 field-goal percentage performance against San Antonio on Mar. 9.
At the start of 2011-12, Clipper Nation was most excited about Blake Griffin and Chris Paul, generating buzz about LA's postseason chances, including that oft-elusive word: "championship."
These days, with Nick Young joining that discussion, could Simmons sneak in and join the likes of Adam Morrison in famous bench players with a ring? After all, he'd still have more rings than LeBron.