Arsenal Football Club: Fact, the Club Is Nothing but a Glorified Feeder Club
March 19, 2012

Jamie McDonald/Getty Images
A certain fan, seeing that I am an Arsenal fan, told me to shut up  and "go help your club raise funds to buys players and stop raising kids." He liked how it sounded and, for maximum effect, added some swear words just to be sure I didn't miss the message.
I didn't miss the message.
I thought it was silly, considering the fact that my club is richer than his. So surely, if it is true that my club isn't buying players but raising kids, it mustn't be because it's in dire strait, since, even now, Arsenal are still richer than his club.
But I could appreciate the thinking that informed his view. It has underscored his club since its inception. You see, this club has a tradition of buying star players, notwithstanding the fact that this hasn't necessarily yielded success.
I'm sure he'd disagree, since in both his waking hours and dreams, there's no club as successful as his.
With this we can't disagree, can we? Isn't success relative?
Here is an indisputable fact: My father's horse is both the biggest and the whitest, that is, until somebody else fetches his father's bigger and whiter horse.
Or consider this:
For a child, there's nothing like now.
Now is for play, for pleasure, for enjoyment, the only cloud in this is the ineluctable irritation that brings with it the inevitable tantrums.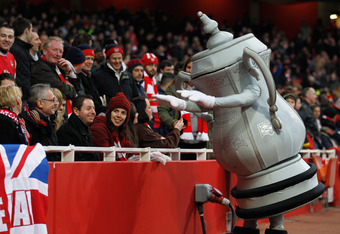 Paul Gilham/Getty Images
A child, of course, has no concept of history. No one is bigger or smarter than his or her father or mother. Perspective naturally is not a child's forte.
We should, though, give credit where it is due, even if in this case the credit can't go to this particular fan, since he didn't invent the idea that Arsenal are now just a club of kids.
In 2009, Patrice Evra called the Gunners kids. The Telegraph recalls:
Evra showed a lack of grace in comparing Arsenal's players to "children" in the aftermath of United's 3-1 win at the Emirates stadium in the Champions League semi-final in 2009, Arsenal's players went after him in the next league game at Old Trafford.
Then just last year, he elaborated on the notion:
Arsenal, a big club like that and they have not won a thing for five years? For me that is a crisis and a load of rubbish.

To my mind Arsenal are an Academy team. I'll watch one of their games and enjoy it, but in the end will they win a trophy? That is what people remember you for.

People are beguiled by Arsenal's style, but in the end what do they have to show for it?
I will not pay heed to all the insinuations here. What interests me is the notion of Arsenal as an "Academy team."
Is that what the club has become?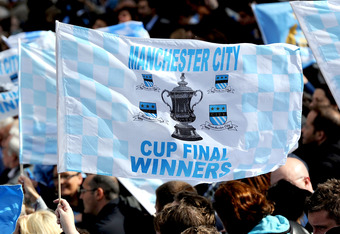 Chris Brunskill/Getty Images
Evra said more when he gave the above interview. Boo boys would love it, I'm sure.
I know because boo boys, just like Patrice Evra's talk, are childish. Children swim on the stream of every emotion. To such people, greatness is predicated upon the now—the result today.
This is not to say this isn't important. It is.
What trophy-less stretches of time existed between Manchester United's successes in their long history before their current boon? How about Barcelona? How about Inter Milan, or AC Milan? How about Ajax, one of Europe's top clubs?
Should we call Ajax a feeder club, since we know of their acclaimed academy? Are Barcelona a feeder club to Arsenal, since, again, we know that Arsenal have poached one or two of their young players?
Is the Fédération Française de Football a feeder league, since, in fact, Arsenal have had many of their players in the last decade and half? Is Brazil a feeder country to Italy?
There is, of course, a sense by which we can answer these questions in the affirmative. However, as a derogatory term, this isn't true, surely. The FFF isn't simply a feeder league, neither is Barcelona's academy to Arsenal nor Ajax's to the rest of Europe.
This, however, is not where the meat of the matter lies.
It lies with hegemony, the hegemony of the so-called top clubs, and this is where the alarm bells go off for me.
Anyone who has a shard of history knows that the current top clubs weren't always top—not in England anyway. Until as recently as the 1980s when Liverpool became very dominant in England, the Football League was very competitive in the practical sense of the word.
Stephen Dobson and John Goddard write in The Economics of Football:

[T]he 1920s and 1960s were the decades in which the destination of the championship from season to season was most unpredictable. Although Huddersfield Town was by some distance the most successful team of the 1920s, this decade was unusual in respect of the total number of teams that managed to achieve a top three position on at least one occasion. Two teams shared top honours almost evenly during the 1950s: Wolverhampton Wanderers and Manchester United. The 1960s and the first half of the 1970s can be seen as a continuum, with ten different teams winning the championship during sixteen seasons, and no team winning in consecutive seasons. By winning three of the last four championships in the 1970s, another six during the 1980s, and on more in 1990, Liverpool established a degree of dominance unprecedented at the time, but subsequently matched, and perhaps surpassed, by Manchester United.
Blackburn Rovers even won the league in 1995, but we know, of course, how this came about: cash. They had money that year.
That's the problem. Cash.
Few would begrudge a club it's dominance, acquired through hard work and foresight. What has destroyed competitiveness in football is the culture of debt and oligarchy.
It is because of this last factor that the fan I referred to had the cheek to offer what he deemed an insult to me and Arsenal.
I have been sympathetic to long-suffering Manchester City fans— for who can begrudge them their moment in the sun?—however, their sudden rise, as on the back of steroids, represents in my thinking a great deal of what is wrong with the current culture of football.
Surely, it's not competitiveness when the same four teams become the perpetual top four teams, or when the same team keeps winning the title? What's the fun in that?
Wouldn't it be more fun, if at the beginning of the season, we knew that Wigan had a good chance of winning the title or that a promoted club could challenge for the title?
The fact that some fans have the audacity to demand for the sack of a coach simply because their team is now seventh on the table instead of third or fourth, with half of the season barely played, is yet another factor that highlights the problem with the current culture of thought.
Unregulated cash (not that it should be if there existed a proper business atmosphere where enterprising teams could enjoy the fruit of their sweat and innovation), is the reason behind the tag "feeder club" that upstart clubs like Manchester City use for clubs like Arsenal.
The vogue of oligarchs and rich oil patrons has prompted even some Arsenal fans to demand for their own oligarch. You see, one isn't far away from our own door.
By the power of cash, Chelsea lured away our Ashley Cole, so that after he had been offered a £120,000 a week, he thought he was the happiest man on earth.
By cash Manchester City bought Emmanuel Adebayor's mind. And by cash they got Samir Nasri, Kolo Toure and Gaël Clichy, even Carlos Tevez from their bitter neighbors. By cash they hope to buy Robin van Persie.
With this understanding—that cash now  is everything not culture, style or tradition—you can see why people disparage the grooming of players.
Who grows the food or butchers the meat when you can get everything you want at the grocery store?
And now in this culture, three things remain: cash, cash and cash, but the greatest of them all, is cash.
"Arsenal?"
"All beautiful football, no cash."
"Is that all?"
"No. Arsenal? All about paying off their debt not incurring it to buy Cristiano Ronaldo, what losers!"
"I like that; is that all?"
"There is: Arsenal? All about top four rather than really winning something."
"And why is that?"
"Why, the team is a bunch of kids! You can't win anything with kids."
"What about us?"
"Us? why we have money, of course. Money!—just click here and see—Money from___________"