NASCAR Sprint Cup Series: What Is Keeping Kasey Kahne Down?
March 19, 2012

Todd Warshaw/Getty Images
Kasey Kahne's first impression for Hendrick Motorsports has not been a good one.
Through four races, Kahne has a season-best finish of 19th at Las Vegas, two sub-30th-place runs, four crashes and a 32nd-place points position.
It's no secret that the start to Kahne's 2012 season and tenure at Hendrick Motorsports has been disappointing to say the least. It's also been well-documented that Kahne now sits closer to falling out of the Top 35 than he does the Chase eligibility cutoff.
For the record, that's the 20th place Wild Card cutoff, not the Top 10 automatic spot.
The real question seems to be, what ails Kahne? For every person you ask, a different answer is given.
Blame it on the luck that Kahne's never seemed to have. Blame it on the pressure he feels driving for a new team. Blame it on karma for choosing to join NASCAR's "Dark Side."
Blame whatever or whoever you want, but the truth is this:
Kasey Kahne's biggest problem so far in 2012 has been Kasey Kahne.
Yes, of the four crashes Kahne has been in so far, not all have been his fault. For instance, his 29th-place in the Daytona 500 was not his doing. 
But let's be honest, nobody's poor finish at Daytona was of their own making.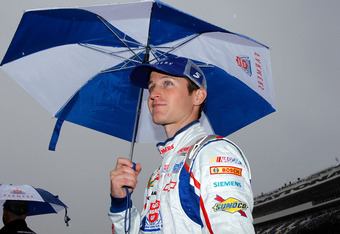 Todd Warshaw/Getty Images
Kahne was also a victim of tough luck at Las Vegas, where he crashed on a late restart after contact with Matt Kenseth.
He gets a mulligan for Daytona and Vegas, but the other two crashes were all Kahne.
Flashback to Phoenix two weeks ago, where Kahne was running second on an early restart with a car many thought was the favorite to win. Just 20 laps in, Kahne got loose coming off Turn 4 while running all by himself, panicked, over-corrected the car and turned it right-front-first into the outside wall.
On to Bristol. Racing for fifth with Regan Smith, Kahne came up off Turn 4 again with Smith coming on the outside. Instead of playing it safe 24 laps into the race and letting Smith get next to him, Kahne tries to slam the door, gets turned and triggers a six-car wreck.
Kahne would go on to say that his spotter cleared him, which is why Kahne moved up the track. But as he was talking after the crash, it seemed Kahne was not completely sure he was clear.
Even if he was, it was 24 laps into a 500-lap race. Where is the patience?
If nothing else, the start of the 2012 season has been Kasey Kahne's career in a nutshell. When bad luck isn't getting him down, he finds ways to beat himself. He's been his own worst enemy for years.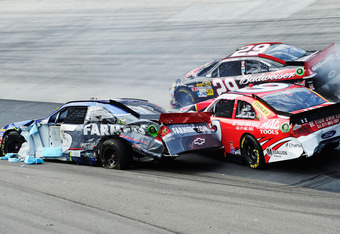 John Harrelson/Getty Images
The most notable occurrence of this was Kahne's infamous "brain fade" of 2006 at Atlanta Motor Speedway, the seventh of 10 Chase races that season.
Kahne was in his first Chase and had clawed his way back into title contention after some early trouble. Kahne showed some muscle that day, running in the top five throughout most of the race. But when a pit road speeding penalty plagued Kahne, it was all downhill from there.
On the ensuing restart, Kahne did to David Stremme going into Turn 1 exactly what he did to Smith on the frontstretch on Sunday.
That is to say, despite the fact Stremme was clearly on Kahne's outside, Kahne continued to move up the track and stuffed Stremme in the wall, turning his own car into the fence in the process, effectively ending his only legitimate shot at a Sprint Cup title thus far.
Kahne has had other instances of beating himself since the Stremme incident, including another identical wreck with Stremme at Richmond that next Spring.
Kahne also was part of a major accident at Pocono in June 2010 when he almost flipped over the wall after trying to pass then-teammate A.J. Allmendinger in the wet backstretch grass on the final lap of that race.
Now twice already in 2012, Kahne has done it again. He's taken the initiative and beaten himself before anybody else has had the chance to.
So what have the crashes of Kahne's making done for his position in the standings?
Allow me to put the results of the two races in which Kahne has beaten himself into perspective for you.
In the two races that Kahne has not taken himself out, he has finished 29th and 19th, respectively. In those same two races, Brad Keselowski also suffered trouble not of his making and finished 32nd in both races.
In the races he has beaten himself, both of which were done in cars capable of going to Victory Lane, Kahne finished 34th and 37th. In those same races, Keselowski finished fifth and first, respectively.
One driver has beaten himself twice, while the other has not.
The difference in the standings? Kahne is 32nd, while Keselowski is 13th.
Luck plays a huge role in NASCAR, as it does in all sports. So in the races where a driver has luck go his way, he must be able to take advantage and not beat himself, or the results will reflect it.
As they do with Keselowski and Kahne.
Perhaps the reason why Kahne has been so shaky behind the wheel so far in 2012 is indeed because he feels the pressure of driving for the most dominant team in NASCAR in recent years. After all, he did have a full season to think about and dwell on that pressure.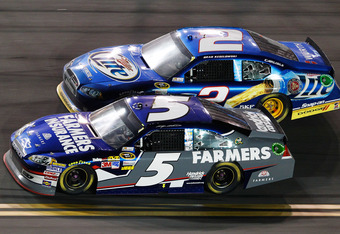 Streeter Lecka/Getty Images
If that is the case, it is very understandable.
But what Kahne must do now is get past it. He must learn that he is not going to win a race in the first 20 laps. It takes a full race and if he doesn't finish, he won't win.
Kahne also needs to settle down and realize that just because the first few races have not gone his way does not mean his season is over. He has plenty of time to move himself up in the standings, as well as the equipment he needs to win races and make the Chase.
What Kahne must also do is realize that bad things will happen and rebound from those bad things, while being sure not to compound those issues by over-driving the car and causing more problems.
But more than anything, Kasey Kahne needs to quit beating himself.