NIT Tournament 2012: Why NCAA Tourney Snub Drexel Will Fall Short of NIT Title
March 20, 2012

As one of the biggest NCAA tournament snubs this year, the Drexel Dragons have plenty to prove in the NIT tournament.
But Drexel, despite a solid campaign, will fall short in the end.
Sunday's 65-63 nail-biter in the second round against Northern Iowa was a warning shot.
Drexel led by as many as 18 points in the first half, but the Panthers stormed back, only to see Johnny Moran's last-second three-pointer hit the back of the rim.
Drexel did everything right against Northern Iowa on Sunday, except rebound. The Dragons were out-rebounded, 30-20.
The reality is, Drexel doesn't have a lot of rebounders. Beyond senior forward Samme Givens, there isn't another presence in the paint to keep good rebounding teams off the glass.
The ironic thing about Sunday's nail-biter was that Northern Iowa wasn't a particularly good rebounding team.
But the same can't be said about Drexel's upcoming opponent, No. 5 seed Massachusetts.
The Minutemen are averaging 39.3 rebounds this season—13th in the nation. They also are averaging 76.8 points—23rd in the nation.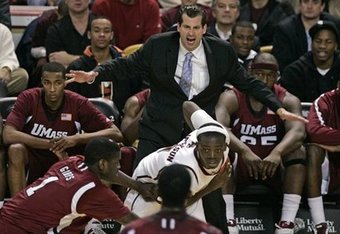 UMass is coming off a 77-67 victory over Seton Hall, another NCAA tournament snub, and two games ago, the Minutemen edged Arnett Moultrie and Mississippi State, 101-96, in a double-overtime thriller.
The Minutemen attack the glass very well as a team, which is why they rank 13th in the nation in rebounds per game despite their leading rebounder, Sean Carter, averaging just 6.6 boards.
This kind of rebounding advantage, combined with UMass' scoring ability, will prove to be a challenge for Drexel.
Drexel has nothing to be ashamed of this season, but I think the Dragons will flame out tonight.
Follow me on Twitter. We can talk about the NIT tournament.