Carolina Hurricanes' Recent Play Bodes Well for 2012-13 Playoff Chances
March 23, 2012

Grant Halverson/Getty Images
Four months ago, the Carolina Hurricanes were among the worst teams in the NHL.
Is it possible they've already become one of the best? 
Led by a fresh face behind the bench and a resurgent captain, Carolina's 16-6-8 record since January 12 has been one of the most impressive in the league over that span.
While this renaissance has gone relatively unnoticed by the public, the Canes' new found success has set them up to be a legitimate playoff contender next year, and possibly the favorite to take the Southeast Division crown.
Here's something to think about: The Canes have been on pace for a 109 point season over their last 30 games, a pace that only a handful of teams have been able to string together over a comparable time-frame this year.
To put Carolina's recent streak in perspective, the 2010-11 Eastern Conference champion Washington Capitals only amassed 107 points.
For an organization that isn't poised for much roster turnover this summer, this revival is more than just a luxury for the Canes—it's a necessity. 
Bryan Allen and Jaroslav Spacek are their only players set to become unrestricted free agents in July, and it is likely that at least one re-signs prior to hitting the open market (Allen being the favorite to do so). Jiri Tlusty, Jamie McBain and Drayson Bowman are RFA's, but it's doubtful any of those three depart.
With the exception of a potential trade, Jim Rutherford won't have much of an opportunity to reshape his club in time for October, leaving the general manager with nearly the same group in tow heading into 2012-13.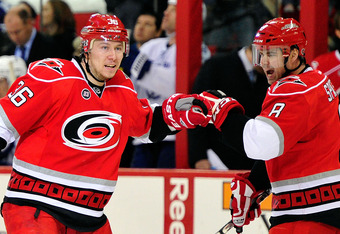 Grant Halverson/Getty Images
This would be a major problem had Carolina remained in the basement of the East. Now, the thought of having virtually an identical team return next fall doesn't seem so bad.
However, all this being said, a cloud of doubt will hover over the Hurricanes until they prove they can consistently win meaningful games over the course of an entire season. 
It's one thing to play the spoiler role—it's another to be the team others chase after.
While skepticism will remain prevalent towards the Canes for quite a while, the team has given the league, the media and the fans every reason to believe that they have the ability to translate their recent play into 2012-13.
The culture throughout the organization has drastically changed since Paul Maurice was fired in late November, perhaps the surest sign that their improvements are more than just temporary. The high level of energy in the locker room has been palpable of late, a strong contrast to how things were in the early part of 2011-12. The players no longer act distressed and apathetic, but rather happy, upbeat and full of life. 
At this point, it's no secret the coaching change that took place after Carolina's abysmal 9-13-3 start has been the biggest reason for this sweeping transformation. Less than 50 games since dismissing Maurice, it's clear that management made the correct call in hiring Kirk Muller: A coach that's been able to win over a team that had quit on its previous regime.  
Under Muller and his simple yet dynamic brand of hockey, Carolina has turned its fortunes around by implementing a system that forces those on the ice to be accountable for their actions, a concept that had failed to be carried out by Maurice.
And while nearly every member of the Canes has experienced some level of growth since Muller's arrival, no one has benefited more from the new coach than Eric Staal.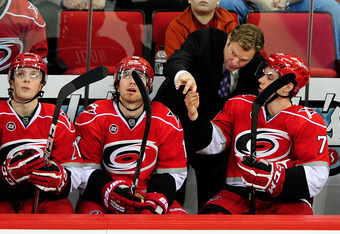 Grant Halverson/Getty Images
Staal's recovery from one of the worst slumps in recent history is vital for Carolina moving forward, as his early struggles were among the biggest reasons for the team's miserable start this year.
Now that No. 12 has returned to his old self, the Hurricanes have returned to their winning ways, giving confidence to the notion this club has what it takes to make the postseason in 2012-13. 
In Staal's past 28 games he has 12 goals, 18 assists and a plus-10 plus/minus rating. In his previous 51, he had 11 goals, 15 assists and was a minus-23. It's no coincidence that his spike in production correlates with Carolina's strong play—to quote Muller, "As Staal goes, the team goes."
The pieces are certainly in place for a playoff run next year, it's just a matter of whether or not the Canes can maintain the momentum they've built up since the All-Star break through next spring.
Nevertheless, all signs are pointing towards them succeeding in that endeavor, as their new coach and revitalized captain should continue to lead them on a winning path.
And even though barely anyone outside of North Carolina has taken notice of their recent success, that ought to to change very soon.     
Andrew Hirsh is a credentialed member of the Carolina Hurricanes media and a Featured Columnist at Bleacher Report. Follow him on Twitter: @andrewhirsh