2012 NFL Mock Draft: Free Agency Edition
March 21, 2012

Doug Pensinger/Getty Images
Most 2012 NFL Mock Drafts have started to take true-form as the big names in free agency have been released and/or signed. 
Peyton Manning—being the biggest name of all—ended up being a move that didn't shake Denver's anticipated draft plans much. 
Mario Williams in Buffalo and Cortland Finnegan in St. Louis may have had a much bigger impact on franchise draft plans than the Manning circus.
Free agency isn't over but here is a look at how it has impacted the 2012 NFL Draft as we approach April.
Let me know how you like your team's selection and follow me on Twitter @JohnLorge.
1. Indianapolis Colts - Andrew Luck, QB, Stanford - The posters of Peyton are all gone in Indy but luckily for Luck, Manning's top target Reggie Wayne will be returning.
2. Washington Redskins - Robert Griffin III, QB, Baylor - This Skins have acquired every WR who was on your fantasy football waiver wire last year. Hopefully one of them clicks with RGIII.
3. Minnesota Vikings - Matt Kalil, OT, USC - There are rumors Minnesota will be going after Claiborne instead of Kalil but it's likely a a bluff. Kalil remains until the Vikes show more of their hand.
4. Cleveland Browns - Morris Claiborne, CB, LSU - I thought Cleveland would go for Coples because DE has greater positional value than DB but they signed Parker and Rucker for three downs of end work. Big Mike H loves drafting DBs early.
5. Tampa Bay Bucs - Trent Richardson, RB, Alabama - The Bucs have addressed many of the needs they could have with the fifth overall pick but the one position they haven't moved on is RB.  Richardson carries a rare draft grade for an RB and can carry the entire load if Tampa wishes.
6. St. Louis Rams - Justin Blackmon, WR, Oklahoma St. - After the trade-down, Blackmon is now at a price everyone can agree makes sense. Should see number one receiver targets as a rookie.
7. Jacksonville Jaguars - Quinton Coples, DE, North Carolina - With four years of production in the ACC, its surprising Coples is surrounded with as many question marks as he is. I see a NYG-type D lineman that can flip the switch when it's game time.
8. Miami Dolphins - Ryan Tannehill, QB, Texas A&M - Free agency has put Miami's back against the wall and all signs are pointing Tannehill. I'm weary of any player who will be 24 entering the year and needs time to develop as a Top 10 pick.
9. Carolina Panthers - Melvin Ingram, DE, South Carolina - The Panthers have needs but there isn't a "lock" pick unless Claiborne falls. I think DeCastro is an under-the-radar play, but Ingram gives them an impact defender who can lineup anywhere within the box.
10. Buffalo Bills - Riley Reiff, OT, Iowa - As OT hype dwindles, Reiff is a prospect with slide potential. But the Bill haven't resigned their LT Bell yet and they did make the move for Mario so an educated guess says Reiff is their pick with Ingram and Coples off the board. Upshaw would be my pick, though.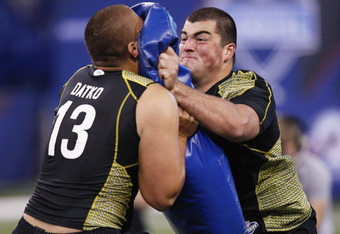 Joe Robbins/Getty Images
11. Kansas City Chiefs - Michael Brockers, DT, LSU - For the most part, the Poe-over-Brockers love has persisted after the combine. Looking at the two, Poe may win the weight-room battle but Brockers was the top plugger in the SEC and fits at nose in KC's LSU D-line.
12. Seattle Seahawks - David DeCastro, G, Stanford - The Seahawks parted ways with Robert Gallery. Last year they took Tom Cable's guy in James Carpenter, which was a wild card pick, and if Cable believes in DeCastro, then book it.  Day one starter at RG, moving Moffitt to LG.
13. Arizona Cardinals - Courtney Upshaw, DE/LB, Alabama - Last year's pick Patrick Peterson taught Zona that you have to grab impact defenders when you can. Upshaw may not be a prototype top 15 pick but he has some of the best tape in the draft.
14. Dallas Cowboys - Mark Barron, S, Alabama - We've seen Dallas address CB and OG in free agency and while they still have needs there, this draft only has one elite safety prospect. Keep in mind Ed Reed and Troy Polamalu were both selected after the 14th pick.
15. Philadelphia Eagles - Fletcher Cox, DT, Mississippi St. - Philly wants a disruptive front four. Cox will be a great addition to their rotation.
16. New York Jets - Michael Floyd, WR, Notre Dame - While N.Y. has needs on defense, it's more their style to go with a splashy offensive pick. Floyd has a high-floor for a WR as long as he remains healthy.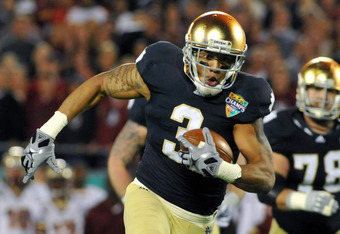 Al Messerschmidt/Getty Images
17. Cincinnati Bengals - Kendall Wright, WR, Baylor - Cincy has a strong defense and a good core on offense but they need more firepower. Wright is a great complement to Green and his addition could make Dalton a Pro Bowl regular.
18. San Diego Chargers - Dre Kirkpatrick, CB, Alabama - SD has a history of going for corners with size—exactly what Kirkpatrick has. His arrival allows the Chargers to play Jammer or him at safety situationally.
19. Chicago Bears - Cordy Glenn, OL, Georgia - Everyone in Chicago knows the Bears need OL help and Glenn can play four of the five positions well.
20. Tennessee Titans - Luke Kuechly, LB, Boston College - Traditionally 4-3/inside backers go at a discount in the NFL Draft. Last year Tenn got Akeem Ayers, a projected first rounder, at 39th overall.  This year Kuechly could be their value pick to play Will or Mike.
21. Cincinnati Bengals - Janoris Jenkins, CB, North Alabama - Many mocks have Jenkins going to the Bengals and with two picks in the middle of the first; it seems like a perfect fit. He's one of the best man-cover guys in the past few years.
22. Cleveland Browns - Jonathan Martin, OT, Stanford - I know Browns fans want a sexy pick with at least one of their first round selections but leaving the first round with bookend corners and tackles is a success. Martin has been quiet this post-season, which could lead to his slide.
23. Detroit Lions - Stephon Gilmore, CB, South Carolina - Lions fans want tackles and corners, and if the draft falls-out this way they will get the later. Gilmore has the size to lock horns with Brandon Marshall twice a year.
24. Pittsburgh Steelers - Mike Adams, OT, Ohio St. - This pick is a combination of rumor, need and speculation. Pitt reportedly likes Adams, they need offensive line help, and the team has a decent connection to Jim Tressel and Ohio St.
25. Denver Broncos - Devon Still, DT, Penn St. - Even with Manning in the building Denver, still needs to focus on stopping the run and building a championship defense. Still has a higher-floor than Poe and I don't expect Elway to gamble with picks.
26. Houston Texans - Don'ta Hightower, LB, Alabama - With DeMeco Ryans out the door, Houston has a need in the middle and can pick the most diverse backer in the draft, Hightower.
27. New England Patriots - Nick Perry, DE, USC - Mocking the Pats draft is a bit like throwing darts at a board. Luckily, I hit a bullseye on Solder last year and this year Perry would be a great addition to their front if they don't trade the pick.
28. Green Bay Packers - Peter Konz, C, Wisconsin - Scott Wells is no longer a Packer in a somewhat surprising move. The Packers can instantly fill the hole with the kid in their backyard, Konz.
29. Baltimore Ravens - Whitney Mercilus, DE, Illinois - Ravens are never "need" drafters. They have players to tryout for Jarrod Johnson's spot but Mercilus is tough to pass on talent with a great motor.
30. San Francisco 49ers - Coby Fleener, TE, Stanford - The Niners want to build the verticality of their offense and few tight ends in college history have been as good as Fleener at stretching the field. Helps that Luck was throwing him the ball though.
31. New England Patriots - Stephen Hill, WR, Georgia Tech - Bringing in Brandon Lloyd reduces the chances of this happening but Bill B is always looking for a difference-maker who can exploit one on one matchups offensively.
32. New York Giants - Dontari Poe, DT, Memphis - Poe was a fringe first rounder before the combine and entering the combine everyone knew he was a freak so his ascension may have been over-estimated. Production is questionable but if one team can take a flier on defensive linemen with upside, its NYG.