Everton vs. Arsenal: The Tactics of Arsenal's 1-0 Victory at Goodison Park
March 21, 2012

Stu Forster/Getty Images
Arsenal started the game fiercely, peppering the Everton goal in the first five minutes. Everton didn't know what hit them.
Events in the First 10 Minutes
Fifth minute: Robin van Persie heads down the ball in the Everton penalty for Aaron Ramsey, who has the goal at his mercy. He balloons it over the bar.
Sixth minute: Theo Walcott cause havoc with his darting diagonal run from the right. He lays off the ball to Van Persie, who is closed down. Ramsey latches on the loose ball and lashes off a shot, which is blocked for a corner.
Seventh minute: Robin van Persie launches the resultant corner into the heart of the Everton box. Thomas Vermaelen out-jumps four defenders to score.
1-0: Arsenal.
Eighth minute: Laurent Koscielny overlaps into the Everton penalty box; only an evasive action by Tony Hibbert saves Everton from conceding another goal.
Ninth minute: A desperate double block by the Everton defense from van Persie and Aaron Ramsey from a Mikel Arteta layoff saves Everton from conceding again. Everton can thank their stars that they are just one goal down.
Arsenal are still dominant in the next 10 minutes. They play according to the tactics I thought they'd use in my preview article: Alex Song is moving from side to side at the back, sweeping up. Koscielny overlaps as opportunity allows; Robin van Persie drops deep from time to time, making it difficult for his markers to track him.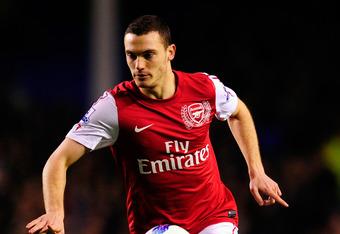 Stu Forster/Getty Images
A Tactical Shift Occurs
David Moyes shifts Marouane Fellaini from the heart of the Everton midfield to the tip of it, just to the right. This accomplishes several things.
Firstly, it severely restricts Bacary Sagna's marauding runs.
Secondly, due to this restriction, it is easy for Sylvain Distin and Leighton Baines to double team Walcott, who thereafter makes only occasional breakthrough on the right flank.
Thirdly, because of Fellaini's height, he gives Sagna problems on aerial balls.
Fourthly and related to the third, Fellaini become a target man for dead balls.
But here is the major effect of this tactical shift.
Everton decided to abandon any attempt to play football; they decided their chances lay with volleyball—just punt it high, long and over the midfield.
Now it's Arsenal who are chasing shadows, unable to come to grips with this style. Rosicky is neutralized, and so is Ramsey.
As a result, Arsenal abandon playing a high line and drop closer to their own penalty box.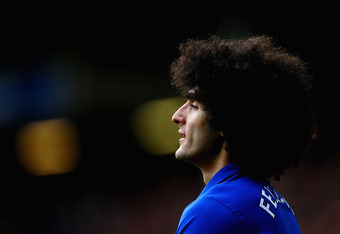 Laurence Griffiths/Getty Images
This in turn admits the problem I identified in my preview—space between the midfield and the attack, which is why Everton are able to take control of the game.
But why couldn't Everton convert their ascendancy into goals?
This was due to the disciplined and rigid back line Arsenal maintained throughout.
It caused Everton to go offside several times (even if the assistant referee got a few of these calls wrong, including the one that led to Everton's disallowed goal. Fellaini was the one offside, not Royston Drenthe.).
The second reason was due to the stellar performance of Arsenal's center-backs, Thomas Vermaelen and Laurent Koscielny. Plus, Song and Arteta worked valiantly and tirelessly just in front of the defense.
One thing stood out sharply in the second half, which Everton by and large controlled.
Despite Everton's energy and dominance in midfield and in possession, they rarely-troubled Wojciech Szczęsny in the Arsenal goal.
The big talking point after the match will be Everton's disallowed goal. However, Arsenal had a legitimate penalty waved off, when Drenthe fouled Rosicky in the Everton penalty area.
Implication of this Victory 
Arsenal have climbed above Tottenham Hotspur into third position on the Premiership table for the first time since September, even if albeit through a solitary point only. Just about a month ago, few would have dreamed this.
Arsenal now have a six-point cushion over Chelsea, who lost at City. This means that even if Arsenal relinquished third position on the Premiership table this weekend, they'd still be safe in fourth position for at least one more game.
Finally, Arsenal again won ugly. It was ugly despite the fact that they started the match brilliantly and should have been three goals up in the first 20 minutes.