Washington Wizards: NBA Trade Deadline Winners or Losers?
March 22, 2012

Doug Pensinger/Getty Images
The NBA trade deadline has come and passed, surprisingly unceremoniously.  Surprising because there probably has never been so much talent at stake.  Dwight Howard, Pau Gasol, Rajon Rondo, Steve Nash, Paul Pierce, Deron Williams, Andrew Bynum, Josh Smith; we wouldn't have batted an eye if any of those names were etched on a different jersey by deadline's end. 
And so, GMs and owners that think they're GMs (and a commissioner who thinks he's an owner who thinks he's a GM) were primed to make Gallagheresque splashes while we the fans jubilantly peered through our oversized clear trash bags with zeal and eager anticipation.
A few trades went down, but nothing really happened.  Nine trades total, three of which were straight salary dumps.  What can we take away from the deadline though?  I'll tell you: the smart stay rich, and the dumb stay dumb.
Case in point: 
The Washington Wizards.  You get the feeling that the team that should be patiently rebuilding instead of shipping Nick Young and JaVale McGee out of DC because GM Ernie Grunfeld thought he was one average, cap-killing center away from competitiveness.  Back in reality, he lost a younger center with a higher ceiling, only 38 fewer career blocks in six fewer seasons, and a much lower price tag (even as a restricted free agent this summer, JaVale's contract won't be nearly as hefty as the team's new center) in favor of Nene, who for all his likability is still one of the more overpaid players in the league.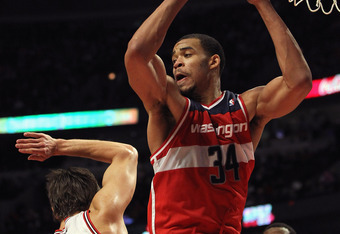 Jonathan Daniel/Getty Images
Don't believe me? 
Would you pay $52 million over the next four years for a center whose career high is 7.8 rebounds per, has averaged more than one block per game once in his career, and will be turning 33 by the time the contract is terminated?
What if you could get better production from a healthier player for almost half the price?  Keep in mind Denver was the first caller when Demarcus Cousins was rumored to want out of Sacramento.  Whom do you think they offered?
To make matters worse (or funnier), Grunfeld ditched a second coveted Cinnamon Challenger in scorer and fellow expiring contract Nick Young for Brian Cook.  That's the most one can get in return for 17 points per game?  I can understand wanting to get rid of these players for attitude issues.  In fact, getting rid of them was absolutely the right move, but not if you're doing it for Nene, Nene's contract, Brian Cook, and all of Brian Cook's 11 made field goals.  There were real rebuilding assets to be had at this deadline—draft picks, prospects, expiring contracts—but Ernie took this one the other way.  The way of killing sweet, sweet cap space when it's what he needed most.
I may be a recent college graduate with an entry-level publishing gig and a better understanding of the marijuana possession laws of each state between mine and Bonnaroo's than of NBA trade negotiations and day-to-day management, but when flicking on my hypothetical GM switch, I think I can handle the question "which do you value more as rebuilding franchise, cap flexibility or feeding your fan base's drive to take a pickaxe to your taint?" with my underparts intact.  Must David Stern give multiple choice exams to prospective GMs before attaining said position ("congratulations, you Presti'd"; "I'm sorry, but you Grunfelded")?
Meanwhile, a team 3.5 games out of a playoff spot that's comfortably made the postseason the last four seasons gutted its roster in the name of future prosperity.  The haul?  A likely top-10 lottery pick in the upcoming draft, a $10.9 million expiring contract, and an inexpensive stretch 4, in exchange for a solid forward who can opt-in at $9.5 million next season.  The team?   The Trail Blazers, who fired their last non-interim GM almost a year ago.  It's not like Gerald Wallace would have been overpaid, but building contenders means stockpiling young,  inexpensive talent while maintaining fiscal flexibility in case the right free agent comes along.  Ernie Grunfeld got out-GMed and shown up at the deadline by a team without a general manager.
This article is an excerpt from Bryan Brandom's basketball blog.  If you like what you've read, visit TheOffGuard.net for more insights and musings on everything hoops.