New York Giants
Tim Tebow to Jets: Is He Even the Best Backup QB in New York?

Tim Tebow (15) has already caused a media explosion in New York. It can be hard to keep his arrival in perspective.
Al Bello/Getty Images
March 22, 2012
Catch the NY Daily News Thursday morning? Apparently there is a new sheriff in town, and his name is Tim Tebow.
Now, I'm a practical person.  The news cycle is the news cycle.  A marketable brand-name player being shipped to the most prominent media hotbed on the planet doesn't need logic to capture the entire world's attention.
So I'll drink the Kool-Aid even though I know its spiked with 80 proof crazy.  I invite all of you, especially New Yorkers, to do so, too. 
Then let's sober up and take a nice, long, hung-over look at a player who is receiving the fanfare worthy of New York's next sports icon. 
When the dust clears, Tim Tebow is a backup quarterback on a team that failed to make the playoffs.  At this moment in time he sits behind a young QB with a sizable contract extension and the reins to the "Sanchise" resting in his grasp. 
Could Mark Sanchez falter?  Could the inexperienced and erratic play of 2011 extend into Sanchez's fourth year at the helm of Gang Green?  I might not be a believer in the former Trojan's long-term NFL future, but the fact remains that he is still young.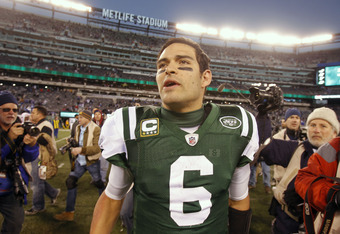 Mark Sanchez (6) led the Jets to two consecutive AFC Championship games in his seasons as a professional. He has since fallen from grace.
Rich Schultz/Getty Images
Sanchez may or may not return to the form that allowed the Jets to hobble to the AFC Championship Game for two back-to-back seasons in '09-'10. What is certain is Tebow's current standing as a second-string option.  The fanfare won't wait for the clear changing of the guard (if it should ever happen), but I insist upon it.
To properly welcome Tebow to New York, I will succumb to the mandatory comparisons of the hapless Jets to their crosstown rivals.  After all, the former "Mile High Messiah" has single-handedly wrestled away the bright lights of Manhattan from the defending Super Bowl champs.  He deserves Big Blue's attention.
But let's do this right.  Let's put down the Kool-Aid and have a fair and even comparison between Tebow and his crosstown counterpart, David Carr.
Tim Tebow
Polarizing? Of course he is.  You can love or hate him.  You can kneel on one knee or stand firmly in opposition to his philosophies, comments, or athletic ability.  At the end of the day, he is now officially a New Yorker and the latest marquee young star to capture the attention of this particularly volatile sports fanbase. 
David Carr (8) sees the majority of his playing time during the Preseason
Elsa/Getty Images
Tebow entered the NFL as a 6'3" enigma.  One of the most celebrated college quarterbacks of all time, Tebow terrorized the SEC at the helm of the Florida Gators.  He would take home the 2007 Heisman Trophy and lead Florida to the 2008 BCS National Championship.
Despite his collegiate credentials, there was doubt surrounding his ability to transition to the pro game.  Tebow was selected in the first round of the 2010 draft, but he was taken by the Broncos with their second pick of the round (25th overall). 
At the time, there was no immediate need for new blood at the QB spot in Denver. The fort was being held down by veteran Kyle Orton.  However, a disastrous '10 campaign by Orton, which included two four-game losing streaks, opened the doorway for Tebow.  Starting the final three games of a lost season, Tebow earned a 1-2 record and threw for 651 yards over the stretch. 
Despite only winning one of his first three starts, Tebow's vaunted intangibles earned the hearts and minds of a significant portion of the Denver faithful.  When training camp rolled around following the 2011 lockout, there were calls for Orton's job. 
By Week 5, Orton found himself supplanted by Tebow.  In an effort to help rally his team from a 1-4 start, Tebow generated seven wins for his club and limped into the playoffs despite losing the final three games of the regular season. 
Up until the postseason, Tebow's success had seemingly been of a divine nature.  His improbable comeback victories poured kerosene onto the woodpile of "Tebowmania."  His late-game heroics outshined his overall lack of production and general ineptitude as an NFL quarterback.
After beating a bruised and broken Steelers team during the Wild Card Round of the playoffs, Tebow was brought crashing down to Earth via a 45-10 whipping at the hands of the eventual AFC champion Patriots. 
David Carr
Unlike Tebow, Carr was intended to be an immediate starter.  In their first year as an active NFL Franchise, the Houston Texans tabbed Carr as their first ever draft pick in 2002. 
He debuted by surviving all 16 games of the regular season, throwing for north of 2,500 yards and nine TDs.  As a rookie, he would throw the longest pass of his entire career (81 yards).
However, individual success and growth did not translate to progress for the Texans as a budding franchise.  Houston only notched four wins in its inaugural campaign and never made the playoffs with Carr at the helm.  
During his best season as a professional thus far, 2004, Carr threw for 3,531 yards and 16 TDs.  Despite this respectable effort, The Texans acquired only seven wins for the year. 
After parting ways with Houston, Carr would make his second stab at becoming the face of a franchise.  Arriving in Carolina as the backup to incumbent Jake Delhomme, Carr was thrust into action mid-season after an injury took down the starter.  Carr floundered.  He went 1-4 as a starter before suffering a back injury. 
The one time first overall pick found a home with the New York Giants in 2008.  In the comfortable position of backing up the defending Super Bowl MVP, Carr was only called upon for mop-up duty. 
Carr saw action in three games for the Giants during his first season with the club.  He threw for 115 yards and two TDs.  In '09 he tossed one TD in relief of Eli Manning.
Carr left the Giants in 2010 to attempt to unseat Alex Smith as the starter in San Francisco.  He was unsuccessful despite Smith's lackluster track record at that point. In '11 he opted to return to the Giants on a one-year deal.  On Thursday, he repeated that action and signed a contract to officially return as Manning's backup in 2012.  
Like the man he understudies, Carr is a former first overall pick.  However, he never reached the success as a starter that many thought he could one day achieve.  While it may never be known if Carr was simply a victim of circumstance, thrown into the league with an infant franchise, or simply better suited as a second-string option, he remains a knowledgeable and capable backup for the Super Bowl champs. 
So who's the better option?

At the end of the day, Tim Tebow and David Carr each enjoy the very same spot on their respective depth charts.  One is currently receiving the admiration and focus usually reserved for a royal wedding, while the other remains an anonymous insurance policy. 
While Carr's on field experience is more extensive, the bulk of it is a distant memory.  Though Tebow's field time is fresh in fans' minds, the limited experience he has is mainly composed of poor mechanics and incomplete passes. 
I'd take the seasoned veteran for my roster if I were playing GM for the day. Your opinion may differ; that's what the poll is for. 
However, regardless of whom you would pick to be your backup QB, keep in the back of your mind that the man who has strong-armed SportsCenter and taken over Twitter is just that. 
Tim Tebow is a substitute player. 
Like the new article format? Send us feedback!