Winnipeg Jets: Improvements That Must Be Made for Success in 2012-13
March 23, 2012

Marianne Helm/Getty Images
The remainder of the 2011-12 season is beginning to wind down—a season that will leave the fans of Winnipeg with so many amazing memories.
Considering where this franchise stands after the many years of disappointment in Atlanta, I'd say they've exceeded expectations to this point.
Although it would take a miracle for the Jets to make the playoffs, they're still on pace to finish with a winning record. And for once, fans didn't have to anticipate the lottery draft as early as December.
Exceeding expectations means that they've had to be at least somewhat successful this season. They've exceeded expectations as far as how well they've progressed when not many expected them to be this competitive this early.
However, to truly be successful in the NHL is to make the playoffs. Defining success for individual teams is all relative based on the expectations.
Then again, how many teams can say they've had a successful season and not make the playoffs?
For the Jets and just about every other team in this league, being successful is making the playoffs.
And in 2012-13, they're going to have to make improvements in order for that kind of success to surface.
The most important improvement the Jets are going to have to make will be the ability to compete and win games on the road—something that hasn't happened enough.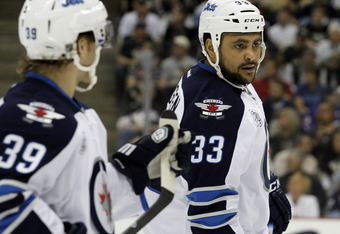 Justin K. Aller/Getty Images
Let's face it, there is absolutely no way any team in this league could make the playoffs with the worst road record in the entire league.
Even with a .500 road record, the Jets would be in a much better position than they are now.
From home ice to road ice, there is an astronomical difference in terms of how the Jets compete.
And just about every statistical category—for example, being the top-ranked power play on home ice but being the worst-ranked power play on the road—proves just how different they are when playing on the road.
Categories such as power-play percentage, penalty-kill percentage, goals for and goals against are just the main focal points that the Jets need to become efficient in on the road just as they are at home.
Until they find their game on opposing territory, they're not going to become a playoff team anytime soon, regardless of how good they are at home.
Going into next season, the Jets also have to find a way to shore up their defense.
There have been games where the defense has left Ondrej Pavelec out to dry on an island.
I'm not against Claude Noel's method of activating the defense. It's a huge advantage to have defensemen who can join the rush and score goals.
But the defense needs to learn how to get back in the play to prevent goals. And when they do get back, they need to learn how to position themselves properly.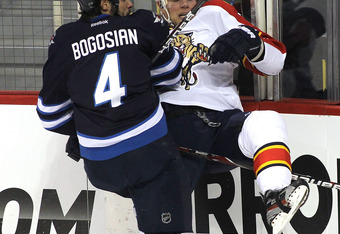 Marianne Helm/Getty Images
The Jets progressed and became much better defensively as the season went on, especially at home. However, it's the inconsistencies that burden this team.
The Jets need to become consistent, and that starts by showing up to play a full 60 minutes every night.
There have been games this season, including as recently as the one against the Carolina Hurricanes, where the Jets would take a lead into the third period only to fall apart at the end.
But in 2012-13, the Jets are also going to rely on individual player improvements, which essentially improves and helps the team itself.
They have to rely heavily on their young talent to take the next step.
Evander Kane is doing it this season, but the Jets are going to need it from other high draft picks such as Zach Bogosian and Alex Burmistrov.
It's time for players to step up and take it to the next level because the Jets are counting on it. 
Behind an energized crowd, the Jets have shown a lot this season. More than what many have expected.
They can only improve and get better. They're going to have to if they want to be successful next season.