Minnesota Twins 2012: The Key to the Offense Isn't Named Mauer or Morneau
March 23, 2012
J. Meric/Getty Images
The Minnesota Twins head into the 2012 season with something they have lacked the past few seasons, a healthy lineup. Yes, there was the injury to Joel Zumaya, which has ended his season, and Scott Baker is questionable for his first start of the season, but this is probably the healthiest the Twins have been in a few years.
Justin Morneau has been getting a lot of spring training at-bats, 37 up to this point, but he is hitting a horrendous .108 with seven strikeouts. The upside to this is the fact that he has been hitting some balls fairly hard. As he regains his timing after missing most of 2011 it is certainly reasonable to think that Morneau will certainly improve.
Joe Mauer has also been seeing a lot of playing time and his spring numbers are much more welcome around Twins Territory, hitting .313 with six runs batted in. Mauer has also spent a good amount of time behind the plate catching and it appears at this point as though the questions of whether Mauer should find a new position can subside.
While it is certainly important for these two players to contribute in a big way, they are not the key to the Twins offense.
That distinction, would fall on the shoulders of Denard Span. In 2008 Span broke into the Twins lineup and played in 93 games for the Twins. His stat line was beautiful at .294/.387/.432.
He was a prototypical leadoff hitter in a lineup that desperately needed it.
In 2009, Span actually got better. His line reads .311/.392/.415. He played in 145 games that year and scored 97 runs for the Twins. At only 25 years old that season, the Twins were excited to think they had their top of the order man for years to come.
However, in 2010, Span had a down year. Hitting only .264. His on-base percent dropped to .331 and his slugging to .348. He did still manage score 87 runs for the Twins that season, but should have scored many more.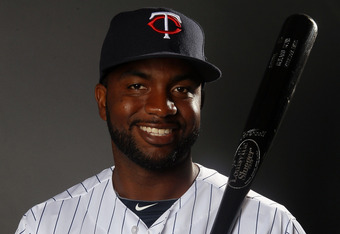 Elsa/Getty Images
Then came last season, when a concussion took Span out of the lineup for most of the season. He played in a career low 70 games, posting a .264 average with a .328 on-base percent.
He scored only 37 runs and was yet another name placed on the disabled list by the Twins.
So far this spring, in 34 at-bats, Span is hitting .324 with a .395 on-base percent and slugging .324. He has no extra-base hits right now, but the important thing is he is getting on base.
He only has two strikeouts, which is certainly a good sign for him and the Twins. Span has also drawn four walks this spring.
If Denard Span can have a good season as the Twins leadoff hitter, you can expect this team to have a productive season. He has the ability to get to pitchers early in the game and disrupt any chance of developing a rhythm on the mound, something that many say is a key component to scoring runs.