San Francisco 49ers: Who Will Their First Round Pick of the 2012 NFL Draft Be?
March 24, 2012

The San Francisco 49ers have kicked butt in off-season free agency.
They now have four quarterbacks, nine wide receivers, four tight ends, and three solid kick returners, not to mention the rest of the team.
Every 49er fan can quickly figure out where the obvious needs are now. The offensive line!
The 49ers will address these needs in the 2012 Draft since the FA piggy bank is squealing.
Who will the 49ers pick in the first round? It obviously depends on who is available.
The first round of the 2012 NFL Draft might go like this:
1. IND - QB Andrew Luck
2. WAS - QB Robert Griffin III
3. MIN - OT Matt Kalil
4. CLE - RB Trent Richardson
5. TB - CB Morris Claiborne
6. STL - WR Justin Blackmon
7. JAX - OT Riley Reiff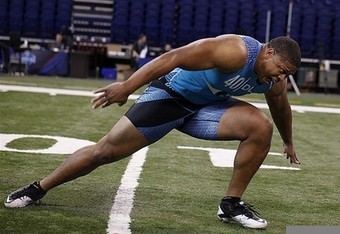 8. MIA - QB Ryan Tannehill
9. CAR - DT Dontari Poe
10. BUF - DE Quinton Coples
11. KC - ILB Luke Kuechly
12. SEA - OG David DeCastro 
13. AZ - OT Jonathan Martin
14. DAL - DT Fletcher Cox
15. PHI - SS Mark Barron
16. NYJ - DE Whitney Mercilus
17. CIN - CB Janoris Jenkins
18. SD - OG Cordy Glenn
19. CHI - WR Michael Floyd
20. TEN - DT Devon Still
21. CIN - CB Dre Kirkpatrick
22. CLE - OLB Courtney Upshaw
23. DET - CB Stephon Gilmore
24. PIT - OT Mike Adams
25. DEN - DT Jerel Worthy
26. HOU - WR Stephen Hill
27. NE - DT Michael Brockers
28. GB - OLB Zach Brown
29. BAL -  ILB Dont'a Hightower
At pick No. 30, the 49ers will have a few options. As far as the guard spot goes, Kelechi Osemele might be the best Guard on the board, at No. 30 overall, but is he worth a first round pick?
If somehow tackle Mike Adams or guard Cordy Glenn are available, either one of these would be a no-brainer pick. Putting Adams at ROT and moving Davis to RG is an option.
Tackle Bobby Massie and guard Kevin Zeitler will also be there, but both are second-rounders. Some analysts predict second-round guard Kevin Zietler will be picked by the Niners in round one (that just won't happen).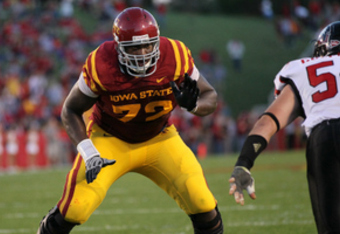 Center Peter Konz is a strong possibility since the Green Bay Packers signed free agent Jeff Saturday and no longer need a center. He might fall to No. 30. The Packers are now in talks with OLB Manny Lawson, but if that isn't settled soon, their first-round pick might be OLB Zach Brown.
The best wide receiver on the board for SFO would be Kendall Wright or way under-rated Alshon Jeffery (if Stephen Hill goes to Chicago as expected). But with Moss, Manningham, Crabtree, Ginn Jr., and others, this may not be as big a need as guard this year. But it might be in 2013.
Tight end Coby Fleener could be available, although many believe the top 25 pick will be gone. The Giants, at pick 32, may be the first-round team with a real interest in the tight end, even with his Pro-day performance. Everyone also knows how much coach Harbaugh loves tight ends, so he could grab Coby before Coughlin.
DE Nick Perry might be the "best available" at pick 30, but will Harbaugh want to address the defense with the first pick? Probably not. But if the front office is considering value only, Perry may be it.
There is always the chance that the 49ers would trade up to get a pick before San Diego or Seattle; however, this is unlikely for an offensive guard, even Cordy Glenn or David DeCastro. They would have to give up too much.
Then there is the possibility that the 49ers would trade down a bit (10 or so), for an additional third-rounder. Then they could pick up a guard (Osemele/Zeitler) in the early second round and a backup tackle (Massie/Sanders/Schwartz) later at pick 62.
San Francisco would then have two picks in the third round to address draft needs with players that will provide a good return on investment this year (meaning that they could contribute now).
Here is a list of quality prospects that most likely will be available between pick No. 30 and pick No. 40 for the 49ers:
OT Mike Adams, Ohio State
OG Kevin Zeitler, Wisconsin
OG Kelechi Osemele, Iowa State
WR Alshon Jeffery, the other USC
WR Mahamed Sanu, Rutgers
CB Janoris Jenkins, North Alabama
CB Stephon Gilmore, the other USC
DT Jerel Worthy, Michigan State
Trading down seven to ten spots will still get the 49ers what they need late first/early second, and add an additional early third round pick that adds tremendous value.
The bottom line is that the 2012 NFL Draft could be more dynamic that previous years. There is potential for crazy, fun things to happen. Great talent will drop that will be tempting.
We can trust smart moves from Trent Baalke and Jim Harbaugh again this year that address the offensive line needs while balancing the pick of best available players.