Final Four 2012: Most Intriguing Storylines to Track in New Orleans
March 26, 2012

What could possibly make the Final Four of the 2012 NCAA tournament any more exciting than it already is to casual fans and college basketball diehards alike?
Why, storylines, of course!
For better or worse, the finale to this year's Big Dance will be stocked with bits of hoops history and personal connections that talking heads and network producers are bound to exploit and discuss ad nauseum over the next few days. To prepare you for the onslaught, let's have a look at a few of the more prominent talking points you're bound to hear bandied about more than a few times.
Bluegrass Coaching Rivals
The parallels between the coaching careers for Rick Pitino and John Calipari are too extensive to ignore and inextricably link these two giants of the profession.
Both played point guard in college. Both are Italian-American. Both rose to prominence with schools in the Northeast—Pitino at Boston University and Providence College, Calipari at UMass. Both went on to ill-fated stints in the NBA—Pitino with the New York Knicks and the Boston Celtics, Cal with the New Jersey Nets. Both have taken three different schools to the Final Four—the first two coaches to do so.
They coached against each other for years in Conference USA, with Pitino at Louisville and Calipari at Memphis.
The only clear difference? Pitino has a national title on his resume, while Cal has yet to nab his first.
Of course, that could very well change this weekend, if/when Cal's loaded Kentucky squad storms its way to the championship.
Rematches Galore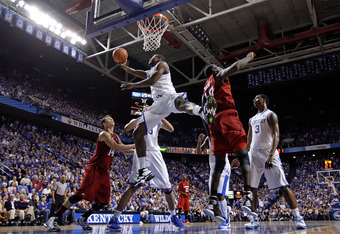 Andy Lyons/Getty Images
Pitino's and Cal's teams are hardly strangers to each other this year, not after UK held off Louisville on New Year's Eve, 69-62, despite a 30-point outburst by Russ Smith.
Cal can thank the double-double duo of Michael Kidd-Gilchrist and Anthony Davis for that "W," just as Bill Self can praise Thomas Robinson and Tyshawn Taylor for leading Kansas to victory over Ohio State on December 10th.
What's that, you say? The Jayhawks and the Buckeyes will be back at it, too?
And, if UK and KU both emerge victorious on Saturday, then March Madness will be three-for-three in rematches on the last weekend of the season.
A nifty bit of scheduling, to say the least. 
Should I Stay or Should I Go?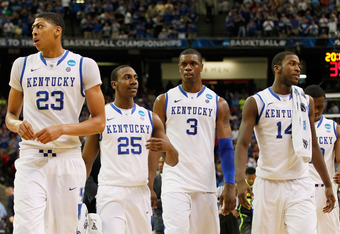 Kevin C. Cox/Getty Images
For every top-tier talent set to take the court at the Superdome this weekend, there will be at least five-to-10 NBA scouts furiously jotting down notes for their respective prospect profiles ahead of this summer's draft.
Which brings up the question: Who, among the primo ballers partaking in the Final Four, is Association-bound?
Some reports have already pegged Kentucky's Michael Kidd-Gilchrist for the draft, where he'll likely join teammate Anthony Davis as a surefire top-five pick, at the very worst.
Those two may pave the way for a pair of studly sophomores (UK's Terrence Jones and Ohio State's Jared Sullinger) who passed on the 2011 draft, while KU junior Thomas Robinson appears likely to strike while the iron's hot as well.