NCAA Tournament Chat: Elite Eight Winners, Storylines & Early Final Four Preview
March 26, 2012

Streeter Lecka/Getty Images
Are you as giddy as we are to see Rick Pitino and John Calipari face off for a spot in the national championship game?
Subscribe to the Wide Left podcast in iTunes here.
Before we get to the Final Four, Nick Tarnowski and I spend most of our Monday show talking about the Elite Eight of the NCAA tournament (Nick called it the Great Eight, which is a term we always preferred as kids) and looking at each team—and coach—that reached the Final Four.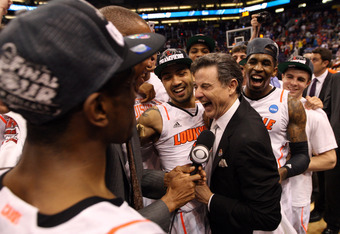 Jamie Squire/Getty Images
A few interesting notes: The last three Big East tournament champions have made it to the Final Four, and the last four champions—which includes No. 1 seed Louisville four seasons ago—are a combined 16-2 in the NCAA tournament heading into the Final Four. It sure does help the Big East teams to win the conference tournament.
It sure did help Kansas to not win its conference tournament. Winning the tournament could have given Kansas a No. 1 seed, putting them most likely out west in Phoenix. Instead, Kansas got a No. 2 seed, which put them under 300 miles from home to face North Carolina in the Elite Eight.
Can you remember a No. 2 seed getting a home game over a No. 1 seed? It's unbelievable. We discuss the fact the NCAA was hamstrung in this spot. They couldn't put Duke and Carolina in the same region, and Missouri was actually closer to St. Louis than Kansas. Ohio State isn't too far either.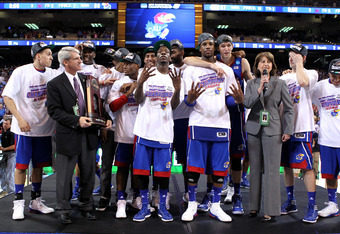 Andy Lyons/Getty Images
And we know that's not why North Carolina lost. Clearly the loss of Kendall Marshall caught up with them, especially in the last four minutes of the game, where Kansas held Carolina scoreless en route to a 13-point win.
Didn't it feel like Kansas and North Carolina was closer than Kentucky and Baylor? But the Kentucky win was actually one point closer in the end than the Kansas win. Funny how the box score doesn't always tell you what happened in the game.
We talk about Anthony Davis's knee and why John Calipari can't seem to play more than six guys, even in a blowout when his top player is hurting. Will that catch up to him in New Orleans?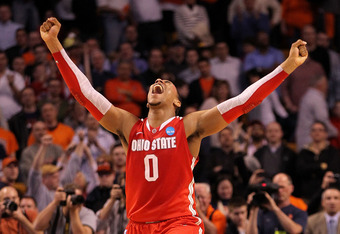 Jim Rogash/Getty Images
We discuss Ohio State and Syracuse, wondering if everyone in the country hates Jim Boeheim or likes him. We also talk about how Aaron Craft for Ohio State is about to get a week-long Tim Tebowesque amount of love from the national media. Sports writers and talkers sure love their scrappy white guards.
We talk about the heavyweights making the Final Four, bucking the mid-major trend of the last few years. Will this create more or less excitement for the last weekend of the tournament?
And speaking of exciting tournaments, we touch quickly on Tiger Woods finally hoisting a trophy after the longest drought in his career. What does that mean for the Masters?
As always, thanks for listening.