Andy Roddick Surprises Roger Federer and Fans at Sony Ericsson Open
March 27, 2012

Mike Ehrmann/Getty Images
Andy Roddick and Roger Federer went head to head for the 24th time in the Sony Ericsson Open Monday night in Key Biscayne, FL.
Both of the men's service games were turned up a dial in their third-round matchup. The accuracy, pace and spin that they put on their serves were immaculate. There were a few balls in the beginning that Roddick hit that landed short, and Federer would plow them for a winner every time. But Roddick kept it together, kept on fighting, and eventually came out on top 7-6 (4), 1-6, 6-4, for just his third victory over the all-time Grand Slams leader.
Funny note: Federer has never been a fan of Hawk-Eye, but his tennis vision is something that I wish all linesmen had. The Swiss was challenging calls that looked in, even to me, but were just three-sevenths of a millimeter out.
To our pleasant "surprise," the men entered their 16th overall tiebreak in their rivalry, but the first since the epic Wimbledon final in 2009. Roddick's mature play extended throughout the tiebreak, and his serving made him go up 4-3.
The point that led him to 5-3 was a stunner. Federer did not do enough with the overhand, and Roddick made a beauty of a pass. One of the best points in the match by Roddick, in my opinion. It was evident that Roddick was putting a lot of effort in making sure that his balls stayed deep, which allowed him to put even more pressure on the Swiss master by either dictating right on top of the baseline or charging the net. He showed us just how much he wanted it.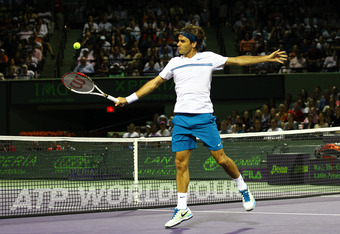 Al Bello/Getty Images
Roddick's second serves were a major force against Federer. He hardly took anything off, making it difficult for Federer to be offensive off the first ball. Roddick's balls became consistently deeper as the match wore on and were more situated towards Federer's backhand side.
Federer was like a fortune teller by sneaking to the net when he felt that Roddick's return would be defensive and short, and would masterfully put the ball away. If there was any shot that either of the men could become offensive on, they took it without a second thought.
The first break of the match came on Federer's third break chance, 1-1, in the second set. Roddick's backhand floated long, opening the door for Federer.
It seemed that Federer was rotating his torso faster Monday night, thus creating even more racket head speed, which, needless to say, put a lot more on the ball. Roddick's momentum started to slow after the Swiss broke his serve, and became even slower after the double break that led Federer to go to 4-1 in the second.
Federer took more chances and was given more opportunities to break. He took the second set 6-1 in 29 minutes. He only hit five unforced errors and 13 winners to take it, but somehow, it felt like he hit more winners than that.
Roger Federer continued to steamroll in the final set by creating magician-like winners with just a wave of his racket. The 16-time Grand Slam champion incorporated more variety in his game by adding more touch shots, such as the dead-as-a-doornail drop shots. The more momentum gained by Federer, the more he could do no wrong.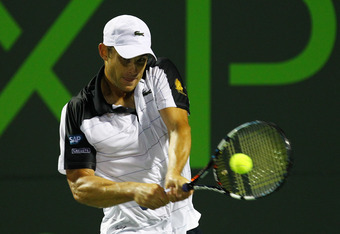 Al Bello/Getty Images
Roddick was down a triple break point in his opening service game in the third, but came back to level it with smart serves, helping him take the pivotal game to level it at 1-1. Roddick fired back by hitting amazing 90-plus mph forehand winners past the Fed Express with massive effort grunting. The American took the break 2-1 by hitting yet another stunning forehand winner up the line shot.
Roddick was back, and the momentum was building up fast against Federer. I found myself gnawing at my nails at this point in the match. Roddick then consolidated the break by holding serve to go up 3-1. Besides his serve, Roddick's forehand was what made my jaw drop. He was driving it so hard, deep and flat, that it gave Federer virtually no chance to react. Federer took his frustration and turned it into a love hold game, but Roddick still had the adrenaline and confidence to further his lead 4-2.
Federer ganged up his offensives tactics in his odd service game to hang in with the American 3-4. Roddick did not wain, however, and continued to hit blistering serves and winners that seemed to leave scorch marks on the court.
The unrelenting tennis was escalating fast, as Roddick pushed to put the match to bed while Federer stubbornly stuck with it and held serve. It was 4-5 now, and Roddick had the momentum and belief he needed to finally say "goodnight."
The last game of the match was an epic one, and both players upped their game. Roddick suddenly had match point, and what does he do? End it with yet another blazing fire ace. That will certainly be a moment he will not forget for a long time.
Roddick's composure throughout the match was especially notable. He did have a little tiff with with the umpire's line-calling, but that still didn't shake him. I love surprises, and this certainly was one of those matches that left me astonished by the tennis both competitors played, but more to Roddick's end of the court. This could just be what Roddick needs to find himself again.