2012 NFL Draft: Washington Redskins Must Draft a Linebacker
March 27, 2012

Patrick Smith/Getty Images
As is now customary, it's been a roller coaster offseason for the Washington Redskins. 
While the Redskins are doing all they can to battle the NFL over a hefty salary cap penalty, they still have not re-signed veteran leader London Fletcher.  With his future still undecided, the 'Skins need to seriously consider drafting an inside 'backer in the mid-to-late rounds of the 2012 draft. 
Of course, there are several reasons the Redskins are still in a holding pattern with regard to Fletcher. 
The cap penalties imposed by the league have seriously depleted the franchise coffer and unless the Redskins' front office is able to recover some of the depleted cap space, the 'Skins will have to make a crunch-time decision on what to do with what little cap room is left. 
Second, only two other top-tier inside linebackers have been signed so far in Steven Tulloch and Curtis Lofton.  If you're Fletcher, you're still trying to figure out what to shoot for in terms of negotiating salary because there isn't a well established market value for that position. 
Whether or not London Fletcher resigns, though, the Redskins need to start considering who will take his place in the coming years. 
Ageless wonder that he is, even No. 59 has an expiration date. 
At 35 years old, Fletcher simply does not have many playing days left ahead of him.  When and if the Redskins re-sign him, we can't realistically expect to have the John Carroll alum in the lineup past the 2014 season.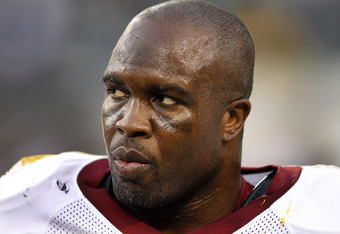 Rob Carr/Getty Images
Perry Riley is the current heir apparent, and actually looked to be making good progress after recording 68 tackles in 2011. 
There's nothing about the 2nd-year man out of LSU that indicates he won't be productive, but let's keep in mind whose shoes he's in line to fill. 
This isn't anyone—this is London Fletcher.  I dare you to show me a more beloved Redskin from the last decade. 
With that in mind, depth can't hurt.  Especially when you consider the amount of wear and tear an inside linebacker incurs on a weekly basis. 
The Redskins have two 4th-round picks to go along with one pick in each of the ensuing rounds.  They would do well to spend one of those 4th-round picks on a quality inside 'backer that they could bring along in the following seasons. 
Vontaze Burfict would be available—and for good reason.  No single player has seen his draft stock fall as mightily as Burfict has over the last few months.  An awful combine led to an equally forgettable pro-day, and both were punctuated by reportedly comical interviews. 
Avoid at all costs. 
Look instead at guys like North Carolina State's Audie Cole and West Virginia's Najee Goode.
Cole didn't perform at an incredibly high level at the combine, but his tape tells a different tale.  He's a huge presence at 6'4", 245 pounds and he put up more than adequate numbers in 2011, including 108 tackles and 5.5 sacks. 
He's a hard-nosed, physical guy in the tackle box.  He won't wow anyone with his ability to pursue on the perimeter, which is fine considering the talent the Redskins currently feature at outside linebacker. 
Cole has the makings of a late-round warrior who will embrace the rough-and-tumble mentality that exists in the middle of Jim Haslett's 3-4.  He may not be flashy, but the inside 'backer position isn't about "flash", rather, it's about getting your hands dirty.   
Goode, like Cole, had a praiseworthy senior year.  Unlike Cole, Goode actually has a decent amount of versatility to his game. 
West Virginia was the only team in the country to run a 3-3-5 stack defense, and Goode spent quality time at each linebacker position during his time as a Mountaineer. 
However, he's best suited to anchor the middle of the defense.  He's a compact 6'0", 244 lbs but has good speed and even better explosion to go along with it.  He's also an incredibly smart football player, something that he has in common with London Fletcher. 
He was also a walk-on in Morgantown who had to earn his scholarship, so the idea of having to start from scratch and earn his spot on Haslett's defensive unit shouldn't dampen his spirits.
He also has something in common with current Redskin Chris "Truck" Neild, as both were members of the same Mountaineer defensive unit in Morgantown.  Neild was a late-round pick in last year's draft who made considerable leaps and bounds in his rookie season.
Goode is a prime candidate to continue the streak.  
The beauty of it all is that Fletcher, should he re-sign, will provide enough of a cushion so that the Redskins can fine-tune a replacement for him before his time is spent. 
Perry Riley could very well be that guy now, but if the Redskins were to ignore drafting an inside linebacker altogether they would essentially be placing all their bets on Riley and foregoing depth at a position that surely needs it.
With all that has occurred so far in the offseason, the Redskins are having to get economical with their 2012 draft picks.  
London Fletcher's situation needs to be resolved, and the Redskins' front office would do well to have the situation wrapped up sooner rather than later. 
Regardless of what transpires with regard to Fletcher, the Redskins need to bring in some new blood at linebacker.  Preferably, someone with a big heart, a high motor and the propensity to captain a defense.
15 years down the road, it could make all the difference in the world. 
Right, London?
http://www.ajc.com/sports/atlanta-falcons/falcons-agree-to-terms-1380238.html