Fantasy Football: 4 Free Agency Signings That Could Sink Your Fantasy Team
March 27, 2012

Mike Ehrmann/Getty Images
Not all free-agent signings are good ones, at least for fantasy football owners. 
Free agents have been signing faster than Chad Ochocino tweets. Millions of dollars have been spent, especially on skilled position players and pass rushers, and astute fantasy football owners have definitely been taking note of who has been ending up where. 
Normally when a player switches teams it is good for his fantasy value because he is heading to a team that will play him more and/or use him more effectively. But that is not always the case. The player may have been better off fantasy-wise sticking with his old team. Plus, his move might negatively affect the fantasy values of some of his new teammates. 
Here are four free-agent signings that could sink your fantasy football team: 
Mike Tolbert, Carolina Panthers (RB)
Carolina must have plans to run the wishbone in 2012. It would make sense with Cam Newton as the quarterback and DeAngelo Williams, Jonathan Stewart and now Tolbert as the running backs, right? 
There were not enough carries to go around last season for Williams and Stewart. Neither of them averaged 10 rushing attempts a game. Between Newton's scrambles, planned runs and pass attempts, there were not many touches left over for Williams and Stewart, who then had to split them.
So now Tolbert is in the mix and has to get his hands on the ball 7-10 times per game?  I am no math whiz, but my calculator says Carolina would need to run the ball 50 times a game for Williams, Stewart and Tolbert to all have fantasy worth next year.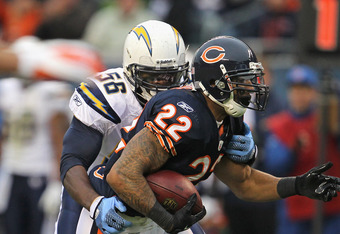 Jonathan Daniel/Getty Images
Hopefully Carolina trades Stewart to the Pittsburgh Steelers or Denver Broncos and unclogs the logjam at RB. Then at least one of the trio would have some fantasy worth. But Tolbert's fantasy value would have been better off if he stayed with the San Diego Chargers, and Williams' would have been better off if he had signed with almost any team other than Carolina during the 2011 offseason. 
Michael Bush, Chicago Bears (RB)
Matt Forte and his dynasty fantasy owners are about as unhappy with Bush signing with Chicago as Roger Goodell is with the New Orleans Saints.
Forte has been a one-man gang with the Bears since being drafted. Unlike most NFL teams who now employ two-RB systems where rushing attempts are divided (like Carolina), Forte was one of the few tailbacks who did not have to share carries with anybody else. He was the man. He never got off the field. He was handed the ball on first down, caught passes on third down and was the focal point of the offense. This is why fantasy owners loved him. 
But with Bush in the fold after signing a four-year contract, Forte's touches will undoubtedly be lessened. The Bears did not give Bush, who would be a solid starter on many teams, multi-millions to be a spectator or a five-carry-per-game guy like the recently retired Marion Barber was.
Now do not count Forte out. He has fended off Barber and Chester Taylor when those veterans came looking for carries. Bush is better than those two, though. He ran for 977 yards and added 418 receiving yards with the Oakland Raiders last season. Both Forte and Bush's fantasy stock take hits here.    

BenJarvus Green-Ellis, Cincinnati Bengals (RB)
"The Law Firm" is taking his briefcase and his touchdowns to Cincinnati, a team that seems to prefer straight-ahead, between-the-tackle running backs who just put their helmets down and plow ahead for four yards per pop and not much more. 
Green-Ellis is Cedric Benson without the fumbles and the colorful rap sheet. He is not dynamic or elusive. He does not have sprinter speed or pass-catching ability. But he does find the end zone (24 TDs over last two seasons) and is dependable and durable. Oh, and he never gets arrested, which is big considering how many times Benson found himself in court. 
But if fantasy owners think Green-Ellis is going to be the underrated fantasy force in Cincy that he was with the New England Patriots, they must also think Tom Brady's haircuts are his idea.
Green-Ellis will not have Brady and the vaunted Pats passing attack to keep defenses from stacking up against him. Much of Green-Ellis' yardage came on draw plays where defenses paid no mind to him. And Green-Ellis had more red-zone chances to score thanks to being a part of one of the most explosive offenses in the NFL. That's no longer the case, so his TD total should drop. 
Cincinnati will probably give backup Bernard Scott more touches now, too. Scott does have speed and the Bengals gave him more opportunities in 2011. The opportunities should increase in 2012.
Green-Ellis should be good for 900 yards and eight touchdowns next season. Not bad at all, but fantasy owners better not draft him thinking he will post 1,000 yards and 13 touchdowns again.  
Chad Henne, Jacksonville Jaguars (QB)
For the brave Blaine Gabbert owners who are holding onto him for the 2012 campaign under the notion that he was selected in the first round of the 2011 NFL draft because he is talented and will one day put up great fantasy numbers like Dalton and Newton, watching Jacksonville sign Henne had to put lumps in their throats. 
Henne was the Miami Dolphins' starting quarterback the past couple years and is average. Very average. Gabbert was WAY below-average last season, however, if he kicks off 2012 with the same erratic passing and poor decision-making, Henne could supplant him as starting QB.
Jacksonville has tried to make life easier for Gabbert. The Jags brought in offensive expert Mike Mularkey to be head coach and signed WR Laurent Robinson to a rich contract, so Gabbert should have better coaching and more weapons. 
But Gabbert was barely more accurate than Tim Tebow last season (50.8 completion percentage) and did not look ready to be an NFL QB. He may have all the skill in the world, but fantasy owners risking a keeper spot on him have a better chance of getting screwed over now that Henne is in town.