NFL Free Agents 2012: Who Is Visiting Who This Week?
March 28, 2012

Andy Lyons/Getty Images
Believe it or not, the NFL free-agent market hasn't closed just because Peyton Manning and Mario Williams have their new teams.
Heck, with all the sports media talk focusing so heavily on the New York Jets' most recent quarterback acquisition—yeah, that one guy from the Denver Broncos—football fans might have almost forgotten that free agency was still very much alive.
And though the ever-hectic first two weeks of the open market are behind us, there are still players that have yet to find their destination for the 2012 season.
Here's a look at who has been visiting who this week.
Dave Tollefson: Defensive End
After a meeting with the Seattle Seahawks last Friday, defensive end Tollefson will next make a trip to Green Bay to visit with the Packers this Thursday.
The five-year veteran had 21 total tackles and two forced fumbles last season with the New York Giants.
Tollefson was originally drafted by the Packers back in 2006, but didn't get any playing time until he went to the Giants in 2007. However, according to "multiple sources of the Green Bay Press-Gazette, the Packers are "very interested" in Tollefson.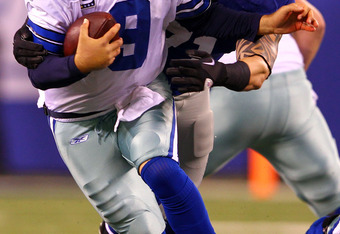 Al Bello/Getty Images
Manny Lawson: Linebacker
In addition to Tollefson, the Packers have also expressed interest in free-agent linebacker Manny Lawson, who is also set to meet with the team this week.
The same Green Bay Press-Gazette source reports that the Packers are "one of several teams" that Lawson is considering, although no other teams have officially been named.
It was also reported Tuesday that Lawson might be returning to Cincinnati to re-sign with the Bengals, but no contract has been finalized.
Lawson has a career totals of 292 tackles, with six forced fumbles and two interceptions. He played the first five years of his career for the San Francisco 49ers before signing a one-year deal with the Cincinnati Bengals in 2011.
Dan Skuta: Linebacker
NFLTradeRumors.com reported Tuesday that Skuta visited with the Kansas City Chiefs this week. He isn't scheduled to visit with any other teams at the moment.
The former Bengal was tendered at $1.26 million by Cincinnati the day before free agency.
Primarily a special teams player, Skuta had 31 tackles and one forced fumble for Cincinnati during the 2011 season.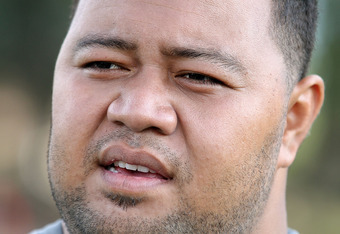 Christian Petersen/Getty Images
Deuce Lutui: Guard
Former Arizona Cardinal Lutui visited and worked out with the San Francisco 49ers this week, as reported by NFLTradeRumors.com. If signed to San Francisco, Lutui would be competing for a starting position with current outside guard Daniel Kilgore.
Lutui was Arizona's starting right guard for five seasons before showing up to training camp significantly overweight in 2011—for the second season in a row—and lost his starting spot. He was held to only 45 snaps in 15 games.
With Lutui's weight being such a strong concern, it isn't likely that he will be visiting any other teams.
Matt Roth: Defensive End

Matt Roth could be on the road to see more teams this week, after the Jacksonville Jaguars reportedly encouraged him to seek opportunities with other teams.
Roth recently met with the Cincinnati Bengals.
Roth started 16 games for the Cleveland Browns in 2010, and nine for the Jaguars in 2011. He has 296 tackles and six forced fumbles for his career.
Jeremy Shockey: Tight End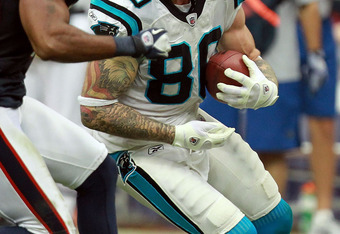 Ronald Martinez/Getty Images
While the out-spoken tight end has been with the Carolina Panthers for a couple seasons now, it will be interesting to see if the controversy with his former team, the New Orleans Saints, has any impact on  Shockey this offseason.
Especially since Warren Sapp accused him of being the whistle blower in the already infamous Bountygate cloud over the Saints organization.
And while it is being reported that Shockey is still in talks with the Panthers, his agent, Drew Rosenhaus, believes that the 10-year veteran "likely will land elsewhere."
Just after the opening of free agency, the New York Daily News reported that Shockey had an interest in returning to New York. That particular trade seems unlikely, given that Shockey nearly demanded to be traded from the franchise back in 2006.
The Charlotte Observer reports that while Rosenhaus says that Shockey "plans to talk with several teams this week," though no official statement has been released as to where else Shockey might be visiting.
Last season, Shockey posted 37 receptions for 455 yards and four touchdowns. While his stats are relative to those he posted the previous year, he has been on a steady decline since his 2005 season with the New York Giants.