MLB Opening Day 2012: Previewing the Toronto Blue Jays Season
March 28, 2012

Jonathan Ferrey/Getty Images
MLB Opening Day 2012 comes with hope for a new season, hope that your team will break through and have a chance at winning the World Series. The Toronto the Blue Jays have a young, up-and-coming team and each spring there is hope that the young players that comprise their clubhouse will continue their progression towards being solid MLB players.
There are many reasons to be an excited Blue Jays fan this season. First, the playoffs have been expanded to 10 teams, giving them a better chance to get in. Next, Paul Beeston has finally put the Blue back in Blue Jays with the Jays' new uniforms. Lastly, a host of young players look primed to lead this team to the playoffs, including Canadian-born Brett Lawrie, Yunel Escobar, Cobly Rasmus, J.P. Arencibia, Eric Thames, Brandon Morrow, Ricky Romero and the list goes on.
Playoff expansion
The MLB has finally increased the amount of teams that can enter the playoffs. They have added an additional Wild Card spot in both the American and National Leagues. The two Wild Card winners in each league will play a one-game playoff for the right to move onto the next round of the playoffs.
Blue Jays fans can be excited to know that they have a better chance making the playoffs now that they have another way around the New York Yankees' and Boston Red Sox's powerhouse payrolls.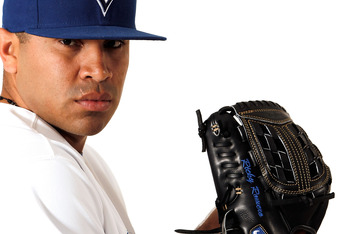 Jonathan Ferrey/Getty Images
New uniforms
The black uniforms and "Jays" logo are officially gone. Thank the baseball gods and Paul Beeston for that. There is just no good explanation to have a team named the Blue Jays wearing black jerseys. They have updated the classic Blue Jays logo of the 1990s in a great way. The new logo and uniforms look sharp and reflect the franchise's winning history.
The "Black Jays" uniforms made them look like a rebuilding franchise with no link to their history. I give two big thumbs up regarding the offseason uniform changes. They will look great as the Blue Jays on MLB Opening Day 2012.
Blue Jays projected Opening Day lineup
| | |
| --- | --- |
| Position | Player |
| LF | Eric Thames |
| CF | Colby Rasmus |
| RF | Jose Bautista |
| SS | Yunel Escobar |
| 3B | Brett Lawrie |
| 2B | Kelly Johnson |
| 1B | Adam Lind |
| C | J.P. Arencibia |
| DH | Edwin Encarnacion |
| Bench | Rajai Davis (OF) |
| Bench | Ben Francisco (OF) |
| Bench | Mike Mccoy (OF/IF) |
| Bench | Omar Vizquel (IF) |
| Bench | Jeff Mathis (C) |
| | |
| --- | --- |
| Position | Player |
| SP | Ricky Romero (L) |
| SP | Brandon Morrow (R) |
| SP | Brett Cecil (L) |
| SP | Henderson Alvarez (R) |
| SP | Dustin McGowan (R) |
| CL | Sergio Santos (R) |
| BP | Darren Oliver (L) |
| BP | Jason Frasor (R) |
| BP | Francisco Cordero (R) |
| BP | Casey Janssen (R) |
| BP | Carlos Villenueva (R) |
| BP | Luis Perez (L) |
Prospects we may see in the big leagues in 2012 for Toronto
| | | |
| --- | --- | --- |
| Player | Position | Reasoning |
| Travis Snider |  LF | While he is no longer considered a prospect he has been optioned to AAA Las Vegas for the beginning of the season. Eric Thames won the right to start the season as the Blue Jays' starting left fielder. However, if Thames falters and Snider continues to put up good numbers we could see him sooner than you think. |
| Travis D'Arnaud | C | With only J.P. Arencibia and Jeff Mathis ahead of him on the depth chart, an injury to either could see D'Arnaud called up to the show this season. He is not as polished defensively as Arencibia is at this point, but his bat is said to be just as good. In the next couple years, the Jays may need to make a choice regarding which of these two young stud catchers to keep. |
| Anthony Gose | CF | If Colby Rasmus struggles again this season for an extended period of time, we may see Gose brought up. However, it is more likely that Rajai Davis would be put in the lineup at center field first. The Blue Jays want to give Gose a full year at Triple-A prior to bringing him up for good. While he is a much touted prospect with his speed and good range in center field, he is still very raw in terms of his hitting. Best to let him spend another year refining his hitting against minor league pitching prior to  facing the big guns in the show. |
| Kyle Drabek | SP | It appears he will lose out on the fifth starter's role to Dustin McGowan (if he is able to stay healthy). However, expect Drabek to be the first call-up if any starting pitcher goes down with an injury for any length of time. |
| Deck McGuire | SP | He is getting very close to being big league ready. While his ceiling is not that of Drabek's, he should become a solid three-to-five starting rotation pitcher. I would be surprised if he was not called up in September at some point. |
| Chad Jenkins | SP | He appears to be ready to pitch in the majors this season. He could find himself a place long term at the back end of a major league rotation. If the Jays cannot find room for him this season he may be part of a package that Toronto trades this year for other needs. |
| Drew Hutchinson | SP | While he does not have the pure talent like some other pitching prospects, he gets the same if not better results. Look for him to be a September call-up. |
Will the Toronto Blue Jays make the playoffs this season?
Personally, I still think their starting rotation and younger batters need another MLB season in order to get more experienced. However, in 2013 I fully expect this team to make a good run at the playoffs.